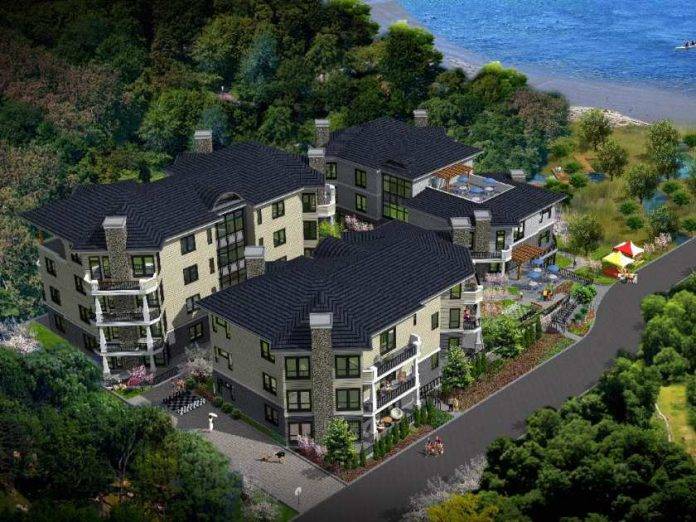 September 24, 2015, Colwood, BC – Pacific Landing at Havenwood, located on 650 feet of waterfront on the protected bird sanctuary of Esquimalt Lagoon boarding Royal Roads University, launches today. Over the next six to ten years, the community will take shape to include 115 condominium-style home, a boutique hotel, restaurants and pubs and amenities such as spas and grocery stores.
"We believe that diversity makes a community and we are building in a beautiful location that will include something for everyone," said Randy Royer, president of Pacific Landing Ltd. "Our aspiration will be that people will be comfortable to grow old here."
The first offering of homes includes 33 condominiums between three low-rise buildings. The two-bedroom, two-bathroom homes are 1,060-square feet with large balconies. Each building is designed with only four homes per floor to allow for full appreciation of the views. Amenities in the first phase include a yoga studio, a cooking theatre with an outdoor lounge and barbecue area and a workshop. Homes start at $399,000.
Calgary-based developer Royer, created The Grand Okanagan Hotel in Kelowna and more than 15 hotel projects across North America. He recognized the West Coast climate as a driving force to attract Canadians to the area, but also that this was a special area.
"This property is simply magnificent," said Royer. "As a location to create a waterfront village there is no better place."
Pacific Landing is a former estate and still features the Pendray House, a historic 8,400-square-foot mansion, with old-world arts and crafts architecture, which houses the Coast Collective Arts Group, an interactive art museum and art school. Half of the five hectares of land will be left as is, including a creek that will have a 15-metre set back. The property is home to some of the largest trees in the region, the tallest being 230 feet high.
The Discovery Centre is located in a 1910 building on the property and is open daily 12:00 pm – 5:00 pm.
About Pacific Landing at Havenwood
Pacific Landing at Havenwood is a planned multi-generational village located on Esquimalt Lagoon in Colwood, BC. Upon completion, the community will include 115 apartment-style homes, a hotel, restaurants and pubs and amenities such as wellness spa and grocery stores. Featuring some of the tallest trees in the region and serving as home to countless bird species, Pacific Landing's 5 hectares offers an exceptional outdoor environment. Neighboured by Royal Roads University and a close proximity to the amenities of Colwood, Pacific Landing has been a haven for artists and recreation-enthusiasts for decades. For more information: www.pacificlanding.ca