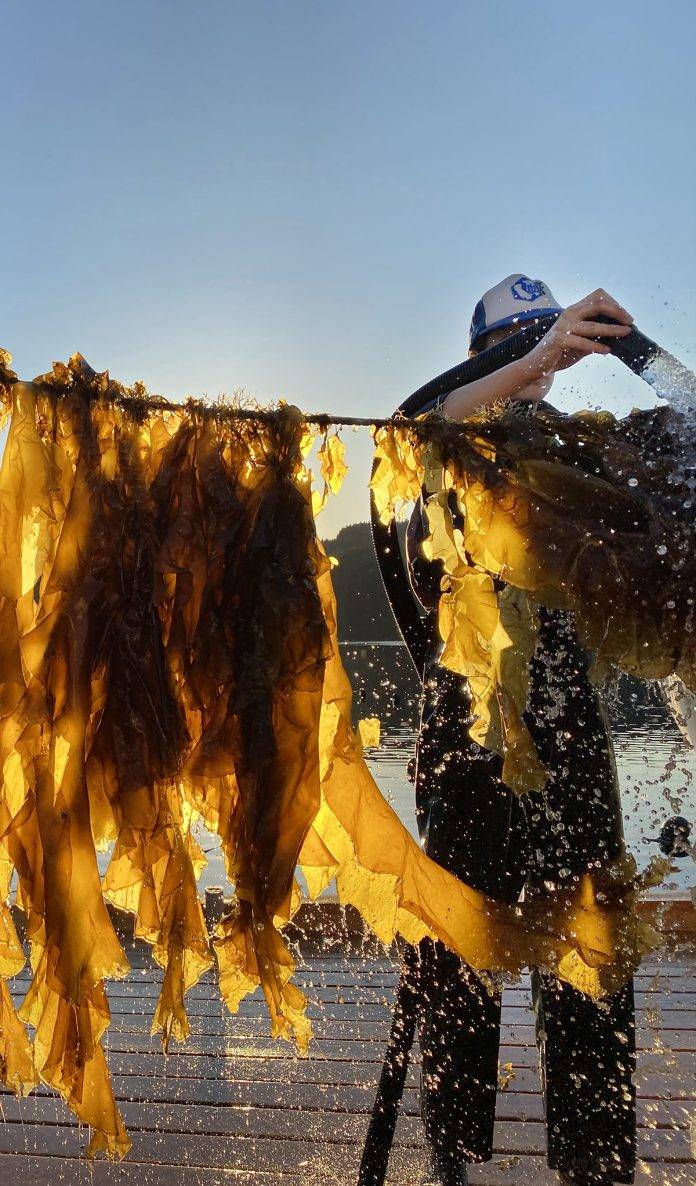 Cascadia Seaweed's production of line-grown kelp has increased by 900 per cent in only a few short years since its 2019 start, with the company expanding from two to 25 employees — and counting.
Cultivating kelp for food, agriculture and regenerative industrial products addresses the growing potential of seaweed to generate $1 billion to the GDP of B.C. while creating tens of thousands of jobs. 
The company is currently harvesting in the waters of four Vancouver Island First Nations: Uchucklesaht, Huu-ay-aht, Ahousaht and Klahoose. Their agile approach to working with individual Indigenous communities has resulted in tailored agreements that range from simply leasing the tenure or water lot to working the kelp farms. The success of these partnerships has increased interest from other Nations. 
"There's a tidal wave of momentum behind this whole global sector," says Erin Bremner-Mitchell, the company's manager of communications and engagement. "And we are pioneers of the industry on the West Coast."
Currently working towards B Corp certification, Cascadia Seaweed's regenerative cultivation provides essential habitat for marine life and sequesters carbon. 
It's the sheer potential of the sector, to cool down the Earth's atmosphere while contributing to the growth of a revolutionary $15-billion industry, that has put the company in the spotlight. 
A former Douglas 10 to Watch winner, Cascadia Seaweed accepted an Ecostar Innovation Award in 2021 "on behalf of the whole sector — to demonstrate that this sector deserves investment in innovation all across the value chain, from seed development to farm installation to harvesting technologies, specifically processing technologies," says Bremner-Mitchell. 
Recognition for their innovation and leadership in the sector is growing globally, which will inevitably help the company achieve its goal to be the largest ocean cultivator in North America.
Through funding via the British Columbia Salmon Restoration and Innovation Fund (BC SRIF), Cascadia Seaweed is implementing 400 hectares of cultivated kelp beds for the purpose of evaluating their effect on juvenile salmon through cutting edge monitoring technologies and procedures, along with research partners Bamfield Marine Sciences Centre, Ocean Networks Canada, AML Oceanographics, and Deep Trekker Inc.
As part of a Series A fundraising round for $5MM in equity, they recently brought on two international family office investors, Bloomsbury Natural Capital (BNC) of the UK and Norfolk Green Ventures of the USA.
"Cascadia Seaweed is spearheading this regenerative form of aquaculture in North America, working with our First Nation partners, targeting very large verticals in food and agrifeed, with products that are value added and produced at scale. Our new investors will help us achieve that vision," said Rob Napoli, CFO of Cascadia Seaweed in a news release. "We … expect to attract more like-minded ESG investors that care about people, planet and profit."
Founding partner and the CEO of Cascadia Seaweed Mike Williamson spoke at the United Nations 2021 global climate summit, COP26, as one of only two global organizations presenting the opportunities of seaweed in the fight against climate change.
"It's a way of thinking; really, it's a paradigm shift in how we behave," says Bremner-Mitchell of the regenerative approach. "If we are always thinking about giving back more than we give, I think we'll see a real shift."