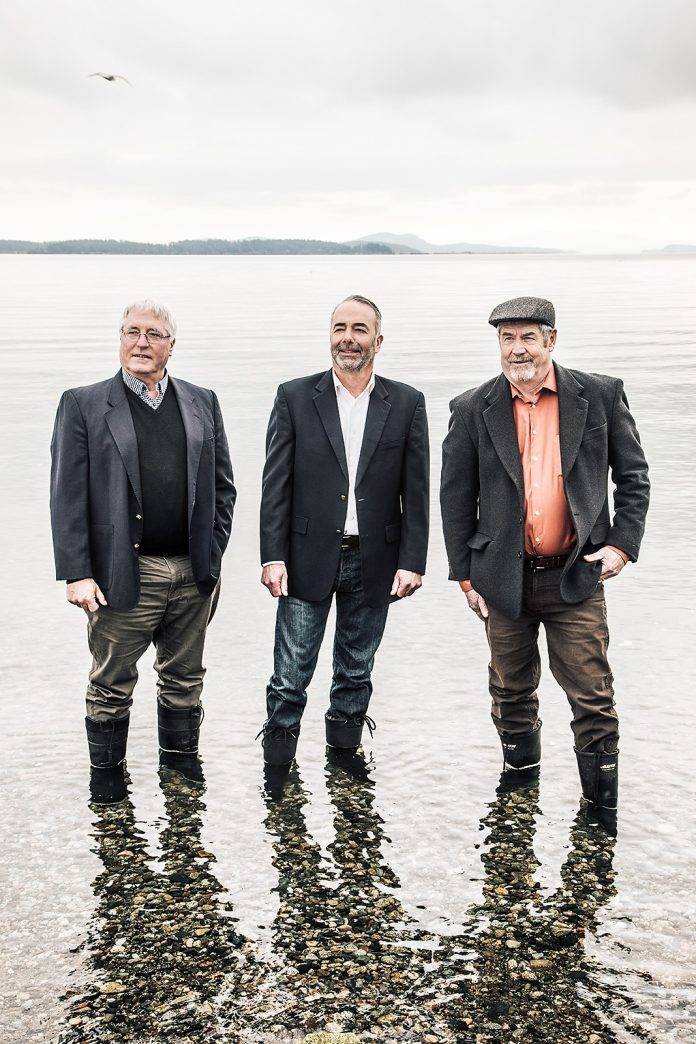 When Mike Williamson, a former CFB Esquimalt base commander, attended the 2018 Vancouver Island Economic Summit, his big take-away was the huge, global and still untapped business opportunity in seaweed. His subsequent research revealed a few seaweed harvesters on the Island, but no one was actually farming it. So Williamson — along with Cascadia cofounders, William Collins, Tony Ethier and Steven Cross — set out to commercially farm seaweed.
Farming involves attaching seedlings to a rope strung between two vertical lines, drawn taut by an anchor and a float. The rope is deployed into the open ocean where the seaweed grows until harvest-ready. The seaweed-laden rope is hauled onto a boat, and the plant is cut from the rope, delivered to shore and processed.
Cascadia Seaweed has partnered with Nuu-chah-nulth Seafoods, an Indigeneous seafood company with partnerships to farm the seaweed, starting with sugar kelp, Pacific wakame and dulse.
Cascadia's goal is to bring more seaweed into the diets of North Americans since it is a nutritious food containing protein, calcium, B12 (one of the only vegan sources of this nutrient), zinc and other nutrients. Williamson says farming seaweed is environmentally friendly, since seaweed sequesters carbon, is believed to reduce ocean acidification and creates a temporary habitat for sea life.
"You've heard of vegetarians and flexitarians," he says. "We want to start algatarians — people who eat seaweed."
A Q & A with Mike Williamson
What was the best business advice you ever received?
Empower your staff and partners, and let their skills and abilities come through. Give them the tools they need and let them do their jobs.
What advice would you give to someone just starting out?
Have a dream, then turn those dreams into goals. Then have a plan to address the goals; otherwise it's just wishful thinking.
What would you do differently if you could do it all again?
I would have started it a year earlier because the opportunity was there and the need was there. This is climate positive and it's going to make a positive difference, so the sooner it happens the more positive it is.
This article is from the April/May 2020 issue of Douglas.