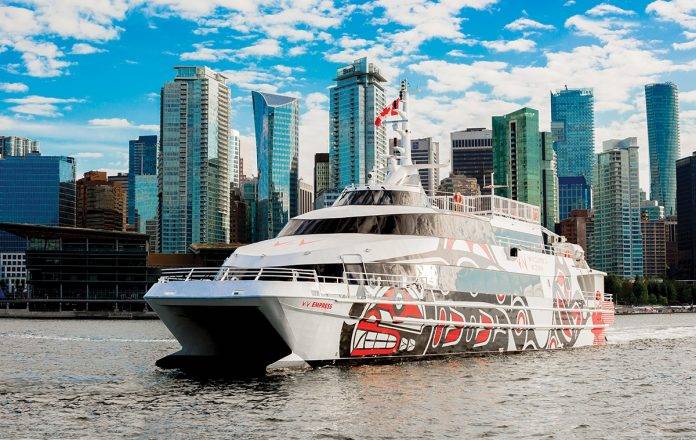 A good sailor knows when to change course. Understanding that is also critical to staying afloat when starting a business venture, especially in new waters.
V2V Vacations discovered as much when it launched its luxury, high-speed 242-seat catamaran service between Victoria and Vancouver in May 2017 with a $14 million dollar capital investment and hit some rough patches. In August of 2017, just three months after launching, the V2V Empress lost both engines and spent four months in dry dock before new engines could be procured and installed at a cost of $2 million. Then there have been lower-than-expected passenger numbers during the winter months.
Now, under the helm of a new general manager, V2V has charted a new course for 2019. Instead of sailing out of Victoria to Vancouver in the mornings, the V2V Empress will change direction and sail from Vancouver to Victoria, returning to its mainland home port later in the day.
"We have not done day trips before," says GM Julian Wright, the nephew of Hume Campbell, whose Australia-based company Riverside Marine is the parent company of V2V Vacations. A fourth generation family company, Riverside has been in the marine business for 93 years, running passenger ferries, tug boats and barges, dredging services and sand sales.
A Change in Direction
So why has V2V moved its home port to Vancouver and literally switched the direction of its sailings?
"We're going after tourists; that's where more of the traffic is. Generally people want to maximize their time in Victoria — after all, it's an iconic part of B.C.," says Wright, who took over early in 2018, having previously worked as commercial manager of RiverWijs, a division of Riverside Marine, providing terminal towage to an Australian oil and gas company.
The data essentially made it obvious what V2V had to do. In 2018, which Wright calls a turning point, the V2V team embarked on a campaign to ask customers what they wanted, then ran the data and compared and contrasted it with other service providers such as the Victoria Clipper and Harbour Air.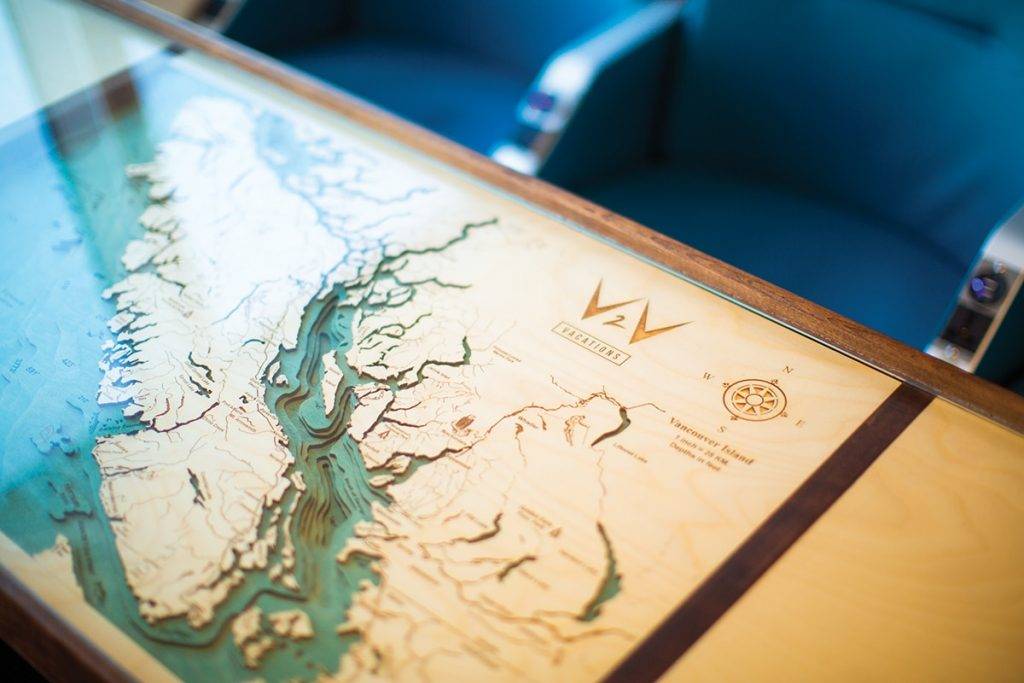 "We started to track why people were not booking with us, and overwhelmingly people wanted to leave in the morning from Vancouver and leave Victoria as late as possible," Wright explains. "Traditionally, it's very busy in the morning in Vancouver and then very busy in the afternoon in Victoria, and that's just the way the traffic runs."
Even "concierges in hotels in Vancouver say the number-one question they get is how to get to Victoria for the day," says Wright, who believes the new day-trip schedule, which will take passengers on a three-and-a-half-hour trip through Active Pass, the Gulf Islands, Haro Strait and Trial Island into Victoria Harbour, will drive the company's goal of doubling its business in 2019.
Although he says 2018 was a good year, he would not reveal revenue or ridership numbers, but he does say the numbers were not as strong as hoped for the winter months, which has led V2V to cancel winter service.
"That decision came down primarily because the numbers were not strong. We were hit by a number of weather events," Wright says, adding that it's not much fun to be rolling around on winter seas.
"We only have the one vessel," he adds, "and we need to look after her as much as possible."
Big Market
As the West Coast's biggest urban centre, Vancouver is a gateway for tourists arriving in the Pacific Northwest. With its large international airport and 23,000 hotel rooms in the metro area, it is also one of the country's strongest tourism markets. 
Until now, Wright says, V2V's business model had been split evenly between attracting local and business customers on one hand, and tourists on the other. Now, with its sights set squarely on tourists, Wright is convinced it will pay off.
And he's not alone. "There are over 10 million visitors a year in Vancouver with options of how they come to Victoria — I think this is just fantastic," says Paul Nursey, president and CEO of Destination Greater Victoria. "It just makes good business sense."
But first the business case was tested. "We had some good numbers last year when we made a short trial of a day-trip schedule and a really good response to that in October on short notice," Wright says. "So I think that's very encouraging."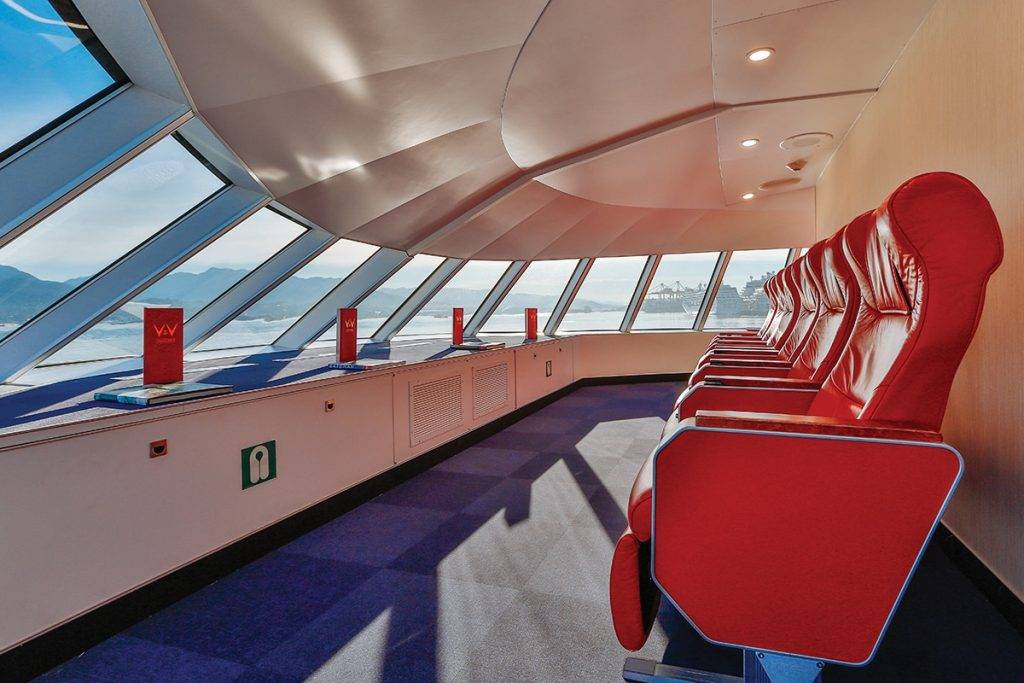 "I think Victoria benefits more than Vancouver," says Eugene Thomlinson, associate professor in the School of Tourism and Hospitality Management at Royal Roads University. "… you're taking these visitors that may have spent time in Vancouver and you're bringing them to Victoria to spend their money for the day."
Growth is the Priority
V2V Vacations is not the first company that has thought of a passenger ferry service between Victoria and Vancouver. The Victoria Clipper thought about doing it and didn't, saying in 2017 that the larger vessel required for the service would mean constructing a new float and driving new pilings in Vancouver Harbour. At the time, the company wouldn't rule out future plans.
"We never say never," CEO David Gudgel told the Times Colonist. "We want to be part of the transportation fabric and part of the tourism industry here in a big way. [The route] is basically tabled, it's always an option."
Previous to that, in 1993, a Norwegian company called Royal Sealink launched a Victoria-to-Vancouver service and shut down after less than two years in business in the wake of leaking millions of dollars due to low ridership. 
That may have been 26 years ago, but questions still persist, which Wright is quick to address. "We're here for the long run. This is not a flash in the pan. We have a history with start-up ventures for the long run and making them successful."
Thomlinson agrees. "First of all, it's a large investment. You're not going to jump into it without taking a hard look at the numbers. And there's enough support and deep pockets from the overall company."
"They have communicated to me on several occasions that they're in for the long haul and would like to do other things," Nursey adds.
Wright will not say how much V2V has invested to date, but he does note that growing V2V Vacations is the priority right now. 
"We're very responsive to change and to challenges," he adds. "There may be more challenges to come up this year and more adjustments."
For instance, this year V2V will move from three tiers of service on board its vessel to two, with fares staying the same as last year. The cost of a one-way premier class trip is $110 to $120, and a one-way royal class trip is between $165 to $180 depending on the month. Locals and senior citizens receive a 10- to 15-per-cent discount depending on the class they select.
Lessons Learned
Wright notes there is more brand building work to be done for V2V.
"Brand awareness in Victoria is pretty strong with the locals and the tourism industry," he notes, "and it's [in] Vancouver where we've had to build from the grassroots last year. But in the wider tourism market, we have a lot of work to do."
Nursey believes V2V Vacations can scale over time. "As they get more business partners, they get more distribution partners," he says, adding that as long as they continue moving in a positive direction, the future looks good.
As for talk about a second vessel that was in V2V's original business plan, "We're pressing pause on that," says Wright, "but it's definitely in the growth options. We have to find out a lot more about what the customers want."
And that learning is essential to success, says Wright. "If you are not taking lessons learned in a startup," he adds, "you're calling it off too early."
With a forecast of another strong tourism year, it's full-throttle ahead for V2V Vacations as it continues to hone its business plan and build brand awareness while charting a new course for growth.
This article is from the April/May 2019 issue of Douglas.