March 4, 2017 – Members of the Victoria Hospitality Awards Committee (VHAP) recognized a Magnolia Hotel employee Dorothea Castonguay among her peers at the hotel. Dorothea was nominated by her colleague Mariah Currie, who recognized how Dorothea's commitment to customer satisfaction went well above the ordinary call of duty that day.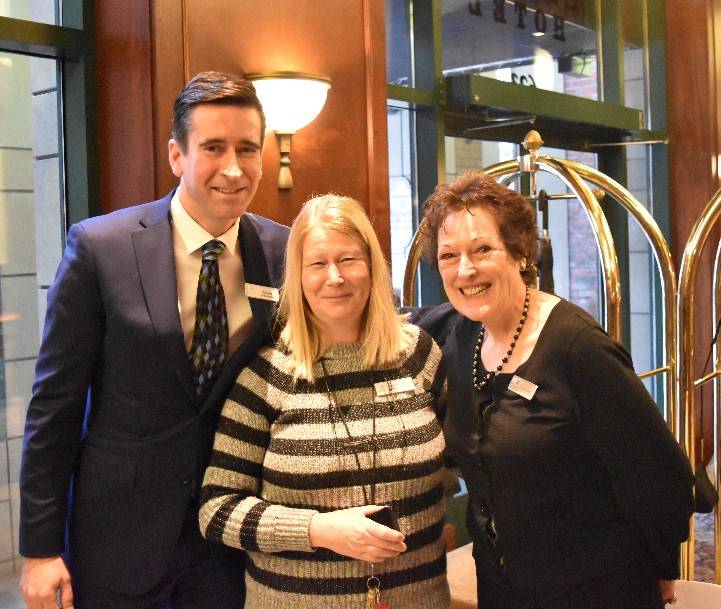 Mariah's nomination read:
"A guest of ours was staying for a few nights and was working very hard during his stay. He was exhausted and happened to mention to Dorothea on his way out one morning that we only have chips in our mini bars but, "What a man really wants after a long day of work is to enjoy some popcorn and a beer."
When he returned to his room that day he was greeted by a bag of popcorn which Dorothea had gone out and purchased on her own and placed in his room. The guest was so over the moon happy with this gesture that had made his day, he called down to the front desk right away and told us how blown away he was. I had spoken to the guest earlier that day. He was clearly very exhausted and was telling me how he was wishing to at some point be able to relax and enjoy his stay. Dorothea's kind gesture definitely helped that to happen.
Dorothea is one of our hardest workers at the Magnolia Hotel & Spa and this gesture is just one of the many things that make her a deserving candidate for a Victoria Hospitality Award."
This story is a wonderful example of how one's commitment to customer satisfaction can have a lasting effect on an individual and reflect the top notch hospitality that Victoria is know for.
The Victoria Hospitality Award program is a not-for-profit society formed with a mandate to recognize individuals from the Greater Victoria area for outstanding hospitality.  Winners are presented with a signed Victoria Hospitality Award Program certificate, a letter of commendation, a City of Victoria pin engraved with the winner's name and recognition from various businesses in the community.
For more information and nomination ballots visit www.victoriahospitalityawards.com.