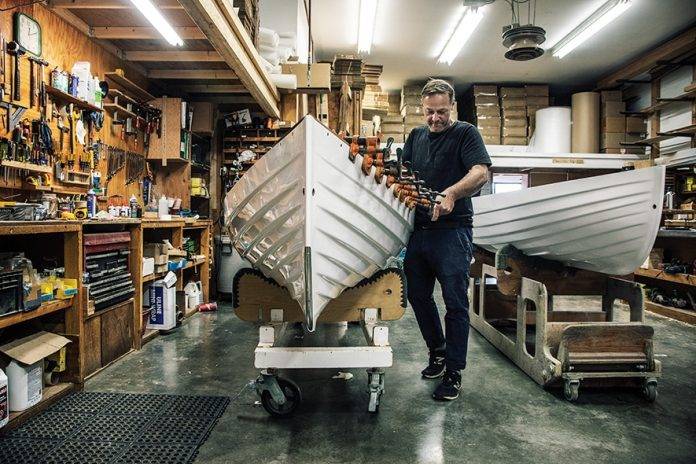 Many Vancouver Island small- and medium-sized businesses export the bulk of their products. Those businesses are a diverse lot, selling exquisite rowboats, handcrafted work boots, compressors for work trucks, control systems for trains, solar-powered outdoor lighting systems, and seaweed.
About 80 per cent of Viberg Boot's sales are outside the country, mostly to the U.S., says company president Brett Viberg, the third generation of Vibergs to lead the company.
Established by his grandfather in Saskatchewan in the 1930s, Viberg Boot has been a fixture in Greater Victoria since 1970. It now produces about 10,000 boots annually at its facility on Boleskine Road in Saanich.
"It's slow manufacturing. It's made the traditional way," Viberg says of the boots, which retail for $800 to $1,800. "Most companies would produce our yearly output in less than a week."
Last year, before the pandemic struck, the company had more than 50 employees and was poised for growth. Viberg planned to import four skilled workers from overseas, which would have resulted in hiring 10 Canadians to complement their skills.
While COVID-19 has had an impact on the business, it's hard to quantify because of seasonal fluctuations.
"We're over capacity with orders. And we're way behind schedule," Viberg says.
Viberg is nevertheless looking to expand its market in locales like Japan, where
a decade ago the company exploited a demand among fashionistas for stylized work boots. While that trend has run its course, Viberg is working with an agent in Japan to take advantage of reduced duties on footwear made possible by the Trans- Pacific Partnership trade deal.
A similar trade deal between Canada and the European Union should also create greater opportunities. Nevertheless, exporting presents daunting challenges for a small business.
"To take advantage of all these new trade agreements, there's a lot of homework that has to be done," Viberg says.
That includes using the correct HS code — the international product identifier — when doing the paperwork. "Because the last thing you want to do is ship it to
a customer, and they get charged $1,000 duty."
Export: Seeing New Light
It's no wonder then that Victoria's First Light Technologies, which makes solar-powered outdoor lighting systems, has put zero effort into Asian and European markets.
"It's really tough when you have the world's largest economy as our neighbour," says Sean Bourquin, First Light's president and chief executive officer. "We've only just begun to scratch the surface of what's possible for us in the markets we already participate in."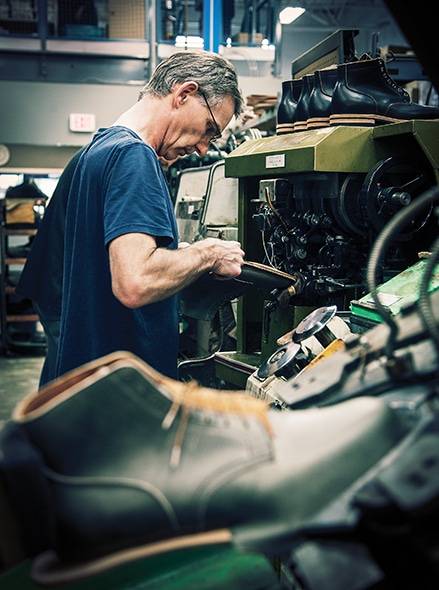 About 90 per cent of the company's sales are to the U.S. Its products illuminate such iconic sites as the Kennedy Space Center in Florida and the USS Arizona Memorial at Pearl Harbor in Hawaii.
"Nobody knows who we are in this town," Bourquin says. "Nobody knows who we are anywhere. But our customers know."
The company designs and assembles its systems at a 7,000-square-foot facility on Tennyson Avenue in Saanich. Metal castings, circuit boards and other components are built elsewhere, although First Light strives to source locally whenever possible.
Eleven years ago, in its first partial year of operation, First Light generated just $42,000 in sales. Its annual sales are now around $5 million. It accomplishes that with 23 employees. Not even the pandemic is slowing its organic growth.
"The bad things that really could have happened didn't manifest themselves yet for us," Bourquin says.
He credits his company's success to mentoring he received as "an impressionable" University of Victoria engineering co-op student, working at Carmanah Technologies under its founder David Green. Green subsequently became an angel investor in First Light and is still an owner and advisor.
"We've got the skills and experience where we can go and design things that can outdo what the world's best can do. That's a cool skill set to have developed here in Victoria," Bourquin says.
Rowboats by Pony Express
At about 6,000 square feet, Whitehall Rowing & Sail's building on Victoria's Dallas Road is also a modest size. Yet it too exports most of its products — about 65 per cent.
About half of those exports go to the U.S.
But Australia, New Zealand, South America and Europe are also destinations, says Marie Hutchinson, who co-owns Whitehall with her life partner Harold Aune.
Whitehall's signature exports are its hand-crafted Classic Whitehall Spirit rowboats. Made in Victoria, they fetch as much as $50,000 each. The company, in business since 1987, only sells 20 to 30 of its Classics a year, though.
"There's a lot of detailing in them. So they take a long time to build," Hutchinson says.
Of late, its bigger seller is the trademarked Oar Board, which turns a paddle board into a row- boat. The Oar Boards and Whitehall's copolymer boats are designed by Aune in Victoria but manufactured elsewhere.
The Oar Boards are now sold in more than 66 countries, Aune says. The internet has enabled that but so has a passionate crew that includes former Olympic rower Adam Kreek on the marketing side.
"We realized that you cannot send something halfway around the planet and have it break or be defective. It has to be perfect," Aune says. "So that means it has to be packaged correctly."
Since the Oar Boards travel by courier, they have to fit in boxes that weigh less than 50 pounds, for example. The Classic rowboats have to be crated for overseas shipping.
"And in North America we use our own delivery system, which we call the Pony Express," Aune says.
That system consists of a Ford F-150 truck that tows a trailer carrying up to 10 boats. The truck even has a small sleeper unit for the driver, Wilf Lewis, who will log around 8,000 miles on a trip.
"In fact, it's so busy this year, the driver's doing back-to-back deliveries," says Aune, who estimates monthly sales at about half a million dollars.
Hutchinson says that business has doubled during the pandemic, which she attributes to people having more free time and desire to keep fit.
"You can't beat rowing for staying healthy," she says.
For customs brokerage, Whitehall uses FedEx Trade Networks, which brokers an entire shipment as a single unit.
"It's trickier than it seems," Aune says. "We have to do everything that a major corporation does except it's all miniaturized."
Nanaimo to North America
In Nanaimo since the early 1990s, VMAC Global Technology has focused on building its export business during the last decade to the point where two-thirds of its products are shipped outside of Canada.
"The majority is to the U.S.," says company president Tod Gilbert. "But last year we shipped to 13 different countries in total."
VMAC — which stands for vehicle mounted air compressor — primarily manufactures equipment for work trucks, although it also has a division that supports other equipment makers. "And then those companies also export outside of North America," Gilbert says.
VMAC's products sell from about $5,000 to $20,000. The local market for those products seems small. But then Gilbert puts that in perspective.
"A lot of our competitors are sourcing components overseas," Gilbert says. "Even though our products are manufactured on Vancouver Island, it's still a lot more local to the central U.S. than, say, China or Mexico or Europe."
The pandemic slowed VMAC's business largely because North American truck and auto plants shut down during the spring, squeezing the supply of chassis for work truck upfitters. "Obviously that has an impact when we're supplying parts for vehicles," Gilbert says.
VMAC avoided any layoffs of its 130 workers during the pandemic, although it did arrange for a lot of work to be done at home — including a little bit of assembly. "So I can say with certainty, when the rebound happens, we'll be stronger than we were going in," Gilbert says.
Seaweed to Go
Cascadia Seaweed, one of Douglas magazine's 2020 Ten to Watch winners, is a small company just gearing up its export business. It plans to launch a line of packaged seafood products for distribution in Western Canada and along the Interstate 5 corridor in Washington, Oregon and California, says chairman Bill Collins. Headquartered in Sidney, Cascadia grows its seaweed in Barkley Sound and processes it at the new food hub in Port Alberni. Cascadia has nine employees and was planning to add three more as this went to press.
Seaweed is quite a different market from the products of Central Saanich-based Quester Tangent, of which Collins is still board chairman and part-owner. A manufacturer of control systems for trains, radio communications, passenger signage and other electronics,
Quester Tangent exports about 90 percent of its products.
That company employs close to 100 people, with some downsizing having occurred during the pandemic. But like so many exporters, the company was designated an essential service, says Collins, who is no longer involved in Quester Tangent's day-to-day operations.
Collins brought his expert experience to the Vancouver Island Economic Alliance (VIEA). "My remit was to develop business cases for Vancouver Island where we have a competitive advantage globally," he says.
Through VIEA Collins is on the advisory board of Foreign Trade Zone–Vancouver Island, which the federal government established in September 2018 to foster, among other things, the Island's exports.
"We have world class products here," he says. "And we're in a very, very good geographic location — a gateway location.
By getting the support of the feds in the designation, as a foreign trade zone, we are able to focus attention on companies that can excel in an export market, and we have a lot of them … Our goal is to raise awareness to attract foreign direct investment because there's so many competitive advantages to being on the Island."
Continue reading… Cascadia Seaweed is a 10 to Watch Winner