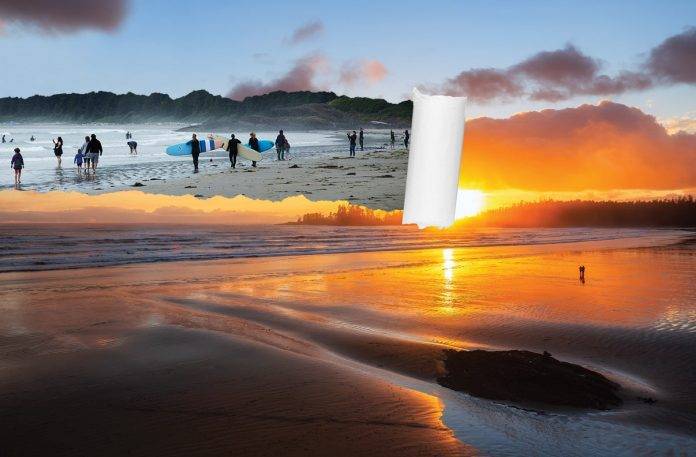 There's a 12-car jam at the four-way intersection on Campbell Street in Tofino next to the popular restaurant Wolf In The Fog. Nearby there's an equally long human queue outside Rhino Coffee House, as tourists and locals await their morning espresso shot and maple-bacon donut fix.
Welcome to post-COVID lockdown in Tofino. Dan Lewis sits outside the shoebox-sized headquarters of Clayoquot Action, the grassroots conservation society he formed with his partner Bonny Glambeck in 2013, after they closed Rainforest Kayak Adventures to dive full time into environmental activism.
"When COVID shut things down in the spring, people were like, 'Wow, this is what Tofino used to be like,'" says Lewis, originally from Vancouver but who has spent more than the better part of four decades in Tofino as an entrepreneur and activist. "It's really brought the question of overtourism to the forefront. We really need to have a discussion around how to balance the many benefits of tourism with the need to preserve the environment and a healthy community."
That is the eternal question in this town of 2000 full-time residents on the doorstep of Pacific Rim National Park and the Clayoquot Sound UNESCO Biosphere Reserve, comprised of Hesquiaht, Ahousaht and Tla-o-qui-aht traditional territories. More than one million people visit the Pacific Rim annually, drawn by the surf, wildlife and rainforest.
However, Tofino is as beautiful a place as it is fraught with tension between the economy and environment, between human endeavour and hubris. Housing availability and affordability has become a critical issue for employers and employees alike. The cost of living is high; Tofitians pay on average 12 per cent more for a bag of groceries than their neighbours in Port Alberni, a winding 90-minute drive east over rugged Sutton Pass on Highway 4.
The World is Watching Tofino
Despite its biosphere designation, fish farming in Clayoquot Sound (Cermaq Canada currently has 16 open-net pen farm operations and Creative Salmon Co. runs four operations) continues to be a thorn in Tofino's crown. A study commissioned by Clayoquot Action in 2019 found that 90 per cent of Cermaq's farms and 100 per cent of Creative Salmon's farms were infected by PRV (Piscine orthoreovirus), a virus believed to originate from the North Atlantic and linked with disease in fragile wild Pacific salmon stocks.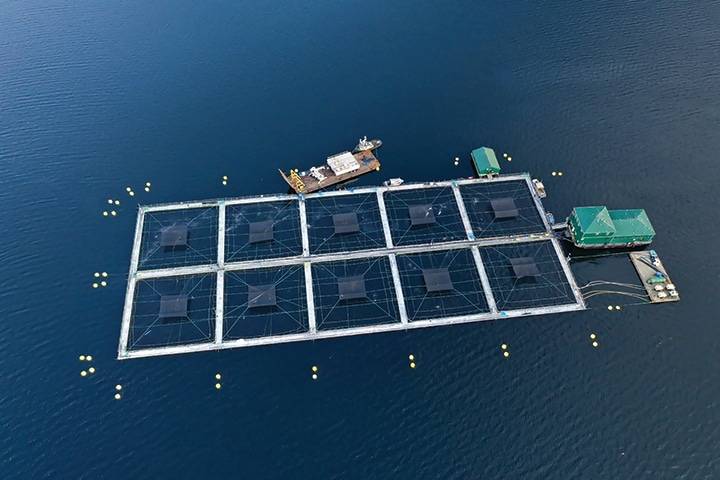 In 2018 and 2019, fish farms in the Sound experienced a major outbreak of sea lice, further undermining the industry's tenuous social license in the community. At the same time, wild salmon stocks in the Sound are being pushed to the brink — Tranquil Creek supported between 1000 and 3000 chinook salmon in the 1970s but saw fewer than 60 chinooks returning to spawn in 2018. Past logging practices are partly to blame.
In the early 1990s, protests against old- growth logging in Clayoquot Sound flared into a massive movement that became known as the War in the Woods. It brought global attention — and shame — to the Province of B.C. An unintended side effect of this global notoriety was that Tofino and Clayoquot Sound suddenly climbed onto the bucket list of millions of travellers from around the world. Few people imagined what the area's tourism would become.
Today visitors spend $295 million every year in the local economy. The sector generates $57 million in municipal, provincial and federal taxes and $220 million in GDP. Tofino also punches above its weight as one of 14 B.C. communities with Resort Municipality Initiative (RMI) status, a designation that gives its members access to $10.5 million in annual provincial funding to invest in tourism development and infrastructure.
The community hosts roughly 300 visitors per capita, three times the average for RMI communities that include Whistler. But such a hefty tourism sector comes with a responsibility and cost; tourism entrepreneurs in Tofino are tasked with being stewards of the very ecological and cultural wonders upon which their businesses are built. As Tofino's beaches were being swamped with COVID lockdown escapees, the human impact on this special place where the rainforest meets the Pacific surf was brought into sharp focus. The toll is visible – empty beer cans left on the beach, toilet paper discarded next to trails and illegal camping in parking lots. The disrespect rankles locals.
In 2019 the Clayoquot Biosphere Trust and the District of Tofino joined forces to host the Vital Conversation on Sustainable Tourism. It brought stakeholders together from the business, First Nations, non-profit and government sectors to talk tourism. It was a testy conversation that revealed growing angst about the impact of tourism, particularly regarding the demands for high-cost infrastructure, such as water, waste management and roads; residents' sense of well- being and an overall concern about continued visitor growth at the expense of environmental integrity.
The following comment from one of the participants sums up the sentiment: "Communicate the impacts to visitors, generate a sense of community, stop sugar-coating the reality for tourists."
Rebecca Hurwitz, executive director of the Clayoquot Biosphere Trust, knows the world is watching.
"Pre-COVID, we were working with community partners to attract visitors who share our values of sustainable development, biodiversity conservation and reconciliation," Hurwitz says. "COVID has further amplified many of the risks and vulnerabilities we documented in the Vital Conversation."
Tofino is a Town in Demand
The War in the Woods was raging when Charles McDiarmid cobbled together a business plan to build the Wickaninnish Inn on a stunning, windswept point at the north end of North
Chesterman Beach. His physician father Howard, a Socred MLA for Alberni Clayoquot between 1966 and 1972, played a key role lobbying for the creation of Pacific Rim
National Park Reserve.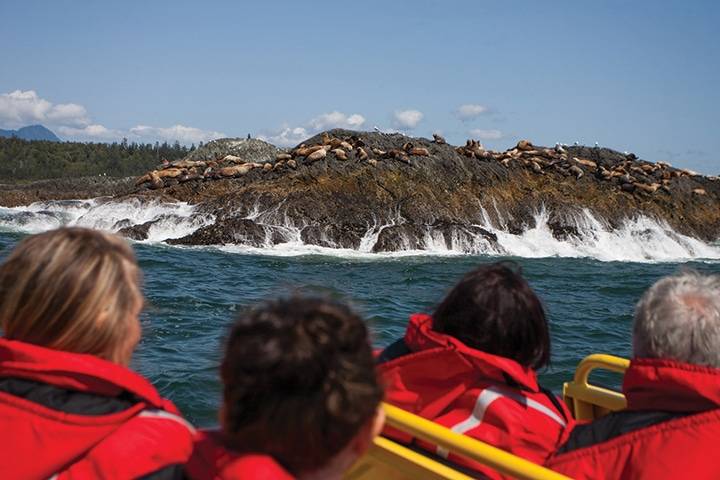 He had bought the entire north and south Chesterman waterfront when it was untamed old growth and dense salal. (He later subdivided it and sold lots for $2,500 apiece.) Charles helped clear the land for construction in 1995 and welcomed his first guests the following year. In 1997 the Wickaninnish acquired coveted Relais & Châteaux branding.
Right from the beginning, McDiarmid aimed for an experience that would be luxurious while honouring the place and people of the Clayoquot region. Before breaking ground, the hotel was designed in a way that minimized the number of trees that had to be removed. Beams salvaged from St. Ann's Academy in Victoria were repurposed into window casings, trim and furniture.
"We had faith in Tofino as a destination, but it exceeded our wildest expectations," McDiarmid tells me on a day when a briny breeze is blowing off the Pacific into the towering cedars and Sitka spruce surrounding the hotel.
That faith was reinforced when the inn reopened in late June of this year. McDiarmid found to his surprise that with only modest marketing efforts in Vancouver, the void left by foreigners, who typically account for more than half of the Wick's clientele, was being replaced by regional Canadian travellers.
As for the issue of overtourism, McDiarmid says it's "real."
"Tofino is in demand," he says, but adds that hoteliers often shoulder unfair blame for crowding.
He points to the explosion of Airbnb, VRBO and other vacation rentals far exceeding the number of conventional hotel beds, limiting or pricing available housing stock beyond the reach of seasonal workers. That's why in 2017, Tofino's council put homeowners on notice that it would start enforcing bylaws aimed at curtailing the number of illegal vacation rentals. (The number of Airbnbs has dropped from 350 in 2016 to around 300 in 2018.) Still, affordability remains a challenge that requires the Wickaninnish to manage 85 beds of employee housing.
McDiarmid grew up in Tofino, which gave him "a natural appreciation for the environment. But I don't lead with it. It's just something we're always working on," McDiarmid says, about the Wick's efforts to green up.
He uses a well-worn but apt cliché to describe these efforts, calling it "a journey not a destination," that is always balanced with guest expectations. And for Relais & Châteaux guests, those expectations can be high. The details can be mind-boggling and not necessarily sexy work.
For example, there are the mundane things, like converting all fixtures to energy-efficient bulbs and creating a meticulously organized recycling system. Then there are more inspiring initiatives, like the hotel's Green Committee, with reps from every department who meet once a month to share ideas about best environmental practices. And if a detail is overlooked, watchdogs like Lewis and Glambeck at Clayoquot Action are there to keep business owners honest.
For example, in 2019 these tenacious activists introduced Get Wild!, a program to encourage Tofino restaurateurs and vendors to source only wild salmon for their menus. So far 24 local businesses have signed on, and Lewis has the Wickaninnish in his crosshairs.
"If we get the Wick to sign that will be huge in terms of influence," Lewis says about a campaign that he hopes will turn up the pressure to have fish farms removed from Clayoquot Sound by 2025.
A Capital of Social Enterprise
If the Wickaninnish is subtle about sustainability, at Ocean Outfitters in downtown Tofino it's the raison d'être. When Dutchman Daan Delen (who declined an interview) bought the company several years ago, he completely reimagined its mission into a social enterprise of the next order. All profits from Ocean Outfitters' wildlife viewing, kayak tours and fishing charters are now invested back into environmental education, community projects and conservation activism.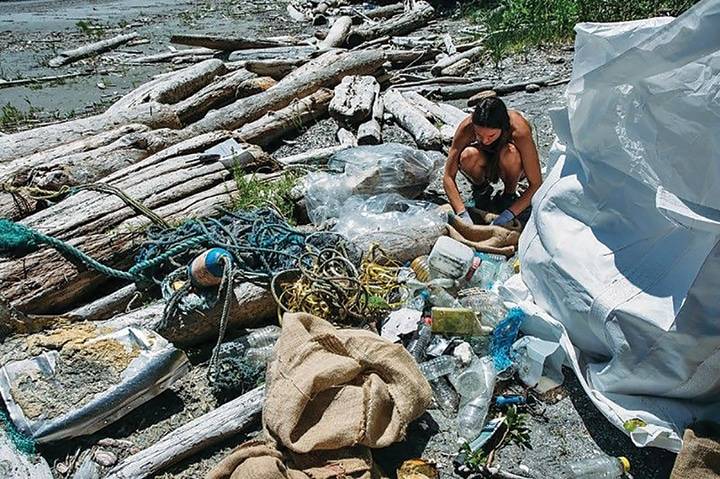 "Several years ago, as a company we started asking ourselves tough questions. How do we redefine what wildlife tourism means? How do we become a socially and ecologically conscious business?" explains Ocean Outfitters general manager Ocean Simone Shine, as guests sign waivers before embarking on a Meares Island tour.
"We want to play an active role in restoring Clayoquot Sound, because we feel it's our responsibility to ensure not only its survival but to restore its abundance. I think we reached that threshold, beyond balance, a while ago. The more growth Tofino sees, the less quality it can offer, and the greater the impact on the environment and sustainability."
In 2018 and 2019 Ocean Outfitters donated $640,000 to initiatives like the Tranquil Creek watershed restoration and the non-profit Cedar Coast Field Station.
Not far from Ocean Outfitters' waterfront headquarters, ex-NHL'er Willie Mitchell chats with guests at Tofino Resort + Marina after a long day fishing albacore tuna 40 km offshore. In 2016 the Port McNeill-raised Mitchell partnered with fellow pro hockey player Dan Hamhuis
and developer Andrew Purdey to purchase the aging, 63-room Marina West Resort. With the combination of extensive renovations and early growing pains with staff and management, Mitchell admits it's been a steep learning curve for "a guy who chased rubber for a living."
38 DOUGLAS
Prior to the pandemic shutdown, Mitchell was thrust into the managing partner role. In early July, he hired a new general manager as the resort grappled to adopt operating procedures in line with the Ministry of Health's COVID-19 guidelines, while at the same time struggling to find staff. (Mitchell blames the Canada Emergency Response Benefit (CERB) program and perhaps a genuine fear among potential employees of working in frontline hospitality as COVID cases in B.C. surge toward a second wave.)
Despite these challenges, resort revenues have grown 28 per cent year over year for the past two fiscals. And as the business starts to stabilize, so too does Mitchell's vision of what it means to be a business owner in Tofino.
He's a newcomer in Tofino, still commuting between a Vancouver home, with his wife Meg and his three-year-old son Paxton, until they break ground on a prime two-acre lot on
Rosie Bay.
Anyone who knows Mitchell, knows he's a fishing fanatic, but he's had to reassess his relationship with the ocean. He purposefully removed the weigh scale from the resort's dock, hoping to move the needle from an ego-based, biggest-is-best sport fishing mentality to one that is more rooted in respect.
Mitchell also hosts an annual catch-and- release fish derby to raise money for Fish for the Future, a partnership between the resort and the Clayoquot Biosphere Trust that directs funds towards watershed projects. So far, Mitchell says they have raised $70,000, with plans to grow the fund with a 1 percent flow through from annual revenues. And he's no fan of fish farming.
"Fish are my passion. I grew up fishing in the Broughton Archipelago and eating salmon sandwiches," Mitchell says. "I knew we would love it here, but I never knew how much."
Tribal Parks Alliance
Tofino is that kind of place. It gets into the soul. For the Tla-o-qui-aht, part of that soul is recognizing that every surfboard rented, cappuccino poured, and spoonful of dirt removed for a new build happens on unceded Indigenous territory with a history of occupation dating back more than 5,000 years.
The Tla-o-qui-aht are active players in the local economy. The nation owns a run-of-river hydroelectricity project that generates enough power for 2,000 homes, the Tin Wis Best Western, and TFN Seafoods. In 2014, the nation declared its entire territory a tribal park, the seeds of which were planted in 1984 when the Tla-o-qui-aht successfully challenged MacMillan Bloedel's plans to log Meares Island.
Through the Tribal Parks Alliance, the Tla-o-qui-aht have so far enlisted 37 businesses and organizations as allies, with the goal of having members charge a 1 per cent "ecosystem service fee" on all transactions to support a guardian program and ensure that the nation benefits from economic activities on tribal park land.
"We're under-resourced right now," says Tla- o-qui-aht tribal administrator Saya Masso about the need to have guardians on the territory, and to be able to fund a salmon habitat, eel grass, a clamming bed and countless other restoration projects. "We don't want the businesses to pay; we want their customers to pay."
On an unusually grey wet and chilly August afternoon, some 300 people are bobbing in the Cox Bay swell, most of them on foam rental boards. Very few of them can surf, but they're out there just the same.
Meanwhile, on Tuff City Radio, the local FM station, the host is talking with a longtime surf instructor about overcrowding and the pipedream of a locals-only surf beach. Those are the sorts of conversations that are being discussed in this town that has grown so dependent on tourism. Third-term Tofino mayor Josie Osborne says the community made a conscious decision 30 years ago to shift away from resource extraction to tourism.
Now Tofino is feeling the pressures that booming tourism brings to bear upon any rural community, like a high cost of living, expensive housing, crowds, a growing gap between haves and have-nots, and an increasing desire to face the uncomfortable question – how much tourism is too much tourism?
"We don't want to be the Disneyland of the West Coast," Osborne says. "It's not about creating a local versus tourist conflict, but we need to ask some big questions about the kind of visitors we're attracting, what we're giving to them and what they're contributing to the community."
Going Above and Beyond
The crush of COVID-19 lockdown escapees has only magnified these challenges. A few kilometres down the Pacific Rim Highway, away from the Cox Bay crowds, it's a relatively tranquil scene at Tofino Botanical Gardens, the outdoor art gallery and garden that has been the passion project of founder George Patterson for the past 23 years. (The 10-acre property with a café and 12 bedroom eco-lodge was recently listed for $3.75 million.)
Lilly Woodbury, chapter manager for Surfrider Foundation Pacific Rim, strolls from her ground floor office in the eco-lodge across the gardens to Darwin's Café. She was born
in Tofino after the War in the Woods was over but moved to Ontario with her family as a
kid. She says she always knew she'd come back, which she did first to work in hospitality before joining the staff at Friends of Clayoquot Sound, then stepping into her leadership
role at Surfrider.
It's a busy office. Woodbury manages a dedicated group of 40 volunteers for Flash Clean Friday beach clean ups, among other initiatives. Surfrider spearheaded the
Ban the Bags and Straws Suck campaigns to help businesses remove plastics from the waste stream, and she also works with 15 local businesses that have signed onto the Ocean Friendly Business campaign.
"It's not in our mandate to determine a threshold for sustainable tourism, but the fact is businesses are profiting from the beauty of this place," Woodbury says. "We need to go above and beyond."
The challenge for Tofino is finding that balance when more and more people want a piece of this coastal paradise.
Continue Reading… Pani Energy Gets Grant to Advance Climate Change Technology