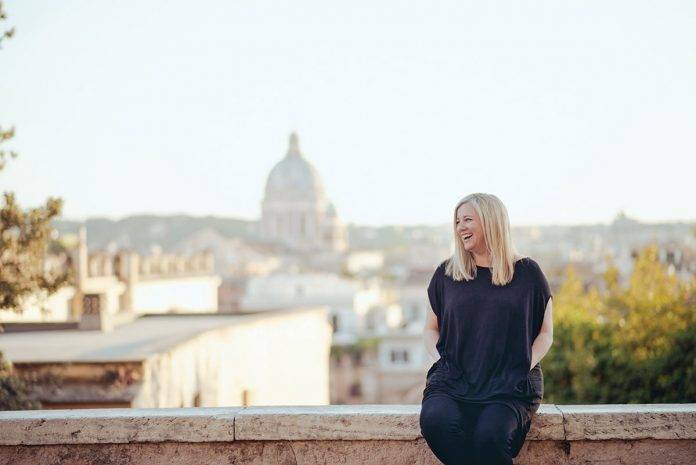 Good ideas are uncomfortable beasts. They don't sit politely — they spring ahead, loud and ready to be seen. Even when you ignore them, they fuss in the background with the perseverance of toddlers wanting dessert. This is what Flytographer founder Nicole Smith experienced when she came up with the idea for a business built around vacation photography. Frustrated by the quality of photos she and her friend were taking on their 2011 trip to Paris, Smith realized if a photographer were to meet them for a short time, they could easily capture the best of their trip and secure powerful mementos of the weekend. So they called a third friend to take casual street photos of the two of them — and the resulting snapshots became treasured souvenirs.
Upon returning home, the idea for a vacation photography business percolated. Despite trying to ignore it, Smith found herself walking towards it backwards, securing the URL "just in case" and telling herself it wouldn't hurt to gently test the concept on friends. Those initial beta sessions got rave reviews, so she used her savings to build the company, putting everything on the line for an idea that just wouldn't go away.
An Impact Culture That Inspires
On a winter's day in Victoria, Smith sits in Flytographer's heritage office overlooking Market Square, talking about the executives she's poised to hire after a successful second round of seed funding in 2018 netted the company $1.2 million.
Since its launch in 2013, Flytographer has been on a non-stop flight. Two years after launching, it won a Douglas magazine 10 to Watch Award as one of the Island's best new companies. Then, in 2017 and 2018, Flytographer, which did $4 million in sales last year alone, was named one of Canada's top 50 fastest growing companies by Canadian Business magazine, and it has been covered by the likes of oprah.com, Buzzfeed, the New York Times and InStyle magazine. The company has also clinched major partnerships with global travel brands such as Fairmont, Hyatt, Expedia, TripAdvisor and Virtuoso.
Inside Flytographer's HQ, a staff of 18 works at banks of desks alongside a wall covered in hundreds of photos of the photographers Flytographer works with, names and cities of residence written beneath. An interior window is dotted with sticky notes with handwritten aphorisms from staff, like "knowing is better than wondering" and "never be smaller than you are."
It's all a reminder that Flytographer is a business that depends heavily on people with top-notch communications skills and high emotional intelligence, who are driven by creating impact. Not surprisingly, these are qualities Smith herself possesses.
"She's so receptive and open to receiving feedback, which you don't always get with founders and CEOs," says Flytographer investor and advisor Kim Kaplan, who was also integral to the marketing and growth of the dating site Plenty of Fish, which sold to Match.com in 2015 for $575 million cash.
"Nicole has a great sense of what she knows and what she doesn't know," says Kaplan, "and is willing and wants to seek help from people who are experts in those areas."
The Runway to success
Smith knows a happy staff is a productive staff; she's quick to point to her team as integral to her success. But at the beginning it was just her, essentially building the company alone, working nights and weekends to shape Flytographer into a marketable, profitable company.
Flytographer's first round of funding raised $650,000 CDN and came mostly from friends and family, as well as from some of her earliest clients who saw big things for the little startup.
It was an evolution for Smith, who admits to doing some big thinking before shifting from Microsoft employee to bootstrapping entrepreneur.
"I thought, 'Why would I disrupt this calm? I have this great job in marketing at Microsoft, I have a great life with my kids, I can pick them up from school, I have so much balance, I love my life,'" she recalls, adding that after a difficult divorce she had come to value the peace she had achieved as a single mom with two young boys.
"Flytographer started as a lark — it didn't start as 'I'm going to create a $100 million company and dominate global photography for the world,'" she says. "It started off as 'I have a problem I want to solve, and maybe other people have this same problem, so let's test this.'"
Capturing Memories
Once upon a time, people would think, "I wish I had a camera" when life's most beautiful moments unfolded. Today, despite everyone having cellphone cameras, millions of Facebook and Instagram posts prove that truly great photos remain elusive. This is what makes Flytographer so pivotal.
Flytographer was first to tap into a vacation market that was clearly craving better documentation. It now operates on six continents and connects clients to top photographers in 250 cities around the world for short photo shoots that marry people to place. It has established itself as the first and largest vacation photography service company on the planet.
Its premise is simple. Customers — typically people on vacation — book photo shoots of varying lengths and intricacy with professional photographers located in cities around the globe, from Venice to Paris and New York to Marrakesh. The location is as much a part of the photo product as the people in it, and Flytographer's photographers are carefully vetted for their skills behind the camera, as well as personal skills and knowledge of the city they're working in. They know how the light will fall at local landmarks at certain times of day, when to avoid congested areas and about secret locations that photograph beautifully but may not be on a client's radar.
Out of 13,000 applicants, Flytographer has hired 500 international photographers based on a certain blend of skills that take customer service to the next level. Given the current zeitgeist leading us away from plastic junk and meaningless trinkets, there's no better time to market memories as souvenirs. And contrary to popular belief, it isn't only image- and selfie-obsessed millenials who are buying the service. Flytographer specializes in covert proposal shoots, honeymoons, babymoons and family trips.
"Our biggest cohort," says Smith, "is moms who want to be in the photo, who are tired of not being in the photo, or who want to be in the photo and actually look decent.
"I was never in the photo when I started this business either, and it's so hard to orchestrate to get everyone in. You're the family chronicler taking the photo most of the time. So moms go on their vacations and book Flytographer."
Since its 2013 launch, Flytographer has produced more than one million photos and is adding more every day. What to do with all of this associated data is just one of the challenges the company faces as it moves forward and examines how it can profit across other verticals.
"How do we leverage these assets?" Smith says when asked about Flytographer's future goals. "How do we tag these assets and catalogue them into different tables?"
Part of Flytographer's goal is to direct resources to areas of the market that are still unknown, such as using AI to read and identify photos, and metadata tagging.
"We created this marketplace," Smith explains, "so there isn't a series of solved problems that we can rely on. We are having to custom code and come up with solutions ourselves." For example, she says, Flytographer can't just use an off-the-shelf calendar because, as a photography business, its calendar is spread across multiple time zones around
the globe.
VIATEC CEO Dan Gunn has been watching Smith grow Flytographer from its inception, when he first encouraged her to apply for VIATEC's accelerator program. He says her grit and receptiveness to direction made her an excellent candidate.
"There are lots of people with interesting ideas," says Gunn, "but the ones that actually seek help, who admit what they don't know and are willing to work hard on what doesn't come easily to them, are the ones with the greatest chance of doing something special.
"Her business concept at the time wasn't the typical startup applicant we expected but we could see in her that she was brilliant, ambitious, focused and yet still coachable."
Women in Tech
Tech is still mostly dominated by men, and Smith says a lack of female role models made starting her company harder, although aligning herself with powerful female mentors like Kaplan has been beneficial. That's why she recently stepped down as a board member at VIATEC to sit on the board of the Forum for Women Entrepreneurs, a Vancouver-based charity that educates, mentors and connects women entrepreneurs across Canada.
"So many people have helped me," she says, "and I think women need as many things tossed at them as they can because there's such a divide right now. Four per cent of venture capital goes to women, so how do we level the playing field and provide resources?"
Though Flytographer is growing quickly, Smith has adapted to the fast-paced business world that is her new normal. Asked if a generous offer might tempt her to sell her company, Smith says she's too interested in where Flytographer is going to let it go now.
Being at the forefront of an industry with room to grow leaves myriad ways for her company to shape the future of vacation and event photography. And it will all be documented one shutter click at a time.
This article is from the February/March 2019 issue of Douglas.