Last spring, Robert Niven's company CarbonCure received a fistful of cash from Breakthrough Energy Ventures (BEV), an investment group whose board includes Bill Gates, Richard Branson, Jack Ma, Jeff Bezos and Michael Bloomberg. BEV's directive? Figure out how to achieve 500 million tonnes a year of carbon dioxide (CO2) reductions — and do it while providing venture-grade returns.
While BEV's 2018 investment is a massive coup for the little Victoria- and Halifax-based green-tech company that could (Niven declines to disclose the amount), it isn't CarbonCure's first round of investment. Rather, it's one of several, with Pangaea, BDC, GreenSoil, Innovacorp and various angel investors forming the backbone of previous rounds. What's different this time is BEV came to CarbonCure.
"They sort of scoured the world for technologies that can change things," says Niven. "We closed that deal in record time. We weren't even fundraising."
It's a brilliant feather in the cap of CarbonCure, one of only nine green-tech companies worldwide to be anointed by BEV, and the only such company in Canada.
"Up until that point we were, we thought, growing very aggressively and pushing, pushing, pushing," says Niven. "And they said, 'OK, what you're doing is great, it's established — but you need to be more ambitious. And we want to give you the resources to be able to achieve 500 million tonnes a year of CO2 reductions because that's what's really going to change the course of this climate change narrative.'"
The True Toll
Changing that narrative has been on Niven's agenda since he first attended the 2005 United Nations (UN) climate conference in Montreal. Knee-deep in his master's of civil engineering at McGill at the time, he was taken aback by hearing testimony about global warming from speakers living in different parts of the world.
"As a Canadian, I don't think we really understand the true toll of climate change," he says. "At these meetings you hear from the front lines about places that just don't have the benefits that we have. Small island states, for instance, that are just evaporating as sea level rise is wiping them off the map. And you know, they've been there for thousands of years."
Given his BSc in chemistry from the University of Victoria, that first UN conference set Niven's wheels turning. Then, in 2006, at the UN climate conference in Nairobi, Niven met Maia Green, a Victoria woman who was also on the Canadian delegation. When Niven returned to his native Victoria following his graduation from McGill, he reconnected with her, and she introduced him to her sister Lara. The two hit it off (and later married).
Lara introduced Niven to her dad, Carmanah Technologies founder David Green. Over lunch, Niven explained to the senior Green the carbon utilization idea he had been exploring. Along with good advice and an open door to a mentorship that lasts to this day (Green is CarbonCure's board chair), Green offered Niven $1,000 to talk with his lawyer and get a patent scan done.
"That's a thousand dollars out of his pocket for a stranger, for someone who'd just met his daughter," Niven recalls. "That's something most fathers would not do." By 2007, Niven had founded CarbonCure, and by 2015 the company was making strides in the clean-tech space.
How CarbonCure Works
CarbonCure technology is used in the concrete industry — including ready mix — one of the world's largest emitters of CO2. Industrial emissions are captured at the source by third-party providers then delivered to one of the company's 126 North American producers, where CarbonCure's technology is then applied.
Travis Butler, president of Butler Concrete & Aggregate — a CarbonCure partner since 2017 — explains how it works: "The equipment itself is essentially taking a liquid CO2 product and injecting it through CarbonCure's proprietary technology," Butler says. "This turns it ultimately into a dry-ice or snow-like product that is shot into the back of the drum when you're producing concrete. When that happens, the CO2 reacts with the cement that's included in your concrete production and starts the chemical process of reforming limestone."
The C02 isn't just trapped or stored, as with other technologies we hear about. Even if you pulverize CarbonCure concrete, that CO2 is never coming back out, because it's gone. It's been chemically rearranged … into a mineral.
The advantage for partner businesses like Butler is fourfold: the resulting concrete is stronger; concrete manufacturers can offer customers a greener product; they're meeting climate change calls to action; and CarbonCure concrete can be cheaper to produce.
Butler, which builds everything from high- rises to malls on the South Island, saved 500 tonnes of CO2 emissions and injected nine tonnes of CO2 into its concrete in its first year of using CarbonCure technology. That new Mayfair Mall expansion? Yep. CarbonCure concrete.
Part of the BEV deal specifies that CarbonCure engages in rapid geographic expansion, taking its innovative technology to countries where government and industry are ready to make significant change. The other stipulation is that the company focuses on driving innovation, looking for ways to realize carbon reduction at additional points in the production cycle.
"To be able to have a global impact," Niven explains, "we need geographic expansion and technology [portfolio expansion]. And we're pursuing both [of these] in parallel to be able to achieve those goals as quickly as possible."
In addition to its established carbon utilization technologies, the company is working on reducing water use in the concrete manufacturing process by using CO2 — a waste product — to treat other waste products and reincorporate them into the concrete. CarbonCure anticipates a significant reduction in freshwater use as a result.
Partnerships with concrete manufacturers at home and abroad are key to CarbonCure's expansion. A new deal with PanUnited in Singapore has opened doors to Asia. Europe is in the pipeline, with governments in Sweden, France and Germany wanting to learn more.
"I think our success going forward will be aligning ourselves with governments that are actually trying to make meaningful impact on climate change," says Niven. "If you listen to a lot of progressive governments, they're putting their money where their mouth is, and that's around procurement."
And while Canada is saying all the right things, our federal and provincial governments aren't walking the talk just yet, according to Niven, so for now CarbonCure will develop partnerships with countries that are.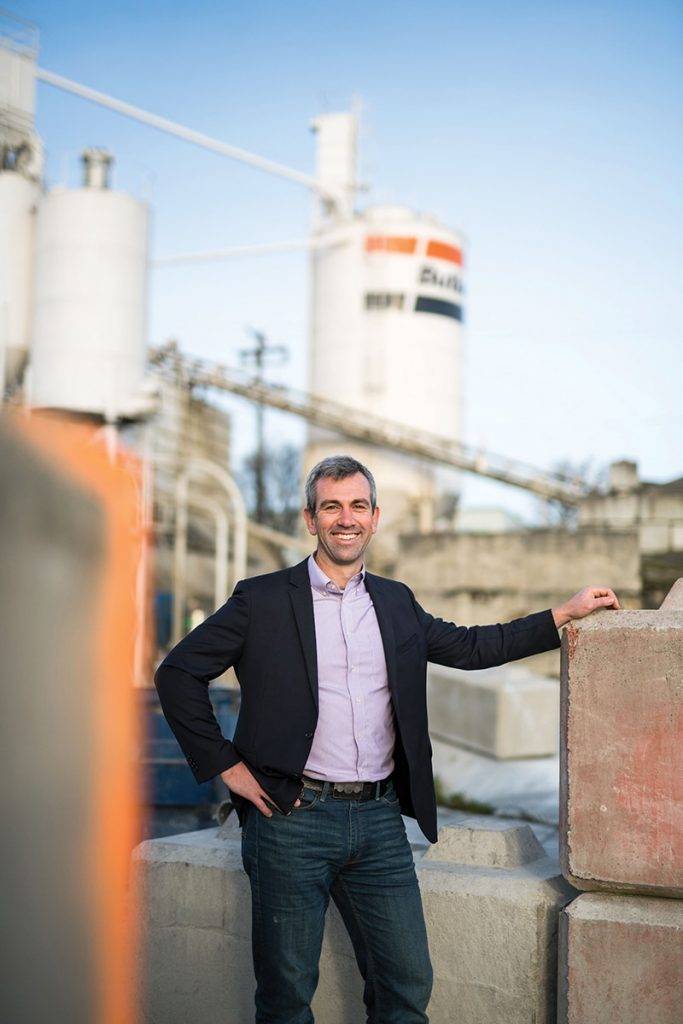 Running Lean
CarbonCure bases its finance and international sales out of Victoria, and its engineering and R&D out of Halifax. The bi-coastal split is perfect for addressing global markets. Numbering just 30 people (with a few more coming onstream in 2019), CarbonCure runs lean. Most of the "work" is done by partner producers at concrete plants around the globe, whose interests are aligned with CarbonCure's mission.
"In those cases we can actually work with them and tap into their existing resources and assets that are in-market," Niven says. "We're able to achieve far faster growth than if we were to try and build the whole thing ourselves in silos."
A small company with dedicated partners means a team that's constantly focused on the mission. "We've managed to build a team of people who each bring something unique to the table yet share a common vision of reducing carbon emissions in the cement and concrete sector," says Jennifer Wagner, CarbonCure's executive VP of corporate development and Niven's second-in-command. "This alignment of goals is really what drives us all forward in the same direction."
Wagner is heading CarbonCure's team in the $20 million Carbon XPRIZE, a five-year competition that pits teams of innovators against each other in the carbon utilization space. Several thousand teams entered the competition globally, but only two tracks of five teams each remain; the final showdown is in spring 2020. (Watch the XPRIZE video at carboncure.com.)
Wagner — who has a master's degree in chemistry and an MBA, and who Niven calls "the heart and soul of CarbonCure" — is the only XPRIZE female team captain. She's beyond excited to see everyone involved, from sponsors to teams to partners, sharing the common mission of reducing carbon emissions on a global scale.
Climate-Change Time Crunch
For CarbonCure to deliver on BEV's commandment — slowing the climate clock's ticking — it needs more partners. And it needs them to run, not walk.
"Whether it's concrete producers, architects, engineers, developers, governments — let's work together where everyone benefits and demonstrates a model that can really reduce the impacts of climate change," Niven says. "And let's then export those models elsewhere. We don't have to wait for these things to be tried out and developed elsewhere and then eventually adopt these solutions. Let's create them here – and let's work together to do that."
This article is from the February/March 2019 issue of Douglas.