"You have dementia – what kind?" Jean Collins gently asks her sister Kathy, who lives with young-onset Alzheimer's disease.
"The kind where I help people," Kathy replies with sweet sincerity.
From their first TikTok video to go viral – where, between bouts of laughter, Kathy explains the "highly unusual" experience of moving into their parents' basement in their 50s – to more recent posts sharing the grief of losing their father, Kathy and Jean have spent over two-and-a-half years opening a window into the daily life of Kathy's dementia, sharing insights, laughter and comfort along the way.      
Five years ago, in the wake of the official diagnosis, the pair clung to each other in a scorching hot parking lot. Kathy, a successful fine art wholesaler and mother of three, felt a rush of relief. Finally, she knew. For her older sister Jean – who had invited Kathy to  Vancouver Island from Calgary – the diagnosis was no surprise. The sisters decided that dementia would not eclipse their joie de vivre. They began sharing TikToks during the early days of the pandemic through an account they called "The Kathy Project."
"We were just two sisters living in our parents' basement who had no idea people were going to respond like they did," Jean says. "It gave Kathy a purpose."
Both women are experienced in caring and advocating for people living with disabilities. With Kathy, who is parenting a child living with cerebral palsy, and Jean, coming from a career advocating for adults living with developmental disabilities, the Kathy Project perfectly aligned with their values. Kathy met the moment with grace, humour and intelligence.       
"Throughout her very successful career, Kathy received a lot of attention for her business acumen," Jean says. "The Kathy Project revealed untapped aspects of her power in a new, profound way."      
Kathy is now much further along in the dementia journey and Jean is open about sharing an honest but edited version of their lives, a "positive without being candy coated" look at dementia to help challenge shame and stigma. Both sisters feel that there's nothing undignified about Alzheimer's disease. Kathy loves being recognized for her candid videos at the grocery store, but the execution of her mission is changing; she still answers Jean's prompts for their followers, but they're now posting alongside more appearances from their mother and an increased focus on the impact of caregiving for all. 
"As long as Kathy wants to, she's going to keep doing this," Jean says. "Her family will always have hours and hours of evocative clips to watch, over and over. That's the biggest thing for me: to have this living archive of what an extraordinary person she is. The Kathy Project has captured her spirit in a beautiful way.      
Jean believes educating the public through their everyday experiences will illuminate the essential need for quality dementia research, as well as reveal the importance for communities to support their fellow citizens with pragmatic policies and passionate responses. The Kathy Project is a small step forward towards both sisters' goal of humanizing dementia and its impact on individuals, families and society.       
"Kathy wanted to talk about what Alzheimer's disease is like because a lot of people are scared of it," Jean says. "We just wanted to show how loving relationships can bolster those around us."
"I'm still alive and able to be happy and joyous," Kathy says.
Join Jean and help change the future for people affected by dementia at Breakfast to Remember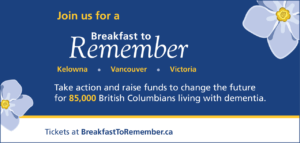 People on the Island will have the opportunity to hear directly from Jean, alongside the Society's applied health researcher, Dr. Heather Cooke at Breakfast to Remember on Tuesday, March 7 from 7 – 9 a.m. at the Fairmont Empress, 721 Government St. in Victoria. The event is an opportunity for business, health-care and community leaders to take a leading role in changing the experience of people affected by dementia, as well as the future of the disease, by funding the Society's education and support services, and enabling research.
Okanagan and Lower Mainland communities will also have the opportunity to help ensure people affected by dementia are not alone at Breakfast to Remember events in Kelowna on Feb. 22 and Vancouver on March 2.
For more information, or to purchase tickets, visit BreakfastToRemember.ca.