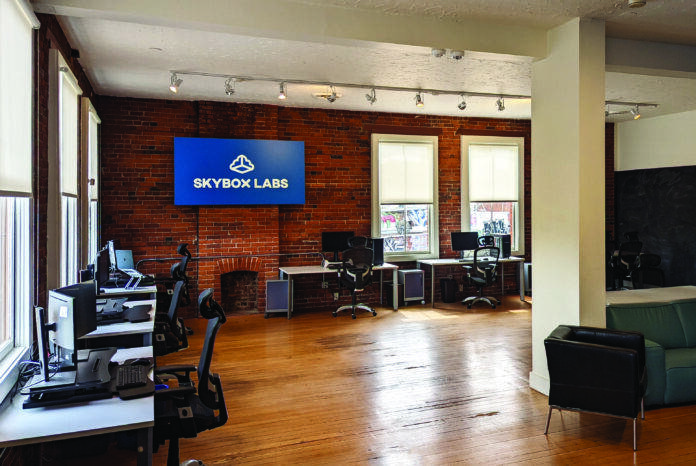 It's hard to overestimate the success of blockbuster video games like Minecraft and Halo, and now some of that success is coming to Victoria.
Vancouver's SkyBox Labs has just opened a state-of-the-art studio in downtown Victoria to develop AAA console and PC titles for the likes of Xbox Game Studios, Wizards of the Coast and Electronic Arts. Founded in 2011, SkyBox is B.C.'s fastest-growing game developer.
The team is working on parts of the Minecraft universe, Halo Infinite, Magic: The Gathering Arena and Fallout 76. To give a sense of the scale of these titles, more than 238 million copies of Minecraft editions have been sold worldwide, and some 17 million players per day log in to play these games. With more than US $6 billion in sales, Halo is one of the highest-grossing media franchises of all time.
SkyBox Labs' brick-walled, century-old office in historic Market Square is lined with sleek computer screens and servers. The obvious question for cofounder Derek MacNeil is: Why Victoria? 
"Vancouver is an increasingly competitive market; we're fighting for talent. Ours is a hybrid work environment. Unlike a lot of businesses, we did very well during COVID. Now we have a core team of more than 100, most of whom work at home, and are looking to hire at least 20 more."
But over-the-transom resumés are few and far between, so SkyBox has an active team of recruiters who scour LinkedIn and other social media platforms for candidates. It's not just software engineers they're looking for, but also animators, 3D artists, designers, producers and project managers.
Part of the attraction is SkyBox's gamer culture. "We're very much a people-first business," says MacNeil. "We're making games, so we should have fun doing it. Our goal is to produce big titles within a small studio culture."
As this issue of Douglas went to press, SkyBox Labs announced its acquisition by NetEase Games, a leading internet technology company based in China. NetEase has developed some of China's most popular mobile and PC games, and intends to expand the global reach of both companies.