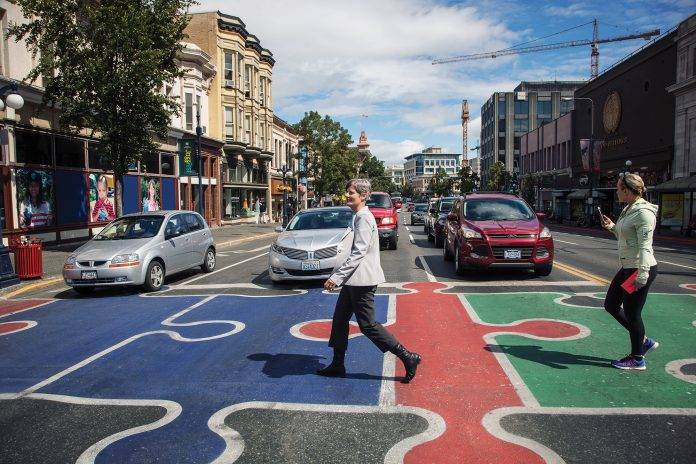 OTTAWA—A new study released today by the Canadian Centre for Policy Alternatives (CCPA) updates the list of the best and worst cities to be a woman in Canada. Victoria comes out on top for the second year in a row while big gaps in employment and high poverty rates for women put Windsor in last place.
The study, by CCPA Senior Researcher Kate McInturff, provides an annual snapshot of the gaps in men and women's access to economic security, personal security, education, health, and positions of leadership in Canada's largest 25 metropolitan areas. It measures the gap between men and women in a given community in order to capture inequalities that can be attributed, at least in part, to discrimination based on gender.
"Canada has made gains in creating opportunities for women and girls to thrive in our communities. But there is still work to do," says McInturff. "The 25 metropolitan areas included in this study are home to 67% of Canada's population. For the first time on record, women are now more likely to be the victims of violent crime than are men—a result of persistently high rates of sexual assault."
Among the study's findings:
The biggest factor in Victoria's standing is the level of representation of women in politics. Victoria has a female mayor and is the only city in the study to have more women than men on its council.
Windsor places last due to its large gap in women's representation in leadership roles, its larger than average employment gap, and the fact that Windsor has the highest gap in the percentage of women living in poverty (24%), compared to men.
Canada's largest cities fall in the middle of the rankings, with Montreal (in 6th place) outperforming Vancouver (9th) and Toronto (11th). Toronto and Vancouver both suffer from significant gaps in employment levels.
Women in Gatineau see the smallest gap in their pay, earning 87¢ on the male dollar.
Regions that depend on predominantly male industries tend to land at the bottom of the list, with Edmonton, Calgary, Oshawa, and Windsor taking up the bottom four spots.
Kitchener-Cambridge-Waterloo moved from the bottom of the list to the middle of the pack, due in large part to gains women made in winning local elections and increasing their share of senior management jobs.
Women in Canada are now more likely to be victims of violent crime than men, due to persistently high rates of sexual assault.
"There is much that cities have to learn from one another. Why do women fare better in politics in Victoria? What could we learn from Montreal about closing the wage gap? Which city is doing the most to create jobs for both men and women in a period of slow economic growth? The statistics compiled in this study are the beginning of the conversation, not the end," says McInturff.
Women are not a homogenous group—something that qualitative research captures better than statistics alone. The study, therefore, includes qualitative research conducted by the Canadian Research Institute for the Advancement of Women into the lives of women living in small, remote northern communities to demonstrate how careful, community-based, qualitative research can provide a fuller and more textured analysis of the specific challenges faced by women in those communities and the most effective responses to those challenges.
"It is through combining our knowledge and working together that we will close the gaps in men's and women's access to security and opportunity; another reminder that we are in this together. We live together, we work together and when we close these gaps, we all share in the benefit of more secure and more stable lives and communities," McInturff says.
The Best and Worst Places to be a Woman in Canada 2016: The Gender Gap in Canada's 25 Biggest Cities is available for download on the CCPA website.
PHOTO CAPTION: Mayor Lisa Helps of Victoria, B.C.