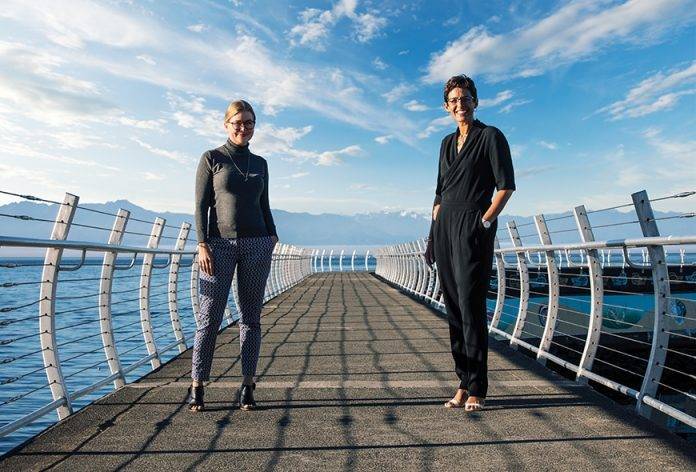 Walking into the Inn at Laurel Point with Theresa Ito of Blue Mountain Solutions is a little like arriving with a beloved celebrity. From the clerks at the front desk and the maintenance crew cleaning out a display case in the lobby, to the staff in Aura Waterfront Restaurant + Patio, everyone offers exuberant waves and happy greetings — many of them taking the time for a quick chat.
Ito might not be a household name, but she's a force of nature in the hospitality world.
"I just had to come over and check out your shoes," says one masked server to Ito, pointing to her stylish stilettos. "Not that I or anyone could ever fill them," she adds with a laugh. While few could wear the strappy high heels with as much grace as Ito, the server is not speaking literally.
As a trusted advisor and coach for hospitality and tourism businesses — both local and around the world — Ito brings an expertise and calm competence that few can match. Her company, Blue Mountain Solutions, boasts clients as varied as the five-star Esperanza Auberge Resort in Mexico, the private members Reform Club in London, and Destination Greater Victoria, The Parkside Hotel & Spa and Monk Office, here in Victoria.
"We provide leadership and team development, operational and culinary support and consultancy to the hospitality and tourism industry," Ito says. "We love hospitality, and we want others to be successful at it. With our pooled experience, we know shortcuts that can really help people to get there. It's exciting to share that."
Before Ito started her consultancy firm, she spent decades in the hospitality industry, making her way from housekeeping in a London hotel to general manager of the Sandals Resort in Montego Bay, as well as other management positions. Twelve years ago, after a holiday to Vancouver Island, her family decided this was where they wanted to live.
"The majority of the reason I moved here was it was a better place to raise my children," Ito says. "This is the environment I want them to be in, and it has not disappointed."
Her early years in the City were spent as food and beverage manager at the Fairmont Empress. Later, she was general manager at Swans Hotel. In between, she worked at the Inn at Laurel Point as director of rooms (her husband, Takashi Ito was executive chef at AURA Waterfront Restaurant until he joined Blue Mountain as Culinary Business Advisor this spring), but her latest role with the property was providing leadership training to their management staff.
Jill Doucette (JD): You have years of working in the hospitality industry. What are the big lessons you bring from this experience to your work at Blue Mountain?
Theresa Ito (TI): I'm passionate about people. In my first 10 years of being in the hospitality industry, I focused on the guest experience — just wowing people and exceeding expectations. If I could do more than they expected, it would make my day. It was really about delighting the guests.
In the next 20, I realized how much I enjoyed developing others, connecting with them and watching them flourish. It becomes much more impactful because you're helping others succeed — and then you're just multiplying it. Helping people flourish and grow became my focus.
JD: What changes have you had to make with your work since COVID?
TI: In the beginning, the business just disappeared. Everything in the calendar just
fell away, cancelled. For me, this was the time that leadership was most important. You can't begin to do anything for anyone else before you look after yourself. I had to breathe, look after myself. Financially, we lost business, but our four children were well and close to us. Once I knew that, I needed to connect with my clients and my colleagues.
Even though others would think "Why would you call someone in the middle of this?" — that's exactly when people need you. Often we shy away when someone's going through something terrible. We don't reach out because we tell ourselves all sorts of stories. As soon as I started calling and talking to people, I realized they needed my support, which I gave, complimentary to my clients.
JD: How did this evolve beyond your clients?
TI: I started free hospitality professional sessions, every week, to keep the connection going. It was offered to anybody in hospitality or tourism that wanted to be involved, because many people were laid off and felt they had lost their sense of purpose. There were 42 industry professionals that joined me on that journey for 12 weeks.
JD: What are you hearing from your clients now? What are their biggest challenges?
TI: From the line-staff level, it's that the guests are unreasonably rude, unfortunately, and not following protocols. We are so used to giving hospitality service, looking after our guests' needs, but in this situation and with the health and safety concerns, we have to draw the line, and we have to be able to communicate that.
Through training and coaching and giving them the right phrases to fall back on and tools to use, that's really been helpful. We're just not used to ever having to say no, but finding an alternative. For leaders, it's how to change their businesses to stay open, or in some instances be profitable. Those are the biggest challenges by far.
JD: Change is a real test of leadership.
TI: Yes, and it could change again next week. As we change phases, parameters change. We have to feel comfortable with being uncomfortable because it's going to be like this for a while. If every change — and it will happen, not may happen — throws us into a tailspin, then not only are we not managing ourselves or our mental health, we're certainly not leading our teams or our businesses clearly either. The sooner we realize this is how it's going to be — lots of change — then we can do better.
JD: How must we change as leaders to navigate and address COVID?
TI: Keep communicating with your team. And keep checking in with your team and your guests. Being honest and open was always the best way, and never has it been more true than today. It's realizing that everybody's going through this differently. As leaders, we need to be more empathetic and seek assistance, if we're not sure. We live in an incredible country, and never has that been more true — I can say my country because I became a Canadian citizen two years ago — and we have the assistance here.
JD: How have your clients impressed you through this?
TI: I've been so impressed. From the day we were allowed to go out to eat safely — day one, Takashi and I were out — we have seen so much positivity and creativity. This industry bounces back so well. For example, Chateau Victoria created a bar in their arrival driveway, and it's fantastic. Prince of Whales made the most entertaining and fun protocol video, but without losing the important messages, and without downplaying what was important. Cristen DeCarolis of Prima Strada, one of my clients, switched over to take away with an app. That was my first takeout order since [COVID hit].
I think from the industry perspective, it was the BC Tourism Resiliency Network. It has been very rewarding to see that the smallest restaurants to larger hotels can access expert help, at no cost, when they need it.
JD: You recently trained others in delivering exceptional hospitality service through a mask. What does that look like?
TI: It's really rephrasing the negative. Instead of saying "No stop, don't go," it's "Please enter through these doors today." Not mentioning the pandemic or COVID all the time. No one wants to hear that when they're coming in for an elegant meal or even going out for fish and chips — we don't need to be reminded by those words. Also using empathy with anxious guests, because as we step out of our bubble and into a new environment, we feel on edge. It's realizing body language needs to change when you cover three-quarters of your face with a mask — encouraging gestures, greetings and postures. Being emotionally intelligent and empathetic to guests who might come across abrupt. A lot of them are frightened, and it's important to give them a really positive experience.
JD: What other things are your clients asking for?
TI: I'm spending more time on bullying and harassment and on Black Lives Matter, because that's what my clients are saying they want advice on. This diversity piece is huge, so let's talk about it. I have a Jamaican father, English mother, Japanese husband. We are so multicultural in our family. Let's not be shy to talk about it.
JD: How do you approach this and direct them with that conversation?
TI: That they need to talk about it, and they need to listen. Often I'm asked by a senior leader, questions like "What do you think we should post on social media about this?" And I say, "Don't worry about social media. Think about your company." Social media is just a reflection of who you are.
So it's not about constructing something. What's happening within the company? Are people given fair opportunity? How do we look? When you look at our board of directors, who are you looking at? Is it a fair demographic of who's out there? Are we just hiring people who are like us or are we hiring people that will make this team stronger because we're diverse?
When I'm asked, "What should we do with Black Lives Matter? Do we donate?" Well, that starts with your core values of your business. It's about focusing on the areas that matter, whether they look pretty in a photo shoot or not. I think it's about finding what the company wants to do, even if that's just a line item that says, "Causes that matter to us," and then voting on them as a team, but it needs to come from your team.
Continue Reading… A Q&A on Courage with the President of Royal Roads