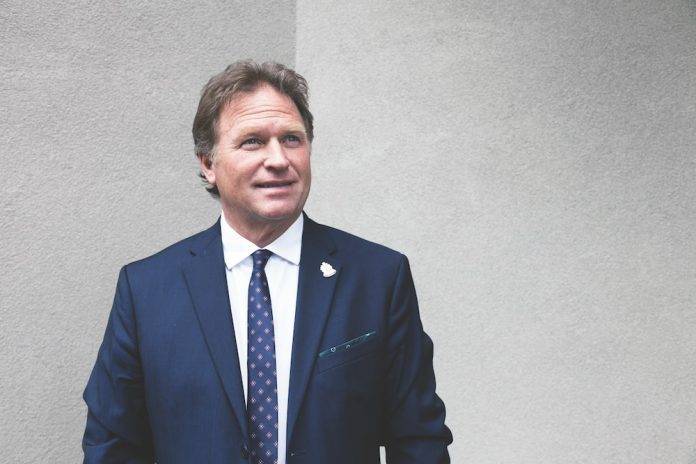 Even Langford's fiercest critics agree the municipality gets things done. In two decades, the capital region's ugly duckling has turned into a swan, lauded for its growth and community transformation.
While other municipal governments seem to march through molasses, Langford is an outlier.
"We had to be," says Stew Young, mayor for 25 of the 26 years Langford has existed as a municipality. "I grew up through the shitty times," says Young. "We were basically the Dogpatch of the region."
Back then, young people raised in Langford were leaving to find jobs and opportunity. Until 1992, Langford had been part of the Capital Regional District. It had more in common with up-Island resource communities than its southern neighbours. Sawmills, a concrete plant and industry had provided jobs. But they had vanished by the early 1990s, and Langford was struggling.
It's been a remarkable turnaround.
The numbers tell part of the story. Langford's population in 2016 was 35,342, more than doubling in the last 20 years. That's 10 times the CRD growth rate. The number of occupied houses, condos and apartments also more than doubled to 14,178, again more than 10 times the regional increase in housing.
But a drive through the community also tells a big story. Thousands of new homes in planned subdivisions, retail of all kinds, from big boxes to small local businesses, a revitalized core on Goldstream Avenue, green spaces, parks, sidewalks, sports facilities — it's a community transformed.
"People look around and remember what it looked like in 1992, and what it looks like today, and say 'they're making pretty good decisions,'" says Councillor Denise Blackwell, who has spent 28 years on city council.
So how did Langford do it? Here, Douglas takes a look at seven secrets of Langford's success.
1. Move boldly and quickly
"We weren't doing enough as politicians to improve our city," says Young, reflecting on the early years. Jobs were coming much too slowly and the small tax base made it hard to add the elements that would attract families, like sports fields, public spaces and sidewalks.
So in 1994, Young started calling anyone who might be able to bring jobs to the community.
"I phoned the president of Costco," he recalls, "and they thought it was a prank call."
The retail giant faces a rough ride in many communities, and had already been rejected by Sidney and Central Saanich. But Young saw the chance to gain 200 jobs.
Langford's warm welcome led to the construction of the region's only Costco store in an underdeveloped area north of the Trans-Canada Highway. Other major retailers and new housing followed. Because of that growth, the provincial government committed to highway improvements and the municipality could afford to extend services into the area. Since then, there has been more than $1 billion in construction on the north side of the highway, says Young — a huge increase to the tax base.
It was a controversial move. Established retailers were worried about the effect on their businesses and protests over Costco's construction on wildflower meadows led to arrests. Other municipalities fretted about the impact on traffic if residents drove to Langford for big box bargains.
But Costco's decision launched Langford's efforts to increase revenues and become a family-friendly community.
Boldness isn't just about development. This year, Langford council — already facing a 4.5 per cent property tax increase — decided to add another two per cent for additional police and firefighters to respond to the opioid overdose crisis, the coming legalization of marijuana and public safety. "When there's a need, you have to fill it fast," says Young.
It's too easy for elected officials to use consultation and studies to put off decisions indefinitely or avoid responsibility, Young says.
Boldness just makes sense, he says, in a way that suggests he's baffled by slower-moving neighbours. "How can you go wrong with being bold on affordable housing?"
2.

Develop a shared vision
Sitting in the Fountain Diner in Langford's revived downtown listening to Young, you could easily think that it's a one-man show. It often sounds like he's Langford's owner, not its mayor.
"I run the city like a business," says Young, who started with one garbage truck and now has a diverse collection of businesses under the Alpine Group — including the diner, home of the Alpine five-pound burger challenge. Finish it in 30 minutes, and it's free.
The perception is fuelled in part by Young's style. "I float ideas," he notes. "I try to be the cheerleader."
But Councillor Blackwell says council and the community are fully involved. She chairs the planning, zoning and affordable housing committee, and notes Young has never questioned its decisions. And the committee — like all six committees advising Langford council — is dominated by citizens, with two councillors and six community representatives.
And Langford's council, unlike others in the region, has avoided internal battles. Three of the seven members have been in office since the municipality was created in 1992, and the newest member has been on council for a decade. Voters share their vision for the community.
That vision emerged out of desperation in the municipality's early years. Langford needed jobs and development to attract families — and that was the singular focus of council.
Frank Bourree, owner of Chemistry Consulting and vice chair of the South Island Prosperity Project, says Langford's success rests in part on developing a clear goal. "It was about driving family growth — a brilliant vision." With that over-arching objective in place, it was easy to make decisions.
Langford also works to refresh the vision. Public input comes from annual retreats with councillors, staff, representatives of the business community and developers to set priorities as part of the budget process, Young says.
The municipality does larger planning exercises with Avi Friedman, a McGill University architecture professor and housing guru — "one of the top 10 style setters who will most influence the way we live in the next quarter century," according to Wallpaper magazine. ("I've got the best guy in the world," Young says.)
Friedman, who has been working with the municipality since 2004, says Langford has balanced consultation and action.
But while other municipalities are trapped in endless consultations and studies without ever reaching decisions, Langford acts. "Many of the surrounding communities could not keep up with Langford's vision," Friedman says
And despite concerns, citizens have a voice, he says. "The democratic institutions in Langford are such that citizens can voice their opinions," says Friedman.
"When you see someone who is re-elected again and again, it seems that his citizens like what he does."
3.

Build partnerships
There is a certain "let's make a deal" quality to Langford. If developers are willing to put up money for an infrastructure project — like a bridge or road — it becomes a priority.
Young says the partnerships were a matter of necessity when Langford had little money to spend and allow the municipality to get more done with limited resources.
Business partnerships have let Langford do 10 times as much in developing infrastructure, he says.
But it's not just about deals with developers. Last year, Langford reached an agreement with Metchosin — the anti-Langford in terms of its attitude to development — and the Scia'new (Beecher Bay) First Nation. Beecher Bay transferred land to Metchosin, which in turn transferred land to Langford for an industrial park. All three partners will share in the revenues as the park is developed.
"Groundbreaking," says Young, and a "win-win-win" agreement. And an opportunistic way to set the stage for more businesses in the community.
"They are business people — they know how to negotiate, they know how to reach a deal," says Bourree.
4.

Slash bureaucracy and delays
The 2008 global economic meltdown was bad news for Langford. The municipality had bet on development to fund its renewal plan, and the global crisis threatened to snuff that out.
Langford responded by eliminating building permit fees for residential construction and offering a 10-year tax holiday for new federal and provincial office space and rental accommodations. They promised clear answers on subdivision proposals within 30 days and 48-hour building permit approvals.
"Don't think I'll ever take two years for a rezoning," Young says. Delays cost money, discourage investment and — when it comes to housing — reduce affordability, he says.
Langford has branded itself as a place where things get done quickly. "The biggest barrier to affordable housing is at the municipal level," says Young, where delays and uncertainty add costs to projects.
Friedman describes Langford as a "driven city," one with a strong entrepreneurial bent willing to make quick decisions. "Many of the surrounding communities could not catch up with Langford's vision," he says.
Jayne Bradbury of Fort Properties chairs the Urban Development Institute Capital Region. "Langford does have a reputation for being very quick in approvals and in welcoming creative growth," she says. Developers regularly praise the municipality's ability to give quick decisions.
It's not all positive. Victoria Councillor Ben Isitt acknowledges the renewal in Langford, but wonders about the costs of high-speed development.
"I don't think there's been enough attention to protecting the environment in Langford as the community developed," he says. "Had they chose to develop in a more sensitive way it would have serviced the residents better."
"What some people call red tape, others view as regulations that uphold the public interest," Isitt notes.
5.

Long-term plan, short-term goals
Langford's "brilliant vision," as Bourree describes it, was a matter of necessity. The initial focus on jobs, development and attracting families has provided a framework for decisions for more than two decades.
But at the same time, the municipality has set short-term goals — develop a stadium, push for a college or university campus, spruce up the main street.
Young says Langford balances a long-term vision with short-term objectives. "I like to set goals two years out," he says.
Young says he hears from citizens when they don't like a decision — including in the Fountain Diner. "I believe in the face to face."
6.

Be prepared to fail
Young bristles a bit at the idea that Langford's willingness to fail was a factor in its success.
"I hate failure," he interrupts. "Failure means we didn't do our homework."
But what about the Langtoria Greenline bus, I ask, a taxpayer-subsidized commuter service Langford launched in 2016 that didn't attract riders and was shut down after 10 months?
"That was not a failure," Young says. "I call them tests."
The experiment — which cost taxpayers up to $60,000 — established that a service could work if HOV and bus lanes allowed a faster commute, Young says.
"Do HOV and a bus lane and I will put that bus in."
Whatever you call them, Langford has been willing to take risks and accept the reality that sometimes — as with the commuter bus — they don't work.
"Everyone fails sometimes," Young says. You need to do the research, consider the risks and listen to people, he adds, but it can be worth taking a chance on a new idea. And to acknowledge when what looks like a great idea doesn't work.
"Kill it fast," says Young. "We should be able to make a 180-degree change — and take it on the chin."
The approach appears to run through the organization. Langford's staff, Young says, are empowered to make decisions without constantly looking over their shoulders.
"If we get it right 95 per cent of the time, that's good," he says. Mistakes — if the idea is well thought out — are part of the process.
7.

Put your community first
The capital region is an odd political beast, with its 13 municipalities and regional district board. Regional interests can clash with community self-interest. But not in Langford.
"We're a city, and I'm focused on Langford — a regional body is secondary to me," says Young. "A regional body can make decisions that hurt Langford."
Council has a regional focus when the issues are truly regional, he said, and co-operates with neighbours when it make sense.
Langford and Colwood collaborated on their official community plans, recognizing that a co-ordinated approach would benefit both.
And Councillor Blackwell notes she's been active in the CRD for two decades, including as board chair and chair of the committee dealing with the sewage treatment issue. Langford has played a positive role — and often led, she says.
But Victoria Councillor Geoff Young says the regional impact of local decisions need greater consideration. Langford's retail development, for example, has hurt retailing in other communities, he says, and meant other infrastructure priorities have suffered. "A lot of the reason that its shopping is successful is because the provincial government has built freeways to support them."
And Bourree says Langford should now take a larger role in the region. "It's time for Langford to start to participate with other municipalities in the South Island Prosperity Project," he says. The project works to help businesses grow or move to the region. "Langford needs to play a role and market the whole region."
Getting it Done
It's been a winning formula for Langford. But new challenges are coming, because of the growth and transformation. Young says he and councillors rely on face-to-face meetings and conversations in the community to keep up with citizens' concerns.
But while that was possible 20 years ago in a community of 14,000 people, mostly long-term residents, it's more challenging as Langford marches to a forecast population of 47,000 ten years from now. Especially with most of the population new residents who are less likely to know their mayor even if they do frequent the Fountain Diner.
Langford's council has also had the advantage of working with a blank slate when it comes to developments like Bear Mountain and Westhills.
There were few neighbours to object to rezoning, greater density or the noise and congestion of construction. But as Langford has grown, so have the number of people with a stake in maintaining the status quo in their neighbourhoods.
Councillor Young says Langford is likely to experience some of the same challenges as Victoria and other neighbours. "It's relatively easy to rezone new, fresh land," he says. But the process becomes more difficult — and slower — as communities develop and more people are affected by decisions.
Meanwhile, Young says Langford is on track to become a regional centre, larger than Victoria.
"I don't want to be like everybody else," he says. "At the end, the job is to understand what the public wants and get it done." 
---
Regional Population Growth
Langford easily surpasses the other municipalities in population growth. Housing affordability and amenities are a major factor in attracting families to the municipality. Source: Statistics Canada.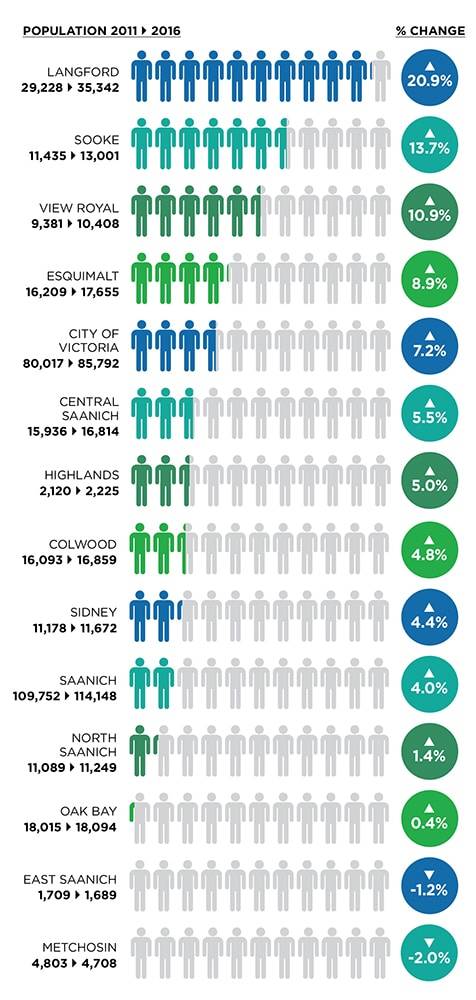 This article is from the June/July 2018 issue of Douglas.