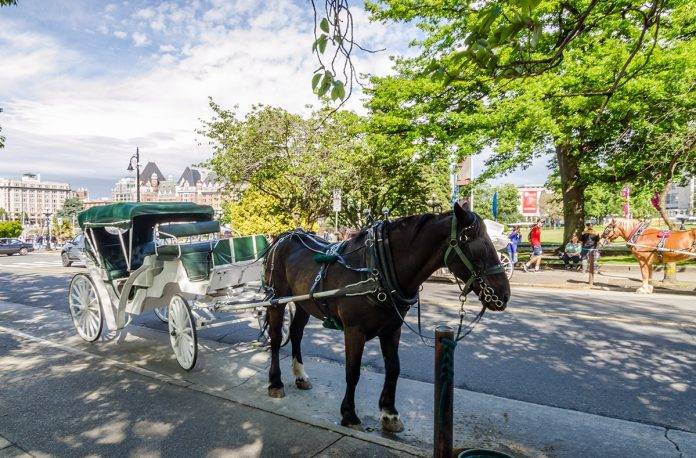 I'm an animal lover who has been a caregiver to many dogs, cats and birds over the years. My family has also owned horses. I have zero tolerance for cruelty against animals.
Why am I telling you this? Because after reading my column, someone will surely accuse me of lacking empathy for the carriage horses at Tally-Ho Carriage Tours and Victoria Carriage Tours. But I can't stay silent about councillor Ben Isitt's motion to ban horse-drawn carriages from city streets by 2023 and transition to "e-carriages" instead.
Here's my point: We must do everything we can to ensure the safety of these carriage horses and their passengers, but we also need to separate myth from reality.
The reality is that in Victoria (I can't speak to other cities), the horses owned by these two companies are not being victimized in some kind of Black Beauty scenario. They're in good shape, well-cared-for, work reasonable hours and enjoy downtime on beautiful rural properties.
That happy-pastures lifestyle is not a reality for all horses. With the high price of Island property and cost of feed, vets etc., caring for horses is a pricey proposition, something only the most dedicated people can do properly. My Facebook feed is filled with posts about horses in need of rescue or sent to slaughter because no one can afford to keep them. There are horses that really need help, but I don't believe they are the ones from our two local carriage companies.
Journeyman farrier Will Clinging told me, "[These horses] get full medical, full dental, their shoes are changed every five weeks, they get all the groceries they can eat and they live on multi-million dollar properties in Brentwood Bay."
Will is the farrier for both carriage companies. He's also VP of the Western Canadian Farrier's Association and well-respected in his industry. I encourage you to review the online video of his June 28, 2018 presentation to city council.
Another point Will makes is that many breeds of horses actually enjoy work under reasonable conditions. They've been bred for it over centuries. If you've ever spent time with big breeds like Percherons and Clydesdales, you can see it. To these mighty creatures, pulling a carriage is no more physically challenging than me pushing a cart with my groceries. 
So instead of preventing Tally-Ho and Victoria Carriage Tours from doing business, why doesn't city council work with them to create viable, less congested routes and focus on showcasing Victoria as a world leader in the ethical treatment of carriage horses?
As we go to press, the issue is up in the air: A report by city staff is expected in September. The carriage companies have threatened legal action if the city tries to ban their operations. I only hope Isitt and the councillors who supported his motion — Mayor Helps and councillors Charlayne Thornton-Joe and Geoff Young did not support it — have spent time with the horses, gone on routes with them and learned their real needs before they decide. If council's aim is to do no harm, it's incumbent upon them to ensure they aren't making things worse for the horses.
If wishes were horses, I suspect our local carriage horses would tell you they have good lives and have no wish to be replaced by Councillor Isitt's "e-carriages."
This article is from the June/July 2019 issue of Douglas.