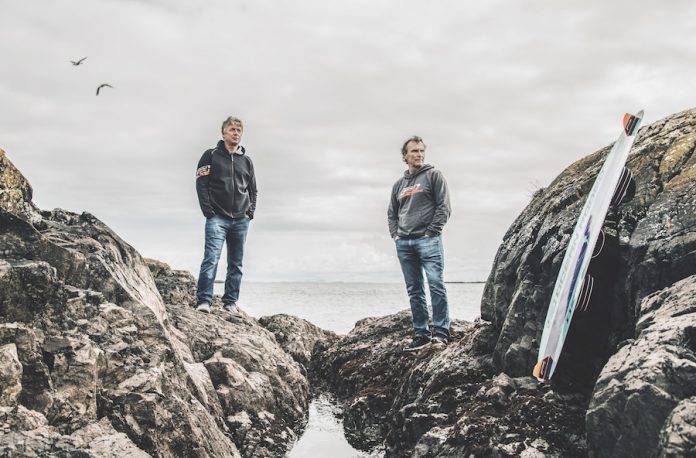 Back in 1977, anyone watching Richard Myerscough and Ross Harrington at Elk Lake on a blustery winter day would have had no idea what the two young boys were doing. Balancing on boards and using homemade sails, the pair raced on the lake's choppy waters. As it turns out, they were windsurfing — something practically no one else was doing on Vancouver Island. 
The pair met as kids and became friends because of their mutual love for watersports. Harrington taught Myerscough how windsurfing was done.
They loved the sport, but it was such early days for it that innovation was a necessity.
"Ross and I both grew up with a lack of equipment as youth, so we'd make and design things ourselves," says Myerscough, who was making his own wetsuits even before he became a teenager. Harrington, meanwhile, was making his own sails, and he built his first hang-glider when he was just 10 years old.
To say Myerscough and Harrington popularized windsurfing on the Island is an understatement. In fact, they made the then-obscure sport visible to locals and put the Island on the map as a place that produced windsurfing athletes. Both went on to compete at a high level. Harrington won various Canadian and American titles, like the Canadian Lightweight Racing title and West Coast US Freestyle and Slalom titles. Myerscough represented Canada in windsurfing at the 1987 Pan American Games and the 1988 Olympic Games, where he placed 12th.
Exploring New Waters
When their racing days were over, Myerscough and Harrington entered the business world. But, as with their sporting interests, their business pursuits were anything but traditional. Harrington made windsurfing sails for Windsure, a Vancouver-based company, before founding his own sail brand, Venturi Designs, in the late 1980s. In 1992 Myerscough cofounded Whites Manufacturing Ltd., a local drysuit manufacturer (now owned by Aqua Lung, one of the largest watersport companies in the world).
By the late 90s, they were eyeing a brand-new sport: kiteboarding. At the time, hardly anyone else was doing it, so the pair effectively became worldwide kiteboarding pioneers. But finding the right gear to do the new sport they loved so much was an issue, and once again, necessity drove them to make their own equipment.
In 2001, the duo merged their sporting and entrepreneurial interests together and Ocean Rodeo, an offshoot of Whites, was born.
Innovation and Invention
The Ocean Rodeo HQ is decidedly nondescript, operating out of a small house in Saanich, just off the Galloping Goose Trail. Most passersby would have no idea of the innovation happening inside. Drysuits crowd a coat rack at the office's front door, and downstairs is the design hub where the company's cutting-edge products come to life. Both men, in their 50s, fit and with an energetic enthusiasm — and who are still athletes at heart — test these products themselves in the cold, extreme water conditions around Vancouver Island. The company isn't afraid to do things a little differently, and this is something that has propelled its international-level success.
Myerscough says Ocean Rodeo was just the fourth company in the world to make and sell kiteboarding equipment. While it isn't the biggest kiteboarding company in the market, it is a world leader in innovation and intellectual property (IP). According to Harrington, Ocean Rodeo has more IP than anyone else in the industry, largely because, unlike other kiteboarding companies, Ocean Rodeo is not interested in being a trendy fashion brand.
"We're not afraid of being safety-interested," says Harrington. "For so many of the brands out there, it's about the cool factor. But when we started kiteboarding, there was roughly a fatality a week. As the industry has matured, people [working in the industry] are becoming a lot more aware of safety and they have to play the catch-up game to get to where we have already been."
Safety First
The company has patented numerous kiteboarding innovations that have made the sport safer for its participants. In 2001, Harrington spearheaded the Push-Away Release, a safety device that disconnects the athlete from the kite, and it is still the number one safety innovation in the sport. The Go-Joe is another example. Myerscough describes it as an inflatable, leashless board recovery tool. Before the Go-Joe, athletes used surfboard leashes to tether their kiteboard to their ankles; with this set-up, a board could submarine, shoot back and hit the athlete, which killed numerous people.
"We sell thousands of these things," says Harrington. "You can go to a [kiteboarding] school anywhere in the world and they will have our Go-Joes." 
Other inventions aren't just for safety, like the Mako board, a cutting-edge, bidirectional board they invented in 2003 and which is still unmatched in quality by any competitor, and the Soul drysuit with Captive Zip Self Entry, Ocean Rodeo's best-selling suit designed to look like a jacket and pants. There are more patented innovations than can be listed.
Andrea Blaylock, a sales and marketing consultant who worked for Ocean Rodeo in 2017 and who now sits as an advisor on Ocean Rodeo's board, is a believer in the high-quality products the brand is putting on the market.
"Ocean Rodeo is run by true inventors," says Blaylock. "They are coming up with state-of-the-art design products. Richard is a genius. Ross is such a gifted designer. Between the two of them, their inventions are so innovative and forward-thinking."
Local athlete Simon Whitfield knows high-quality sporting products. He won the gold medal in triathlon at the 2000 Olympic Summer Games in Sydney, Australia, but these days Whitfield does standup paddleboarding and runs a physical literacy club called BlackFish RedDragon BlueWhale. And when he's out on the ocean in cold weather, he's wearing his orange Ocean Rodeo Ignite drysuit.
"I've tried other drysuits, and they're doing things right at Ocean Rodeo," says Whitfield. "I like the flexibility. With other suits you're either in it or out of it, but there's a middle option with the Ignite. And then there's the tailoring: I've found other suits are either bunchy or too tight. Ocean Rodeo drysuits just fit properly."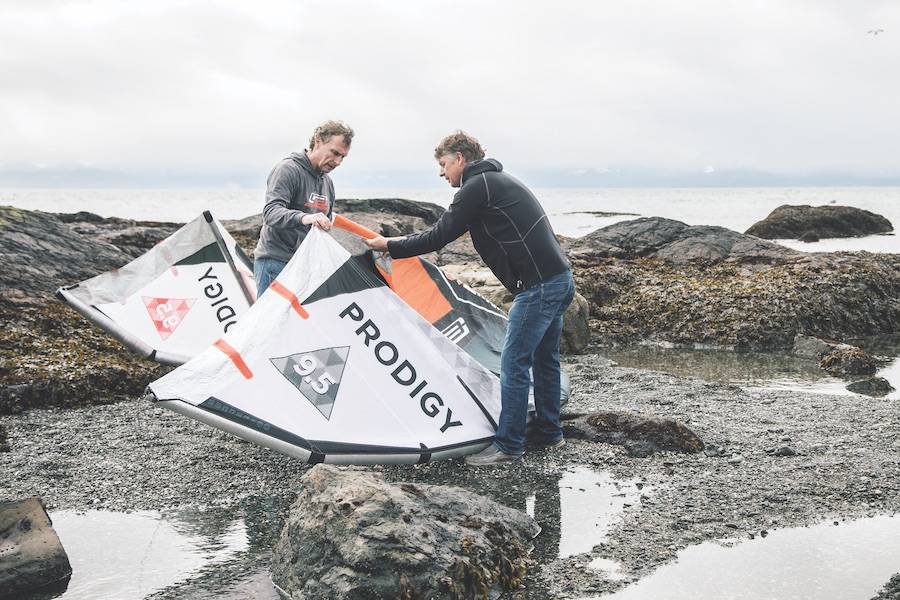 This brand loyalty extends beyond Vancouver Island. Windance Boardshop, located in Hood River, Oregon, and one of the largest kiteboarding retailers in North America, also believes in Ocean Rodeo's quality. According to Dave Nunn, the shop's owner, when Windance first expanded into kiteboarding the team researched all the brands out there to find the very best. Today Windance represents just three of the over 30 kiteboarding brands. Ocean Rodeo is one of them, having won Windance's business over much larger brands on the market.
"The one unique characteristic of the company is its willingness to pursue uncommon designs," says Nunn. "For example, Ocean Rodeo designed the Mako board with a very round outline and bottom shape, and it has been our top-selling board for 10 years in a row — very unusual in this fast-moving industry."
New Markets, New Adventures
Ocean Rodeo's innovation isn't slowing down. The company recently expanded into new markets when, in 2017, a European special-forces group asked Ocean Rodeo to design a new drysuit. Myerscough designed Phase 3, a drysuit with no pressure points and with an unconventional zipper: entry is through the seat of the suit, using the patented zipper technology called Luna Zip Self Entry that Ocean Rodeo also designed. Ocean Rodeo has started selling these to elite law-enforcement units around the world.
"I think the biggest side of the business is going to come from our technical marine apparel," adds Myerscough. "We've invented some new zipper technologies and are on the verge of creating a whole new thing. We have some exciting stuff coming."
Global Appeal
The challenges Ocean Rodeo has faced over its nearly two decades have resulted in big rewards. The company has grown from a team of five in 2012 to a team of 20 today. It sells products to almost 50 countries and has manufacturing partners in five. Recently Larry Page, co-founder of Google, bought Ocean Rodeo's Mako boards. Richard Branson, founder of the Virgin Group, ordered its kites.
To top it all off, kiteboarding, which the duo pioneered, is now a recognized sport and will debut at the Youth Olympic Games in Buenos Aires this October. 
As for Myerscough and Harrington, they went against the flow when they were kids. They go against convention in business. And they have no plans to start following the status quo now. 
This article is from the April/May 2018 issue of Douglas.