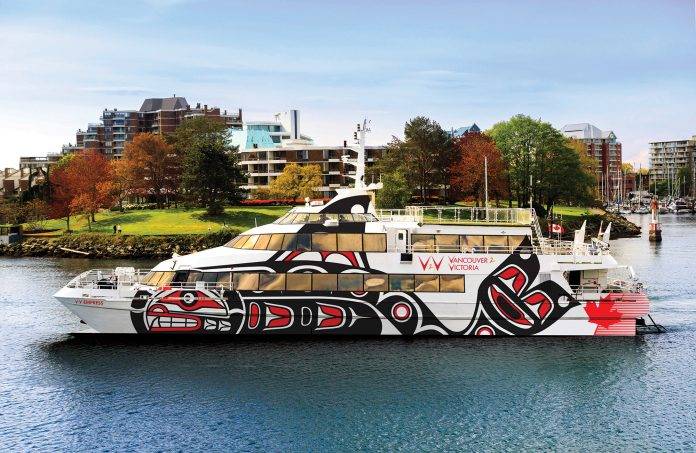 V2V VACATIONS recently revealed the exterior of the V2V Empress, its new luxury passenger ferry, which will carry up to 254 passengers on three-and-a-half-hour trips between Victoria and Vancouver beginning May 1.
The exterior features an award-winning orca motif by Kwakwaka'wakw artist William (Billy) Cook, who refers to the orca's symbolism as "guardian of the sea."
The vessel, now in the final stages of a refit at Point Hope Maritime, is owned by V2V Vacations' Australian parent company, Riverside Marine, which has spent more than $10 million on the launch of the 126-foot catamaran. One-way trips on the V2V Empress are priced at $120, $199 or $240.
Point Hope staff have put in more than 11,000 person-hours on the vessel, replacing nearly every operating system on board and adding state-of-the art stabilizers.
Clipper to Launch Victoria-Vancouver Service Next Year
Tobias Haack, CEO of Clipper Navigation, has announced his company will launch its new high-speed Victoria-Vancouver passenger-ferry service in spring 2018. The company says it will receive the Halunder Jet, a 52-metre high-speed catamaran from its parent company, FRS, this fall. The vessel has the capacity for 579 passengers.