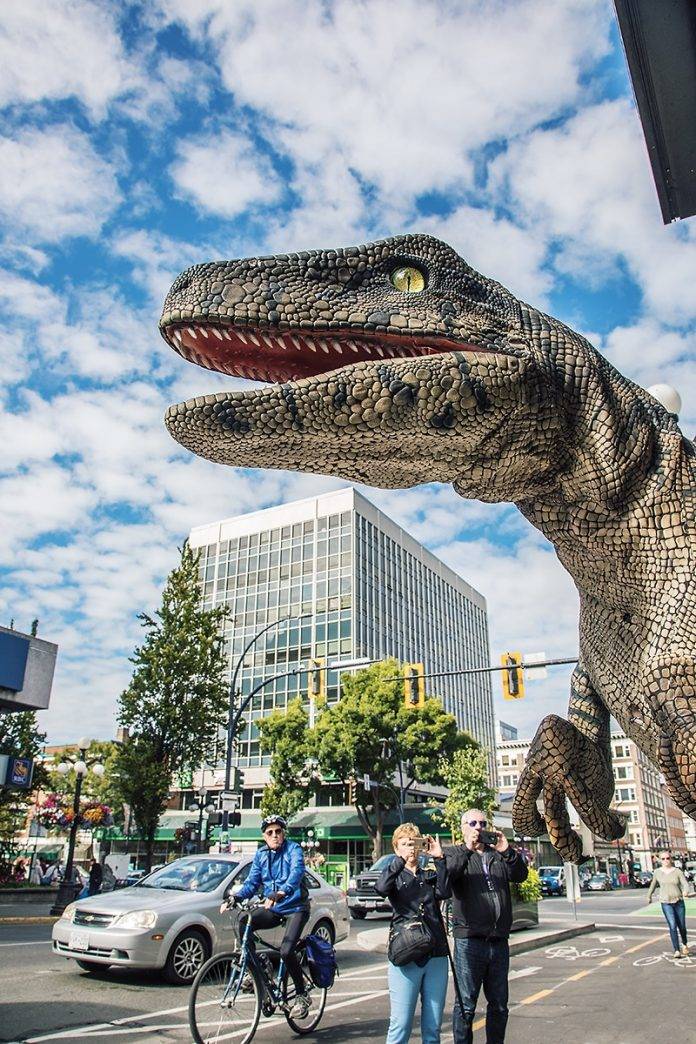 When Velma the Velociraptor stomps along Fort Street, blinking, waving her limbs and roaring, heads turn and some people give her a wide berth while others chase along, caught up in the sheer weirdness of seeing a dinosaur downtown … or anywhere at all.
Velma is the 14-foot biomechanical — part machine and part human — creature at the centre of Raptor4Rent. Josh and Ben Campana, 16-year-old twins who take turns wearing and wrangling the 55-lb. costume, operate Velma. She is something completely unique: a rentable Velociraptor for parties and events.
Bruce Campana, Ben and Josh's father, is an emergency room physician at Victoria General and Royal Jubilee hospitals — and he's the procurer of the Velociraptor. He was inspired by a BBC Velociraptor prank video and set out in search of a manufacturer to create their own dinosaur, which cost $5,000 as opposed to the $250,000 price tag paid by the BBC for its dinosaur.
Bruce originally envisioned a cool summer job for his boys — which indeed it has been. Velma's events have included Pride, Victoria Day, Saanich Fair, two weddings and an assortment of private parties for kids and adults alike.
As Velma leans down to let a boy pet her nose, onlookers along Fort Street are enthralled by such an unusual sight. "It's just heartwarming seeing people smile," says Bruce. "Kids and adults both." It seems this local business is well on its way to becoming a roaring success.
This article is from the October/November 2018 issue of Douglas.