May 8, 2017, Victoria, BC – Martin Rissley has joined V2V Vacations as General Manager, responsible for the operations, sales, marketing, and guest relations teams. Although he will be based in Victoria, Rissley will split his time between the two V2V offices – the Steamship Terminal in Victoria (470 Belleville Street) and the Vancouver Convention Centre (1055 Canada Place).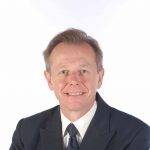 A long-time member of the tourism industry, Rissley has spent the past 15 years as hotel director for Royal Caribbean International on the world's largest cruise ships. The ships carry more than 6,000 guests, 2,200 crew members, and offer a myriad of dining, entertainment, activities and unique experiences.
"I am delighted to be back on the West Coast and I am looking forward to working with our partners developing V2V's business and providing a memorable travel experience to all our guests," says Rissley.
Prior to joining Royal Caribbean, he was general manager with Coast Hotels & Resorts properties in Victoria and Kelowna, as well as executive assistant manager in Vancouver. He held several community roles in Victoria, including president of the Hotel Association of Greater Victoria, and was on the board of directors for Tourism Victoria.
Trips on the V2V Empress depart from Vancouver at 8 a.m. and arrive in Victoria at 11:30 a.m. The return voyage departs from 2 p.m. for Vancouver, arriving at 5:30 p.m.
On board, guests will experience premium leather seating; flip-out or built-in tables; power outlets at each seat; and on-board Wi-Fi. Each guest will have the option to select their seat at the time of reservation, and check one piece of free checked luggage (some restrictions will apply), and one carry-on item. During the voyage, guests may order beer, wine, and non-alcoholic beverages. The V2V Empress will also carry a selection of locally-inspired and locally-sourced food items developed by Truffles Catering.
Beginning in May 2017, V2V will operate a high-speed passenger service between Victoria harbour and Vancouver harbour. V2V will immerse guests in a premium experience focused on passenger comfort, while providing them with the opportunity to spend the voyage learning about the rich culture in the region. Guests will have the opportunity to taste local flavours through the on-board menu that will feature foods and beverages from the region. For more information, visit www.V2VVacations.com.