In 2005, Julie Angus and her then-boyfriend Colin Angus — now husband and cofounder of Open Ocean Robotics — were ready for a change. Little did they know their decision to row across the Atlantic, from Portugal to Costa Rica, would refocus their careers into technology in self-powered marine vehicles.
"It was definitely not the journey I would have imagined," says Angus, whose master's degree is in molecular biology. "I think that's the beauty of life — you don't really know what direction it's going to take — you open a door and you walk through it."
Today the company of 10 operates out of the Vancouver Island Technology Park, a University of Victoria enterprise tucked behind Camosun College's Interurban campus. But it took some time to get there. Angus wrote a book about their trip and two more about other expeditions before starting a company making human-powered boats, and then turning their attention to autonomous ocean vehicles.
How these vessels could harvest, collect and make use of the ocean's data was the driving focus for Angus in developing Open Ocean Robotics. "I [had become] quite curious about ways in which we could understand those parts of our oceans that nobody ever sees. If you had boats out there that were continuously just going over these waters — seeing them and understanding them and sharing them — how transformative that would be."
The result of Angus's line of thought was a solar-powered autonomous boat, or an uncrewed surface vehicle (USV), for collecting the ocean's data. Equipped with sensors and cameras, powered by solar and wind, the vessel is an efficient alternative to conventional crewed research missions and can travel in the open ocean for months at a time. Environmental monitoring, including endangered species, illegal- fishing enforcement and seafloor mapping are just a few applications of the USV.
The ocean and its blue economy is a $3 trillion industry, and within the sector, technology is a distinctive asset for effective innovation. In many ways, oceans have been neglected compared to innovation in other areas like space. "The tide is shifting and people are starting to pay more attention to the oceans," says Angus. "I hope that trend continues, and I think our company will be one of the key players in making that transition to a digital ocean."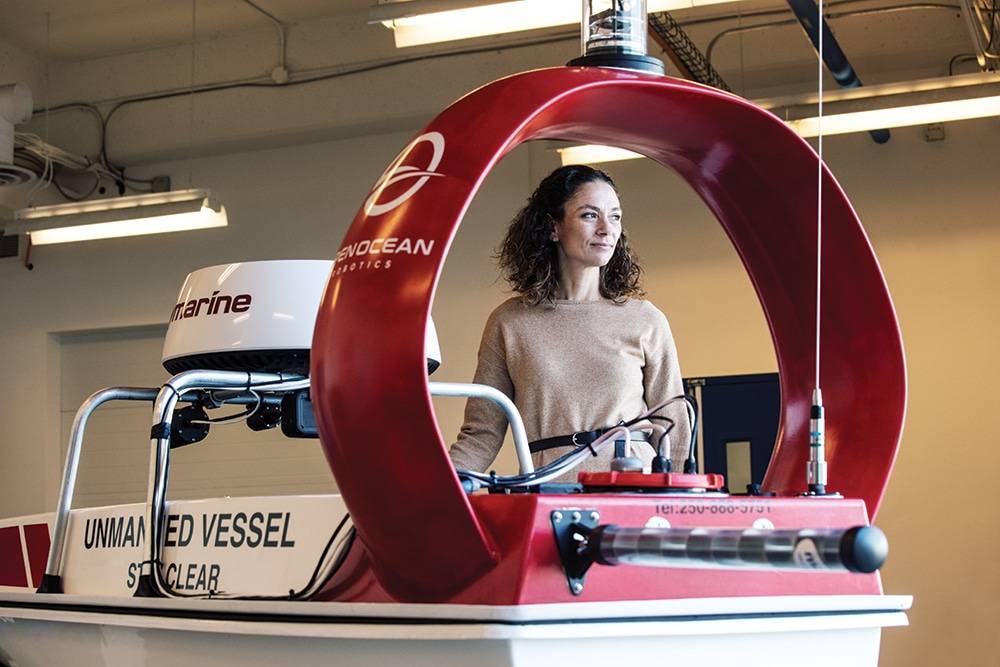 Q & A with Julie Angus by Douglas Guest Editor Sam Mod
Sam Mod (SM): You've been called "Adventurer," an awesome job title. What does it mean?
Julie Angus (JA): I think adventurer means "explorer": going out and pursuing your passions, discovering things, asking questions, being curious. I suppose the term adventurer often refers to doing that in the physical world by exploring remote places, doing something that hasn't been done before.
But in the realm that we're in right now — where we're pushing boundaries that are more technological — you can still be an explorer or adventurer. We're exploring the oceans, finding new ways to get data that will help us not only understand the oceans better but help us operate more safely and more sustainably.
SM: When you started designing autonomous boats, what kind of challenges were you running into?
JA: We had a pretty good background in designing boats that work well with minimal power, which have a lot of similarities to a solar-powered boat. You have to make it extremely efficient; it has to be high performing and move easily through the water. You can't get more energy from the sun, but you can find better ways to utilize it.
The challenging part was the autonomy, like the command and control system and all of the electronics. We didn't have that skill set. So for us, that was finding other people with those skills. We hired a couple of electrical engineering co-op students from UVic — they were just students, but they had more [electronic] skills than we did and helped build our system. I won a number of competitions and was able to secure some grants, which we used to grow our team. Together we've been able to create something that I think is pretty remarkable.
SM: What kind of data is the vessel collecting?
JA: Our baseline boat would have a weather station for collecting weather data like wind speed and direction, air temperature and barometric pressure. You can detect ocean conditions like the wave height and period, ocean temperature, salinity and depth. There is a single beam sonar for reconnaissance and surveying, and it has the full suite of cameras. With a vessel like that, you could do weather monitoring, climate modeling, security.
You can put on specific sensors for different things. We've done a pilot [project with] seafloor mapping, where you have a multi-beam sonar system that is taking a picture of the ocean floor — that's very important for ships navigating to understand the habitat. Another sensor is a hydrophone — that's what we're using for the illegal fishing pilot and for monitoring marine mammals like the endangered North Atlantic white whales on the east coast.
It can be really huge data files that you're dealing with, that require lots of bandwidth. The way the data is stored and transmitted depends on the size of it. All the raw data is on the boat, and the process data is sent off the boat to be viewed by the pilot in real time.
SM: Just last week there was a tsunami alert. I'm curious: Are they going to be able to predict tsunamis or earthquakes?
JA: People are already involved in doing tasks like that. You can have a sensor on the ocean floor that can predict a tsunami or an earthquake, but you have to have a way of getting that data back to shore. You could have a cable network, but that means it has to be relatively close to shore or it's very expensive.
What a boat like ours can do instead is sit above that sensor, listening continuously for signals from that sensor, using an acoustic modem, and send that signal by satellite. This means that you can put the subsea sensors into really deep waters where you're going to get much more advanced warnings than if they were closer to shore.
SM: Elon Musk is launching Starlink satellites, and you mentioned that bandwidth is a bit of an issue. What are you looking forward to from that launch?
JA: Low earth orbit satellites and programs like Starlink will be transformative for getting data off the ocean. We have communication anywhere, but once you're out of cell range, and limited to satellites, like with our vessel, the amount of data we can transmit becomes limited and expensive. Currently, our satellite communication uses Iridium SBD [Short Burst Data] for small files and RUDICS for larger files.
Starlink would transform what you would be able to send: video, full acoustic files, everything from the middle of the ocean. You could do so much more, and do it in real time.
SM: What are some of the technical considerations and challenges you've faced?
JA: In building a USV that is an endurance vessel like ours — it can go for months offshore — you need to be able to deal with very significant sea states because you're going to get hit by storms. Making sure that the vessel can self right was a big technological challenge that we've overcome. To make sure that we're always able to stay in contact with the vessel, we have multiple modes of communication.
We were thinking about the most extreme environments that the USV is going to face. That's why we built in redundant, as well as predictive, systems to be able to deal with any failure points and make changes remotely.
SM: If you were to make an appeal to the community, be it investors or customers, what would you ask?
JA: The most important thing is that people appreciate our oceans and what they do for us: the environmental benefit, the carbon dioxide that they absorb, the impact that they've had on mitigating temperature, the food that we get from them and the economies that they support.
I think we need to invest more to protect our coastlines and to ensure the safety of our food supply, as well as the food supply of the fish and marine mammals in the ocean that depends on it. I would ask people to care about the ocean and to do their best to advocate for it.
SM: What are some of the core values that you have identified around your company?
JA: I think that the triple-bottom line is really important: profitability, sustainability within our company, as well as the ocean environment and community. I believe that people are drawn to our company because we do believe strongly in the things that we're doing.
And we do believe that innovation is core to being able to solve many of the challenges that our world faces. At the same time, it's central to growing a profitable company and finding ways to merge clean tech and innovation and really use that to drive our economy, both within Canada and globally.
SM: What are you most proud of?
JA: We now have beta customers, and we're actually serving a need in the market. It's tremendous that we're helping solve some of the biggest challenges that we're facing in our oceans. I'm really passionate about finding solutions that are not only profitable but that make our oceans more sustainable and add to our knowledge.
For example, the one project that we are involved in right now is detecting and enforcing against illegal fishing within marine protected areas. Currently, there is little or no enforcement in these areas, and, until you have enforcement, it's almost meaningless. But it's very difficult because these areas are huge. They're often remote; hard to access. We've proved technologies like ours can overcome those challenges.
SM: Where do you see yourself and your field going in the next five years?
JA: I see a lot of innovation in the marine robotics space. The ocean is moving toward being a digital ocean. Having IoT [internet of things] for the ocean, connecting everything from the seafloor to space, will result in a more profound understanding of the ocean.
We can use that information to improve the health and sustainability of our oceans, but also allow ocean industries to be more sustainable, to be more profitable and to provide greater safety to the men and women that work on our oceans.
Continue Reading: