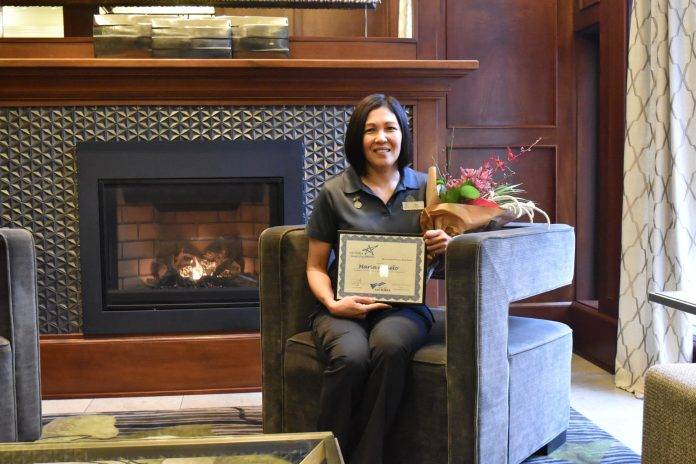 The Victoria Hospitality Awards Committee recognizes employees in Victoria's hospitality industry who go far above and beyond expectations. Recently, Maria Aguelo of the Magnolia Hotel & Spa in Victoria was recognized for her exceptional service.

Maria Aguelo of the Magnolia Hotel & Spa in Victoria.
Maria was nominated by a Magnolia Hotel guest Elaine Noulin, who sent in the following comment:
"My spouse and I stayed at the Magnolia Hotel for 10 days during September 2017, and the daily service we received was beyond all expectations.  The primary person behind the daily servicing of our room was Maria Aguelo — and what an outstanding job she did. We returned to an immaculately clean, well-stocked and impeccably organized room each day.  It's one thing to find a room this way on initial arrival; it's quite another to find it this way day-after-day-after day. Thank you Maria … you did an OUTSTANDING job and made our stay in Victoria one of the best ever."
Congratulations, Maria!
About the Victoria Hospitality Award program
The Victoria Hospitality Award program was founded in 1994. A not-for-profit society was formed with a mandate to recognize individuals from the Greater Victoria area for outstanding hospitality. Outstanding hospitality is defined as a random act of kindness that goes over and above the expected to meet the needs of an individual. Committee members meet monthly to review ballots received and to select a winner. Monthly winners are presented with a signed Victoria Hospitality Award Program certificate, a letter of commendation, a City of Victoria pin engraved with the winner's name, and numerous other gifts from Committee members representing various sectors of our community. The Society hosts a Special Event annually to honour all nominees and monthly winners. Nomination ballots are found online at Tourism Victoria or at victoriahospitalityawards.com.