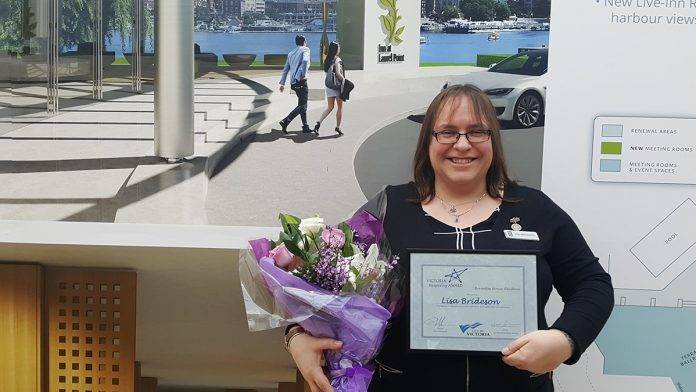 The Victoria Hospitality Awards committee recognized Lisa Brideson from the Inn at Laurel Point for her outstanding service in creating an above and beyond memorable moment for one of the hotel's guests and her daughter.
Jason Low and Keir MacPherson took the opportunity to nominate Lisa Brideson after hearing this incredible story:
The hotel received a panicked Lost and Found inquiry for a missing "Puppy Stuffy" that a young Guest, Elizabeth, had misplaced. The stuffed puppy had significant sentimental value as she's had it for 10 years and was devastated when she was unable to locate him.
When the puppy toy was found by the hotel, Lisa wanted to ensure Elizabeth that her "Puppy" was in safe keeping and enjoying it's time while waiting to be returned home. Lisa took the time to take photos of the "Puppy" helping housekeeping operations, greeting guests, helping out one of the hotel chefs and finally having breakfast and winding down in a room as he awaited for his "ride" home.
Once the photos were sent to Elizabeth to reassure her that her puppy was ok and being a great help around the hotel we received the following email from our Guest:
"This made me cry…. there are no words. Wow. And thank you, thank you, thank you for taking such good care of our little buddy. Looks like he had so much fun that he may not want to come home! Thank you so much. This is beyond special."
About the Victoria Hospitality Award program
The Victoria Hospitality Award program was founded in 1994. A not-for-profit society was formed with a mandate to recognize individuals from the Greater Victoria area for outstanding hospitality. Outstanding hospitality is defined as a random act of kindness that goes over and above the expected to meet the needs of an individual.
Committee members meet monthly to review ballots received and to select a winner. Monthly winners are presented with a signed Victoria Hospitality Award Program certificate, a letter of commendation, a City of Victoria pin engraved with the winner's name, and numerous other gifts from Committee members representing various sectors of our community. The Society hosts a Special Event annually to honour all nominees and monthly winners.
Nomination ballots are found online at Tourism Victoria or at victoriahospitalityawards.com.