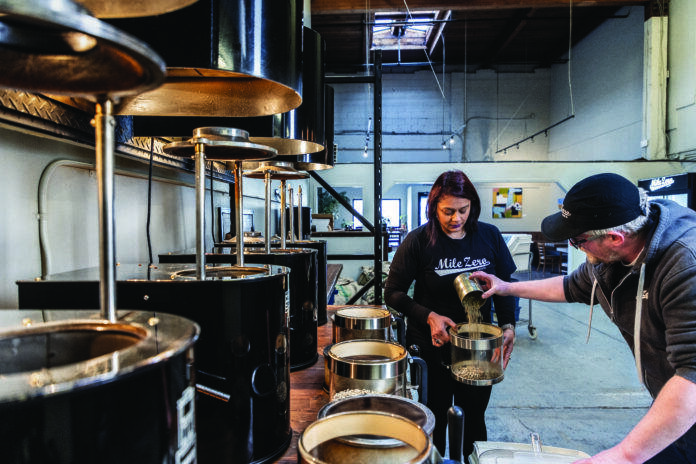 When Mile Zero Coffee Company outgrew its James Bay location and relocated to the eclectic Rock Bay Square, owner Bradley Scissons finally got the chance to apply his ideas on business mentorship to his own company.  
Scissons has co-owned Mile Zero Coffee Company since 2017. But prior to that, he had worked for more than a decade at Fairmont Hotels & Resorts in three different cities in North America. Which means that he is quite familiar with the mentorship programs within large companies. 
"I was in a very structured setting," Scissons says. "You lived your life by your six-month plan, your one-year, three-year and five-year plans."
Despite Fairmont's attempt at standardizing its mentorship program, Scissons found that there was a big difference in having a mentor who checked in every week, as opposed to a corporate type that he talked to twice a year.
"What [the former] type of mentorship does is help provide stability and structure," he says. "But it doesn't always apply the same way to every person, to either the mentor or the mentored." 
Want to learn by doing? Find a mentor. Want to leave a legacy? Be a mentor. 
Making It Fit for Both Sides

 
The term "mentorship" tends to conjure up the image of a senior partner taking the new hire out for lunch, and dropping cryptic advice about career tips and office politics. But mentorship is so much more than that, and its benefits are well documented. The offerings of guidance, support and networking opportunities can be a key to success for someone new to a business. 
Aakriti Rai first came to Mile Zero Coffee Company as a digital marketing intern while she was studying for a master's degree in global management at Royal Roads University. It was a good fit for both sides, and gave Rai the opportunity to learn both the marketing and production sides of the coffee business from the ground up. 
"A lot of the things that she was learning were about larger businesses," Scissons recalls. "She has these great ideas on a larger scale, ideas that we can then apply in a smaller setting."
It's something that Rai has come to understand in her many informal chats with her boss while working shoulder-to-shoulder at the coffee roastery and café. "Vancouver Island works very differently from anywhere else in the world," Rai says. "A lot of marketing happens via word of mouth; a lot of it is based on relationships." 
She adds: "Customers are very brand loyal here. No matter what coffee company moves into town, or if the prices drop somewhere else, they won't leave us."  
"It's a give and take, where you get to utilize and learn from each other," Scissons adds. "Our approach to mentorship is a little more open-ended." When Mile Zero Coffee Company is ready to expand, Rai's expertise in tapping into large markets will be a handy asset. 
Finding opportunities like these for your employees requires patience, says Scissons. He estimates that it takes anywhere from four to six months to get an employee trained up and comfortable with the job before the window for mentorship opens. And, of course, the mentee must want it, too. "You have to choose your mentor, rather than the other way round," Rai says. "If I wouldn't have vibed with Brad, I would've never taken the job."
Passing the Torch
Sometimes the opportunity for mentorship is obvious, like when Gayle Robinson helped her daughter, Erin Boggs, take over Robinson's Outdoor Store. The iconic family business on Broad Street started as a bicycle shop back in 1929; today it sells hiking, adventure travel and fly-fishing gear, but over the course of its history has offered everything from baby buggies to hunting rifles. "If you go down into the basement, you can still see bullet holes from where they did target practice," says Boggs, who now co-owns the 94-year-old business with longtime Robinson's employee Matt King. 
Boggs wasn't thinking about taking over the family business when she took a job at Robinson's 10 years ago to pay off her student debt. But as she started getting comfortable in the store, Boggs began taking on more responsibility without really noticing it. By the time her mother asked if she was willing to take over the store in 2017, she was ready to say yes. After a five-year period when Robinson worked alongside Boggs and King for transition purposes, the duo fully bought the business from Robinson last year.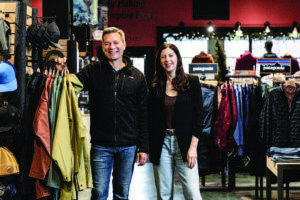 "I just kind of realized that I really loved working here," Boggs says. "Yes, there are the responsibilities of buying stock, hiring, marketing and all that. But most of the time you'll see me out on the floor, selling jackets, restocking things. We work full-time, shoulder-to-shoulder, like everyone else." 
It was an amazing experience to be able to pass on the store to her daughter and be a mentor during the process, says Robinson. "You really can't learn how to run a business like this one in school," she says. "You have to learn by doing."
Boggs recalls the learning process as a lot of shadowing: sitting with her mother in the back office, watching her manage the store and pitch vendors. She also tagged along for buying trips at retail shows as far away as Utah. 
Now that Boggs is in charge, she's beginning to understand her mother's perspective. "When I was younger, I'd pick apart what she was doing. And the really funny thing is now that I'm in her role and I'm sitting here — fast-forward 10 years — there's so many things that I'm like: Ah, I didn't see the full depth of it!"
"She's going to put her own spin on it; do it her way," Robinson says of her daughter. "She's taking it to the next generation."
Robinson will always remember the times she shared with her daughter, pulling early mornings and late nights to teach Boggs yet another aspect of the store. And Robinson still occasionally lends a hand whenever they need it. "She's our top salesperson," Boggs jokes. 
"Sometimes, I pull the mom card. She'd pull the daughter card," Robinson says, smiling. "But what the mentorship really did was grow our relationship. We're closer than ever."
The Art of Matchmaking
Research strongly supports the idea that the social aspect of mentorship is just as important as simple career advice. Two business professors at the University of Victoria, Yan Shen and Rick Cotton, have studied its effects. 
"What differentiated the more successful relationships in terms of what the mentees achieved in their careers was actually a sense of psychosocial support from their mentors," explains Mia Maki, an associate dean at UVic's Peter B. Gustavson School of Business. "Their mentors knew them, saw them and were there as a form of social support, as a form of psychological support beyond just career advice."
The business school is busy translating those findings into their own mentorship program, which matches anywhere between 80 to 200 students with mentors drawn from Victoria's business community. There are a few weeks of socializing and matchmaking before the actual start of the mentorship — a fairly flexible relationship whose terms are negotiated between mentor and student. Some of the teams stay in touch well beyond graduation. Maki knows of one student who invited her mentor to her wedding, years into her career in a different city. 
Maki herself is an early alumna of the Gustavson mentorship program. "When I did my MBA here at UVic, my mentor took on both me and Troy Griffiths [now CEO of Vigil Health Solutions]," Maki recalls. "Sometimes he would mentor us together. We would meet for lunch and talk, not just about our own careers, but also what we could do for the community, and what we could create in Victoria."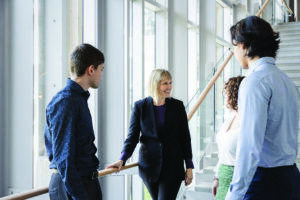 With their mentor, Dave Matthews, Maki and Griffiths would go on to create an informal group of Victoria-based controllers and chief financial officers that they called the CFO club. 
"Getting together and sharing information made our lives so much easier," says Maki. "We were able to negotiate better banking arrangements, figure out who to go to right away without going through a bunch of people." What came out of that mentor-mentee relationship has now grown into a regular roundtable offering at VIATEC (Victoria Innovation, Advanced Technology & Entrepreneurship Council). 
"There's a school of thought — and it's supported by research — that it's not about a single mentorship relationship that actually helps you accelerate your career," Maki says. "It's about forming a personal board of advisors, a number of people who can help you with your career development. One person can't have all the answers." 
That's something some businesses in Victoria are already practising. Beyond her mother, Boggs credits the Vancouver Island Family Business Association's personal advisory groups as another pillar of mentorship. The advisory groups consist of family business owners from non-competing sectors. Boggs's group usually meets on Robinson's second floor, where they come together once a month to perch on camp chairs. The meeting begins with each member checking in about their past 90 days and their plans for the next 90, and then the group brainstorms various issues that the members are facing.
The personal advisory group is helping Boggs understand the challenges that are unique to family businesses. But the diversity of her group — which includes members in construction, events, hospitality and human resources — means they are able to share ideas and best practices across industries. Every year, they decamp to a retreat in Sooke. 
"We talk a lot about business stuff, but we also just get to bond and have some fun with each other," Boggs says. "It's probably the most valuable thing that I've ever entered outside of the business that's helped me grow individually, but also into feeling confident in my role."