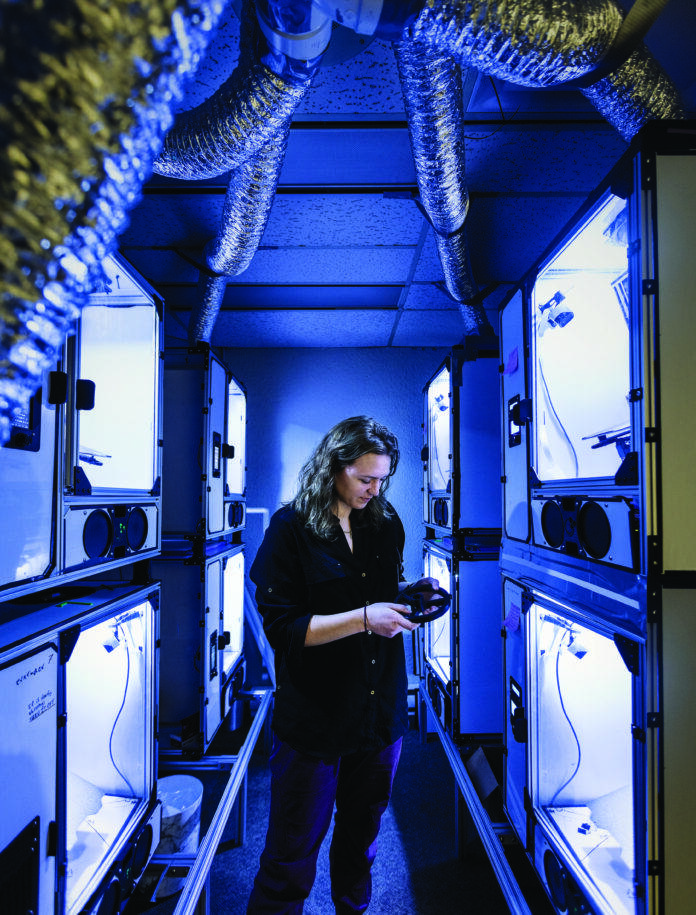 Plant-powered productivity." That's the mantra for Origen Air, a previous Douglas 10 to Watch winner. It's based on a concept called biophilia, the innate human attraction to nature. Scientifically, regular houseplants aren't capable of removing toxins from indoor air spaces. So Origen founders Susan Blanchet and Andrew Crawford went on a quest to find plants that do. The first was a genetically enhanced plant, pothos ivy, a.k.a. "the bachelor plant." Not only was it easy to maintain, but it was proven to remove toxins from the air, a staggering 96 times more effectively than standard houseplants
The pair designed a kind of large, stylish herbarium tower that now comes in different sizes and can be purchased or rented. Their flagship unit, The Pinnacle, stands seven feet tall and weighs some 300 pounds, and can be customized to match office décor. Each unit services up to 8,000 cubic feet of space and 16 people.
The specialized plants naturally convert CO2 into fresh oxygen; filter out allergens, bacteria and viruses; and capture larger particulates like mould, pollen and dust. There's also an optional air quality monitor. Origen initially targeted larger businesses and workplaces, but the units are also starting to appear in places like UVic and Camosun College.  
Moreover, Origen has tested and chronicled the effects of its products in the workplace. The system has been shown to increase productivity by up to eight per cent, decrease turnover up to 13 per cent, and impact employee mental health by up to 13 per cent. Whether it's hospitals that want patients to heal more quickly, offices that seek to boost productivity or schools looking to raise test scores, Origen makes the case for incorporating nature where we live and work.