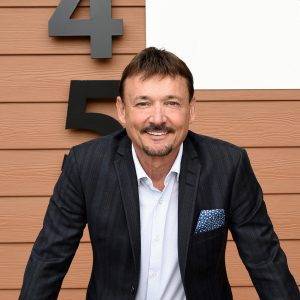 Ed Geric is the President of Mike Geric Construction, an industry leader in sustainable multifamily construction. He combines financial expertise with the entrepreneurial know-how that comes from running a successful family-owned business.
How is Mike Geric Construction coping right now, and how are your team feeling about how this will all play out?
We're probably operating at 80-85% of our usual capacity now. Unlike many of the businesses that have been severely impacted by this situation, we're still able to work while social distancing. Our sites are still running, and there are heightened hygiene and safety protocols in place. Our office team is working from home with one or two people attending the office as-needed and we're completely closed to meetings and in-person visits. We've also asked homeowners to wait for minor repairs and warranty items, unless they are urgent.
My team is thinking about the future and have concerns about the long-term impacts of COVID-19, but first and foremost we've all been focused on the health and safety of our families and I've encouraged everyone to put that first. There's been a lot of uncertainty about exactly what social distancing means up to now, which has also been a little stressful for people, but I think there's more clarity now and people are all getting on the same page about what we need to do collectively.
What advice are you giving your team for riding this out?
It's a time to reassure people that putting their family, health and safety first is the right thing to do. Our job right now is to stay home so we can all get back to normal as soon as possible. Anything related to work is secondary, but I have encouraged my team to take this time to do online learning, read about subjects like Mass Timber so they can support upcoming projects and to do lots of self-care. I've also stressed communication. It's so important that we're talking to each other, to our kids and to our colleagues. I've let my team know that if there is anything I can do to support them right now, please tell me.
What is the opportunity in the challenge?
Right now, we are all finding new and different ways of getting things done. Maybe this set of circumstances will open our eyes to what businesses can and maybe have to do differently in the future. I think we're learning to communicate and use technology more effectively. We're also a lot more educated about proper handwashing and that's something that I hope will become the new normal.
What advice have you applied or are you applying from previous experiences coping through crises?
It's always good to remember that this will not be the last crisis we all deal with and getting through it will help us be more prepared for the next one. All we can do is get a plan in place and follow it. My experience has been that things always get better when we work together, stay calm and keep an open dialogue. None of us are alone in facing this challenging time, we're all in it together.
What are your resources right now? Do you have a mentor supporting you, peer group, books you read?
We have a tight-knit business community here in Victoria and that's a good thing. I've been picking up the phone to check in with other business owners, developers and construction trades. We're sharing ideas and information. It's important to stay on top of the latest news and make sure we're sharing it with each other and checking in personally too. Business owners draw a lot of strength from being able to keep working and move things forward, so it's challenging when we must slow down or pause but staying connected helps with that.
What advice do you have for others experiencing this alongside you?
Number one is that you need to make sure everyone on your team feels included in your plans and to make sure they feel safe and supported. I also think it's critical to keep your employees engaged, even though they are likely working at a distance. My whole team is still working, but we're not at full capacity, so I'm encouraging people to take advantage of the time to do something positive or that they never have time to do, paint their house, exercise or take online courses.
Any additional thoughts?
I think we should all put ourselves in the shoes of others right now and think about what we can do to support them. Whether that's your employees or other business owners, everyone is feeling stress and making tough decisions.