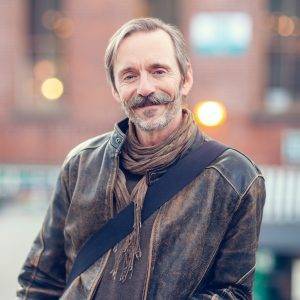 Doug Brown is a re-branding specialist and the owner of Brand Intervention. He has helped hundreds of businesses of all shapes and sizes refresh or completely reinvent their brands through a rigorous strategy of research, learning, conceptualization and implementation.
How is Brand Intervention coping right now, and how are you feeling about how this will all play out?
I've spent all week helping clients through this crisis. What's surprised — or perhaps disappointed — me most is how few are looking at the opportunities. They are all looking to survive. Business owners and entrepreneurs make terrible survivors; they want to succeed. They understand shifting grounds, are used to working and adapting through change. A big crisis like this is a time for businesses to think opportunity. This is where they can step up and show how vital their business is to the community it serves. Seen through that lens, it's not that difficult to navigate the uncharted path ahead.
What advice are you giving your team for riding this out?
A wave of meaningful innovation is surely upon us. Some entrepreneurs are going to create new laneways for themselves in the coming months: novel services, new channels, new distribution methods. Think like them.
How do you find the opportunity in the challenge?
Every business should ask itself this question: What are we uniquely positioned to offer to help our community in this time of crisis?
Everything flows after that.
Theoretical example: My hot tub client. What can a hot tub do in a crisis? The message to market I would use is: Stuck at home for the next little while? Treat yourself well. Then the business needs to pivot to speed up delivery/installation. Facebook ads drive to the website, where online purchase travels to the top of the landing page. Close the storeroom except for pickup and delivery, etc. It starts with knowing what problem you're solving in this unique time.
What advice have you applied or are you applying from previous experiences coping through crises?
Don't look to grind away with your existing business model, in the face of dwindling traction, until it's just metal on metal. Do something different. Change is upon you now. Change to meet it.
What are your resources right now? Do you have a mentor supporting you, peer group, books you read?
I have a team of business partners, a network of associates, and a hell of a lot of smart clients! We talk about this stuff every day. We are all learning together here.
What advice do you have for others experiencing this alongside you?
We all have everything on the line here and the work is going to slow down fast for most. My advice is to find out how your business can best help your community during this time and go do that rather than chasing leads and shaking the trees. Keep your business relevant to what's happening. It will say everything about the type of leader you are and what your company's values really look like.