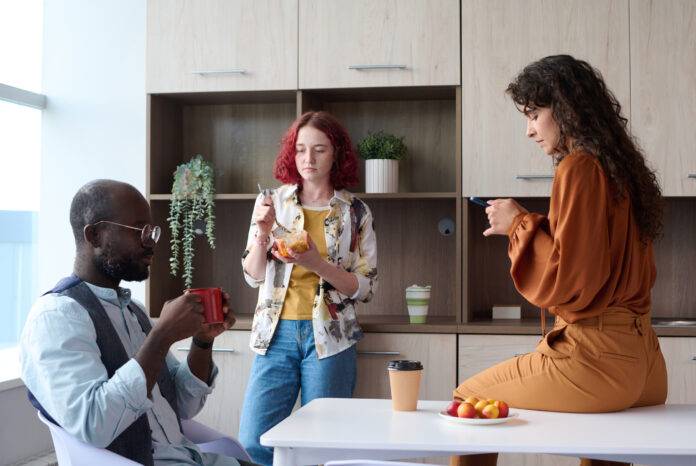 IN THE KNOW: 
Optimize Your Work Break 
New research from American insurance company Aflac found that 97 per cent of people use their smartphones while on break. According to workplace well-being expert Laura Putnam, that's a problem. She argues that checking your phone can leave you feeling drained. Breaks, however, should be used to boost energy and productivity. 
What should you do instead of checking your phone? Putnam has five tips to help you break better: 
Opt for short: Taking shorter breaks more often is generally more effective than long

ones.

Move your legs: Going for a walk, especially near a body of water, can boost your

productivity and energy-levels.

Stretch: Mini-exercise sessions over the course of your day can keep you feeling good.

4. Chit-chat: A quick conversation with a colleague or friend about something

non-work-related can add a much-needed boost to your day.

Hang out with a furry friend: Petting a dog on your break can reduce cortisol levels (the

body's primary stress hormone), which in turn can increase your psychological

well-being.
Next time you move to pick up your phone while on break, think twice — there are better ways to spend your time. 
FROM THE CURRENT ISSUE OF DOUGLAS: 
ESG: Building Business with a Conscience 
Market forces, social concerns and environmental realities are putting more and more pressure on businesses to shift towards sustainability. ESG standards are a way for businesses to make the shift. 
The three letters of ESG represent the pillars of sustainable business practices: 
Environmental: Greenhouse gas reduction, including clean energy, transportation efficiency, and waste and water reduction. 

Social: Diversity, equity and inclusion practices, community investments and employee volunteer programs. 

Governance: Business policies and procedures that reflect sustainable business practices, both environment and social.
Read the full story in the latest issue of Douglas.
MARK YOUR CALENDAR: 
August 11: 7th Annual Bocce Tournament, Saanich Peninsula Chamber (peninsulachamber.ca)
August 16: Business Scale-up and Productivity Information Session (canada.ca)
August 17: August Pacifica Real Estate Mixer, Saanich Peninsula Chamber (peninsulachamber.ca) 
September 12: Victoria Career Fair and Training Expo (www.jobscanadafair.com) September 13: Royal Roads University Changemakers Speakers Series (royalroads.ca) September 21: Esquimalt, Greater Victoria, Saanich Peninsula, Sooke Region and West Shore Chambers Business Mixer (victoriachamber.ca)
September 28: Hiring a Co-op Student Information Session, Victoria Chamber (victoriachamber.ca) 
October 24-26: Canada West Health Leaders Conference (cchl-ccls.ca)
October 25-26: VIEA State of the Island Summit, Nanaimo (viea.ca) 
November 1-4: International Garden Tourism Conference (https://gardentourism.org) November 14-15: UPLIFT Women's Business Summit (upliftwomensummit.com) 
Ongoing:
UVic Gustavson School of Business (uvic.ca/gustavson)