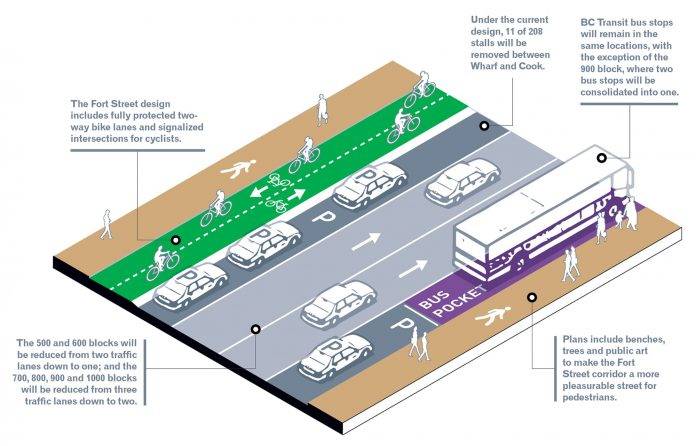 Divisive is how one Fort Street business owner, who asked to remain anonymous, describes the street's reaction to the City of Victoria's approval in June of a $3.27 million project for a new two-way, separated bike-lane along the north side of Fort Street.
According to Kerri Milton, executive director of the Downtown Victoria Business Association (DVBA), her organization can't take an official position because the situation is so polarized between DVBA members.
"There are people who are very pro and see the economic impact in a positive way, but on the opposite side, we have the people who have concerns about the construction, loss of parking and who don't feel that biking helps shopping," she says.
The protected bike lane, part of the City's Official Community Plan, will run from Wharf to Cook along Fort Street. Fort was identified as a preferred route in the City's network concept development, along with Pandora, Cook, Wharf and Humboldt. While initial designs eliminated 18 parking spots, outcry from business owners restored seven parking spots and a taxi-loading zone.
GROWING PAINS
Catherine Holt, CEO of the Greater Victoria Chamber of Commerce, says the Chamber has heard many views on the City's plan for the downtown bike lanes, both supportive and voicing concerns. She describes Victoria as a city "in its adolescence.
"We are used to being able to hop in our cars, drive for 10 minutes and park right in front of our destination," she says.
"As we grow this is becoming less possible. The transition is awkward, but if we don't figure out ways to move people around, Victoria will be so jammed with traffic it will no longer be a lovely place for residents and visitors … Regardless of whether you like them or use them, bike lanes are a common strategy used by many cities to provide a safe alternative to the car."
RESIDENTIAL DENSITY
The other big change facing Fort Street is the construction of at least four residential towers, including the recently announced 12-storey rental building between Quadra and Vancouver by developers Dan Robbins and Fraser McColl.
"Anytime construction comes up, businesses worry about the extra vehicles, the fencing and the loss of parking," Milton says. "But the other side of that is the huge positivity of the densification and knowing that these new buildings are going to lead to feet on the street."