(FOR IMMEDIATE RELEASE) Following the celebrations of Earth Month, The Bay Centre is now home to downtown Victoria's newest Modo Co-operative carshare location. This location, now houses a 2017 Honda Fit, offering another option in the downtown core. The vehicle is parked in a designated spot in the shopping centre's underground parkade near the three existing electric charging stations.
"As a BOMA BESt silver level shopping centre, The Bay Centre team is continually measuring, managing and improving our environmental performance through energy and water consumption and waste reduction," says Darlene Hollstein, General Manager of The Bay Centre. "This commitment includes looking at ways to improve our customer and staff parking, in a way that's more sustainable, which Modo offers."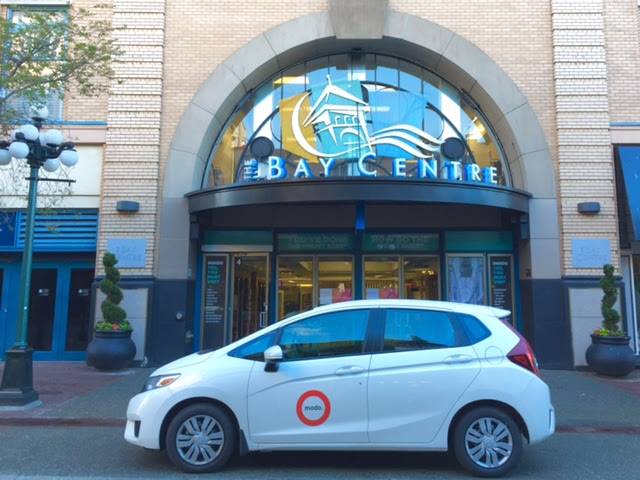 The
Downtown Victoria Business Association
(DVBA) recently introduced carsharing, as a way to better serve its own transportation needs and to step up as a business leader in the community. To support sustainable transportation downtown, the DVBA partnered with Modo, who has waived the registration fees to support DVBA businesses. The Bay Centre's newest location falls within this program.
"We recognize that transportation is a complex issue that requires a number of action items including the use of alternative transportation tools like Modo," says Kerri Milton, Executive Director of the DVBA. "We applaud the efforts of The Bay Centre in joining the DVBA's efforts to use and promote alternative modes of transportation."
With The Bay Centre's recent addition, there are now 12 Modo locations in downtown Victoria, 46 in Greater Victoria. Modo was the first carshare cooperative in North America. The member-owned business amalgamated with Victoria Carshare Co-op in April 2015 and to date serves over 17,000 members and 700 businesses. Modo gives members all the conveniences of owning a car, without the hassle, costs and responsibilities of ownership. The service offers a more sustainable mode of transportation by supporting the ability to commute by foot, bike or transit, while still having access to a vehicle at work. Members pay only for the time they drive.
"We are very encouraged by how enthusiastic Victorians are about carsharing and choosing more active modes of transportation in general," says Patrick Nangle, CEO at Modo. "This willingness to adopt more sustainable ways of getting around the city will be key in helping the DVBA realize its vision of creating a welcoming and vibrant downtown core, for users of all forms of travel."