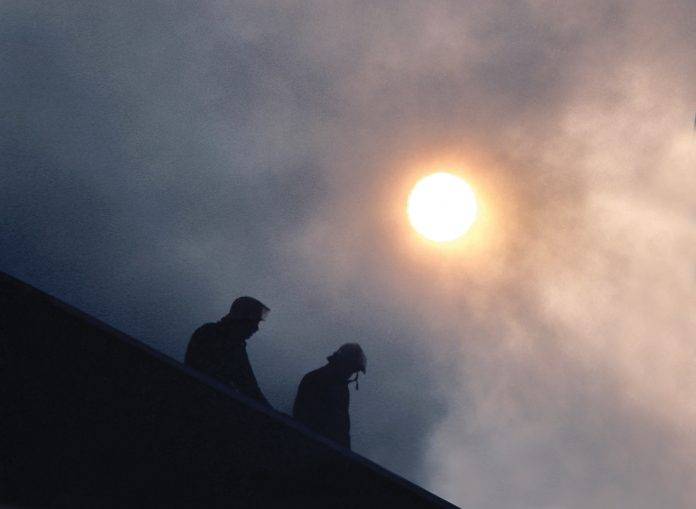 About 3 a.m. on January 20, 2015, Brad Olberg received a call from his alarm company that something was amiss at his restaurant, Cafe Mexico, in Victoria's historic Market Square. The alarm reading suggested it was merely a dead battery, so rather than rush down, Olberg decided to stick with his routine and head to work at the usual time.
"So I showed up that morning at 6 a.m. to the five fire trucks and the smoke," Olberg recalls. "It was heart-wrenching."
The fire heavily damaged Cafe Mexico, which Olberg had established 29 years earlier, as well as MexiGo, a takeout restaurant he had opened only 18 months before. Smoke and water also damaged other businesses in the building, including Pacific Rim College and Paboom Home Imports. Some of the businesses, like Paboom, were back in business within two weeks. Cafe Mexico didn't reopen until 20 months after the fire.
It took a year before the insurers gave the green light to begin renovating the main restaurant, Olberg says. But a saving grace was that he received approval much sooner to repair MexiGo's space and repurpose it with expanded seating as a Latin breakfast spot that he renamed Fuego — Spanish for "fire."
"Because we had to basically self-preserve ourselves and be able to function, we had to get this open while [Cafe Mexico] was being renovated," Olberg says.
Nothing prepared him for how long it would take. He and Market Square property manager Kim Harrap attributed those delays to various factors, including the age of the building and the multiple insurers — tenants and property owner — involved.
"Nobody wins in a fire situation," Harrap says. "That includes neighbouring tenants unscathed by the blaze.
"It takes a toll on everybody because all of a sudden people see a charred-out facade and they hesitate before they come," she adds.
Biggest Expense is Being Closed
After a fire ravaged Spinnakers Gastro Brewpub in Victoria West on November 23, 2016, owner Paul Hadfield didn't wait for his insurer to cut him a cheque. He paid for the remediation and renovations himself. By doing so, the main- floor dining area reopened just four weeks after the fire — even as a crew from Downs Construction was still working in a sealed-off area of the second floor to repair the charred roof of the century-old building that had undergone extensive renovations in 1984 during its conversion into Victoria's first brewpub.
"What was very clear to me was that the most expensive part of the whole process was being closed," Hadfield says during a tour of the reconstruction in mid-January. "When you lose your revenue flows, that's when your costs really become significant and then you still have all of your other costs going on."
Hadfield even continued to pay his employees during the closure so long as they chipped in with the restoration efforts. He soon discovered that his staff of 85 included people who had previously worked as tile setters, drywallers and cabinet makers.
"We needed them to not have to be further traumatized than they were by the process," Hadfield says. "We needed them to not be walking down the street looking for a job. We needed their help to put the place back together. And we needed their help once we had it back together to make it operational again."
Cafe Mexico's Olberg wasn't able to do that. By the time Protege Developments started its renovation work on Cafe Mexico, a year had passed, and most of its employees had found other work, some of them at Fuego.
"Pretty much every one of them wanted to come back or would have come back if it was a time frame that was acceptable," Olberg says. "But most of them had to move on. I figured it was going to be a six-month rebuild."
He also thought initially that his one year of loss-of-business insurance would carry him through the rebuilding. But it expired eight months before the work was done. Had he known it was going to take so long, he might have considered relocating.
"But everything I looked at didn't have close to the character that I could have created in here with the walls … And I knew this place. So that wasn't really an option," Olberg says.
So he sunk some of his own money into the renovation and reimagined Cafe Mexico with the help of good friend Peter Waldhuber, owner of Protege Developments. Primarily a house builder, Waldhuber hadn't done an after-fire renovation before. He encountered a few surprises.
"Once we got into the demolition portion of it, we found that in the floor joist system there was [evidence of] an even older fire that nobody really had any record about," Waldhuber says.
Insurance Money Takes Years to Arrive
Accent Inns also seized the opportunity to re-envision the restaurant attached to its location on Maple Street in Saanich after a fire levelled what was then ABC Country Restaurant in April 2013. It still took two years to rebuild the structure "and then the even more frustrating part was it took a good three years to get the insurance money," says Mandy Farmer, president and CEO of Accent Inns.
She attributed part of the delay to the decision not to rebuild a 1986 structure but create a modern two-storey annex with the top floor serving as the hotel chain's head office. Farmer also decided to bring in a local brand, Bin 4 Burger Lounge, as the tenant.
"So it's just a substantially different building and because of that there were complexities with the insurance claim," Farmer says.
Farmer recalls the fire vividly. After her phone rang around midnight — "never a good sign" — she drove immediately down to the hotel to see the restaurant in flames.
"It was gut-wrenching and extremely scary because of course I was concerned about the welfare of our guests," Farmer says. Luckily, by the time she arrived her staff had evacuated the guests and had everything under control. "They were amazing."
A phone call also alerted Hadfield to the fire at Spinnakers. He was on vacation in Maui when he received a call from his daughter Kala, a brewer at the pub. Fearing the call was bad news about another daughter, Carly, who was then travelling in Mexico, Hadfield was actually relieved to hear the news was merely his business had caught fire.
"She kept telling me, 'Dad, it's bad. It's really bad.' But then the reality is you can fix things," Hadfield says.
The Spinnakers fire happened in broad daylight just after lunchtime. Had it occurred after hours, it could easily have involved the whole building before it was detected.
Capt. Brad Sifert of the Victoria Fire Department says the fire started when heat from the second-floor fireplace seeped through the firebox, which had become degraded over time, and into voids in the timbers below. He deemed the fire accidental, saying even a chimney sweep would not likely have detected the wear and tear on the firebox. The main floor fireplace "looked like it was subject to failure as well," Sifert adds.
No wonder the renovated Spinnakers won't have any fireplaces despite Hadfield being a huge fan of them. But installing new ones would have been time-consuming and delayed the reopening. So he opted for a broader "unobstructed panorama" of the waterfront that more guests will be able to enjoy.
Commercial Fires Attract Attention
Commercial building fires aren't frequent in Victoria, but they aren't rare either. In the last dozen years at least a dozen high-profile business fires have made headlines.
"I think that what happens with the business fires is they get a lot of attention," says Victoria Fire Department Lieut. Megan Sabell. "So it seems that they're more prevalent because those are the ones you're really hearing about."
Such attention-getters have included a fire at Frank Whites Dive Store on Douglas Street in February 2006, and a blaze that levelled the Lumberworld store on Quadra Street in Saanich less than four months later. The latter was back in the news last fall when the building's owner asked for changes to a restrictive covenant that requires Lumberworld to dismantle its main building — erected as a temporary structure after the fire — by 2019. Dave Flaig, an owner-director of Lumberworld, declined to comment on the matter when contacted by Douglas, reiterating what he had told the Times Colonist last September about not wanting to risk upsetting councillors.
Authorities consider the Lumberworld fire to be arson, and police are still looking for new information, says Sgt. Jereme Leslie, public information officer for Saanich Police. The ABC Country Restaurant fire was also arson, and while that file is no longer active it could be revived should new evidence come to light.
Lessons Learned
Arson is also suspected in a June 2003 fire that destroyed a two-storey Oak Bay commercial building that was just a few weeks from completion of its construction. Owner Karl Ullrich was getting ready to relocate his Oak Bay Bicycles shop and welcome other business tenants into the building when a few weeks before Halloween it went up in flames. To this day, he hasn't learned the cause. The suspicion is kids playing with fireworks were to blame.
"It's a severe gut shock because you're always planning for tomorrow, next week, next month," Ullrich says. "And if you're in business, and your building is about to be completed, you're thinking about things like how do I market my opening sale, how do I get the product in there looking good, how do I get my place staffed? … And then in the space of a few hours you have a new assignment."
A bright spot is that even though all that was saved was the foundation, it took about 30 per cent less time to construct the building the second time around. The affected businesses were also all able to survive the six-month rebuild. In Ullrich's case, he was able to keep operating at the premises he had been renting because it was still available.
But what none of them could recoup were the months of lost opportunities to grow their businesses in a brand-new setting.
"And you don't get paid for the stress and the energy," Ullrich says. "As we all know, that doesn't just exist from 9 to 5 at work."
For Ullrich, the lesson that a disaster can strike remains fresh in his mind nearly 14 years later.
"We all think we know that shit can happen. So I really, really know that it can happen," Ullrich says. "But I actually don't do anything different knowing that."
Were a fire to strike again, he suspects he'd be even more resilient than he was the last time, though. "I know it's not going to kill you — probably not going to kill you."
Similarly, Brad Olberg says he learned a lot from the mental wear and tear of rebuilding Cafe Mexico about how to deal with his emotions. He also learned to keep on top of building codes, as well as what parts of the reconstruction he would do differently. But most of all, he learned he never wants to deal with fire damage ever again.