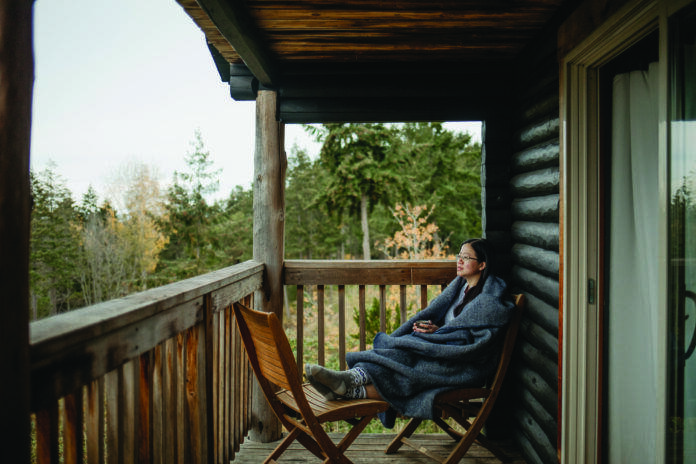 A new tourism program encourages visitors to the Southern Gulf Islands to come and do nothing. The "Nothing is the New Something" campaign is a call to embrace the wellness trend that being unproductive is good for you. Visitors are provided with "out of office" templates, social status updates and enticements to blissfully disconnect from the digital world with bragging rights attached.
Southern Gulf Islands Tourism, the body responsible for tourism on Galiano, Mayne, Pender, Salt Spring and Saturna islands, is calling on travellers seeking a different taste of British Columbia, one that is the antithesis of busy workday culture. 
Nothing is the New Something invites travellers to take time away and curl up during the cozy season (i.e., winter). Instead of scheduling the next Zoom call, they're encouraged to become as ineffective as possible and embrace life-changing habits with a list of tips to get them started. These include guides to beachcombing and forest walks, embracing the tranquility and surrendering to their inner local.
Content marketing coordinator Jamie Sterling says the effort is part of a broader tourism incentive for the local region. "Our new initiative is part of our commitment to build a restorative, regenerative tourism model and encourage sustainable choices for visitors," Sterling says. "Folks coming to the Southern Gulf Islands are finding special places where they can recharge, reconnect and regenerate. This invites visitors to sync with the islands' values: respecting nature, celebrating creativity, slowing down and giving back to the community."
By means of short videos and social media, the campaign offers visitors guidance on the art of doing nothing and how to embark on a journey of wellness. The campaign reinforces the unconventional nature, creativity and individuality of each of the five Southern Gulf Islands, with a mantra that builds time to rest, relax, repeat.