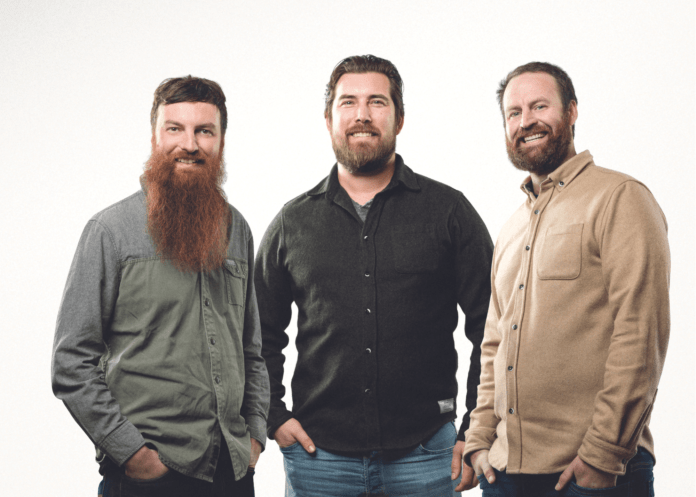 Sectors: Food, Agriculture, Retail
Year Launched: 2020
Founders: From left, Janusz Urban, Brendan Harris and Jon Wright
Unique selling proposition: Bringing gourmet mushrooms, both wild-harvested and as kits, direct to customers.
Strategy: A combination of prepared gourmet products and do-it-yourself kits.
Website: foragersgalley.com
Foragers Galley sells dried mushrooms, many wild-gathered on Vancouver Island, as well as specialty food products. But their real claim to fame is their grow-your-own mushroom kits.
Partners Jonathan Wright, Brendan Harris and Janusz Urban all come from an agri-tech background and share a passion for mushrooms. But the challenge was the instability of wild-gathered crops. In 2020, the partners custom-built a small sterile laboratory and growing room. Being an indoor facility, the lab eliminates environmental variables and allows for a consistent product.
The kits contain everything customers need to grow a small crop, including the all-important misting bottle and small a plastic "window." The white material in the bag is mushroom mycelium growing on a hardwood substrate. After four to 14 days, voilà, the mushrooms are ready to harvest. It's even possible, after a brief rest period, to tease out a second crop, called a "flush." 
Why grow mushrooms? They're a low-calorie source of fibre, protein and antioxidants, and impart a lovely, earthy flavour to soups, casseroles and other dishes. They can even be dried in a warm oven with the door cracked open to release humidity. 
Foragers Galley kits range from tried-and-true oyster mushrooms to exoctic-looking varieties like lion's mane and Antler Reishi. The products are now in 93 Canadian retailers and eight states in the U.S. Aside from the reward of growing their gourmet food, customers enjoy bragging rights next time they make a mushroom risotto.