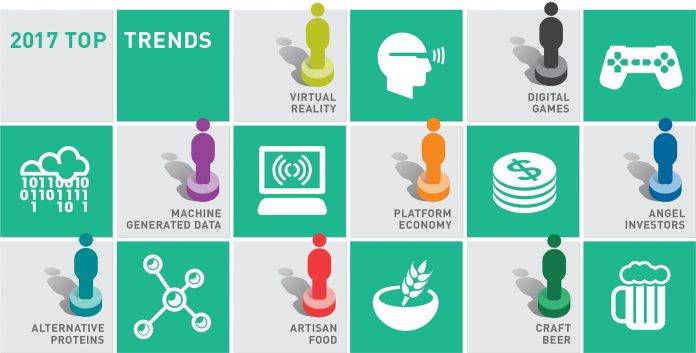 For entrepreneurs, staying on top of the trends and taking advantage of them is key to success.
I don't consider myself a futurist, but as an entrepreneur and investor, I naturally attempt to stay on top of trends that will shape our future. As 2017 nears, the following trends, many of them fuelled by digital transformation, are where we should look for opportunity and to find ways to create value in our communities.
1) Virtual Reality Gets Really Real
Virtual Reality (VR) is set to explode as this industry continues to find its way and consumers demand more content. Locally, look to VR leader Cloudhead Games, a Qualicum company creating some of the best immersive VR games in the world across all platforms, from HTC Vive to Oculus VR. Their built-for-VR game The Gallery is a head turner, literally.
2) Digital Games Drive Growth
Island gaming companies like KANO/APPS, Codename Entertainment and TinyMob Games have done a lot of heavy lifting to build the local game industry, which now employs over 250 people. Another Island company to watch in 2017 is SkookumScript, which has developed a programming language to help game developers be more effective in game development.
The interactive entertainment industry will continue to expand, with eSports on the rise. Business Insider predicts it will break the $1B barrier in 2017 and points to interactive software giant Electronic Arts whose games, such as its FIFA series, are increasingly sophisticated and interactive.
3) Big Data Goes Bigger
The international demand for operational intelligence continues to burgeon, with no end in sight. With larger companies like Splunk, a leader making machine data accessible, continuing to make acquisitions, we'll certainly see some great early-exit opportunities. Here on the Island, Silicon-Valley-based company Workday acquired Victoria software firm MediaCore and set up shop. Workday has created a unified finance, HR and planning system for boosted business performance.   
4) Platform Economy is a Launching Pad
Look for consumers and service providers to increasingly engage in the "platform economy."  This economy has taken shape around Uber, Airbnb and Upwork — and it's now become mainstream. As the platform economy matures, look for more offerings, including local private-parking-spot rentals to on-demand restaurant delivery service like our very own Accio, a Victoria favourite. Next up? Figuring out how to deliver something like health benefits to freelance workforces.
5) Investment Looks Local
Entrepreneurs will continue to build new kinds of exportable digital businesses to make money — and local-supply artisan businesses will build local businesses so we can spend money in our communities. Until traditional financial products catch up to the entrepreneurial wave we're on, we'll need to find alternative ways to fund both sides of these entrepreneurial pursuits.
I believe we'll continue to enjoy more plentiful and better-organized early-stage angel money for startups. We'll also see more event-based financing, which essentially draws together a large group of interested angel investors who want to collaboratively invest in great businesses in a managed fund — perfect for bringing community together around great businesses.
Ultimately, I think we'll also see an investment vehicle that works toward building local economies through microventure capital funds like our own Tectoria Venture Partners. With this fund, for example, on a $10,000 investment, investors can get back up to $7,400 thanks to two tax incentives, the 30 per cent refundable tax credit from the B.C. government and a 44 per cent (max) in RRSP deductions from our federal government.
6) Advancing Alternative Proteins
Hello alternative proteins, so long meat? Maybe not quite yet, but do look to 2017 as the year more and more consumers are introduced to plant-based protein products like the Impossible Burger from Impossible Foods, a Silicon-Valley startup.
After five years of scientific research, Impossible Foods discovered what really makes meat unique: from its sizzle to its smell to its juicy first bite. The company found meat contains heme, an iron-containing molecule in blood that carries oxygen. Heme makes blood red and makes meat look pink and taste slightly metallic. Look for heme to start popping up in food offerings en masse in 2017.
7) Artisan Food Tastes Like Success
I've been watching small-scale food producers like our own Cold Comfort Ice Cream; Bows & Arrows Coffee Roasters; DeeBee's SpecialTea Foods; and Sirene Artisan Chocolate Makers, as they find their product/market fit and mature into what they want to be.
Everything I've seen gives me hope that the artisan food business is going to leap forward in 2017. It's a natural progression as this industry becomes more organized with the introduction of co-working facilities for food production and packaging, as well as other such sharing-economy solutions to accelerate the food-manufacturing industry on the Island to service our own needs.
8) Craft Beer Gets Acquired
Finally, my biggest prediction for 2017 is the mass acquisition of microbreweries by the likes of Tsingtao or CR Snow as they search for the next brand success stories to expand and grow internationally. Nothing yet locally, but you never know.
So there you have it: my picks for what is primed to surge in 2017. So if your family or friends come asking for your support as they enter the world of entrepreneurship, make sure their ideas feel relevant. More importantly, if your favourite microbrewery is looking very polished, like it's preparing for an inspection, do stock up on your favourites as this might be the last time you can fill your beer growlers.