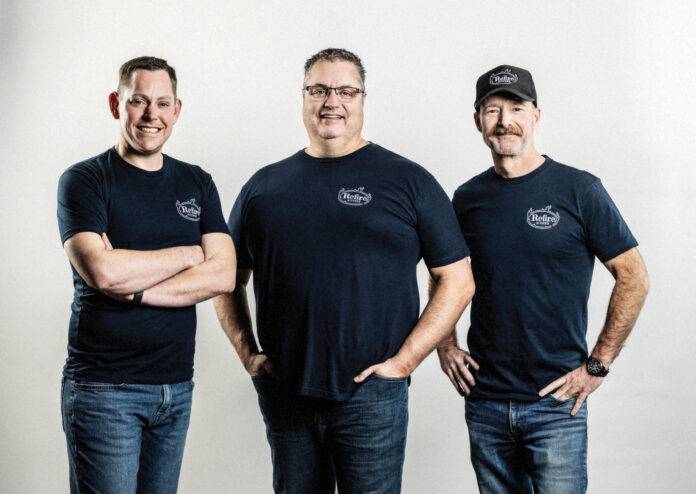 Sector: Food and Beverage
Year Launched: 2020
Founders: From left, Brian Newham, Tod Bosence and Rob Curtis
Unique selling proposition: Their chef-prepared soups and stews only require reheating, and "take and bake" entrees are so simple that anyone can cook them.
Strategy: Wholesome, delicious food in a convenient form, fresh or flash-frozen.
Website: refirekitchen.ca
Refire Kitchen brings new meaning to the phrase "take and bake." Its founding partners have some 100 years of combined experience in fine dining at such celebrated restaurants as Westin Bear Mountain Resort & Spa, Veneto Bar Ristorante and Cenote. They have worked together, on and off, for "north of a decade," according to co-founder Rob Curtis. Now they're bringing their culinary talents to customers with a taste for good food, but little time to shop, prep and cook. 
Back during the COVID shutdown, chef Tod Bosence started making lasagna for his wife, a nurse, which expanded to 20 meals a day for the grateful hospital staff. Thus an idea was hatched: restaurant-quality meals to go. Their business model wasn't new. Places like M&M Food Market have been doing take-and-bake for a long time. But Refire wanted to do something in a re-energized and artisanal way. 
The menu has expanded to offerings like savoury soups and stews, entrees such as baked chicken tetrazzini, pulled pork mac 'n' cheese and, of course, their signature lasagna bolognese.   
There are also seasonal and holiday offerings, such as a Valentine's Day feast for two featuring braised short ribs and lobster risotto.   
But their best-selling product? Brisket shepherd's pie. No, it's not the traditional version of ground lamb, vegetables and mashed potatoes, but Refire's recipe sells out on a regular basis. 
Refire recently opened a second location in Admiral's Walk Shopping Centre in View Royal, where they have expanded their kitchen to keep up with demand for gourmet takeout.