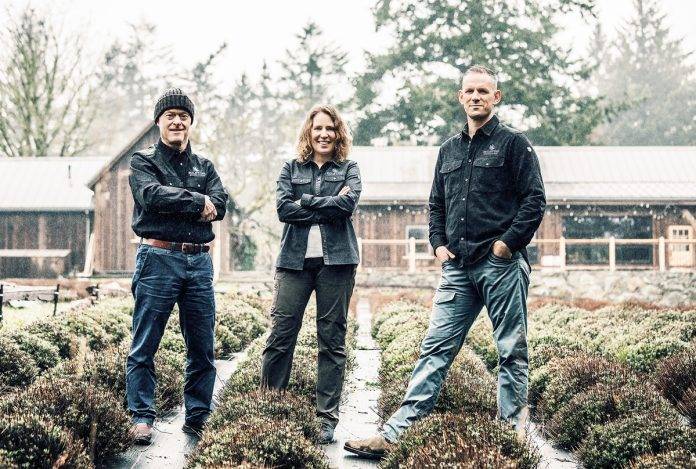 When Andrew and Melanie Penn purchased a Metchosin farm, it was overrun by brambles, weeds and empty yogurt pots. Twelve years later, that same land is ripe with lavender, honey and apples.
While many fitting comparisons can be made to Frances Hodgson Burnett's book The Secret Garden, Bilston Creek Farm does seem to have a magically restorative power.
Andrew and Melanie, along with co- founder Ben Drury, recognize that it's the feeling of restoration that has turned Bilston Creek Farm into a hot spot for weddings, retreats and dinners — and for natural products for the body and home. Whether in the yoga retreats they host or the ciders they sell, there's a connectedness that ripples throughout Bilston's land and brand.
"We've been getting reassurance from lots of customers saying, 'We love seeing where it all comes from,'" Drury says, noting that Instagram has been a huge factor in conveying Bilston Creek's story to the world.
It can be tough to stay sustainable with that kind of popularity, but Drury and the Penns believe the power of feeling good can be a touchstone for any future endeavours.
"There are vast rewards from the smiles that you see," Andrew Penn says. "Whether it's a bride and groom saying, 'This was really, really special for us,' or just a young girl working here with a smile on her face." Says Drury, "We're lucky that way."
A Q & A with Ben Drury & Andrew Penn
What was the best business advice you ever received?
Ben: Your employees — the people you choose to grow your business with — are what will essentially make all the difference for your business. You have to be willing to invest in the right individuals.
What advice would you give to someone just starting out?
Ben: Building a business is a process. It takes time. If what you see happening week to week or day to day feels discouraging, look longer down the road.
What would you do differently if you could do it all again?
Andrew: I kind of like where we are! The process can be scary, but I think seeing how much trouble some people have in terms of making businesses work, I feel that we're on a good track.
This article is from the April/May 2020 issue of Douglas.