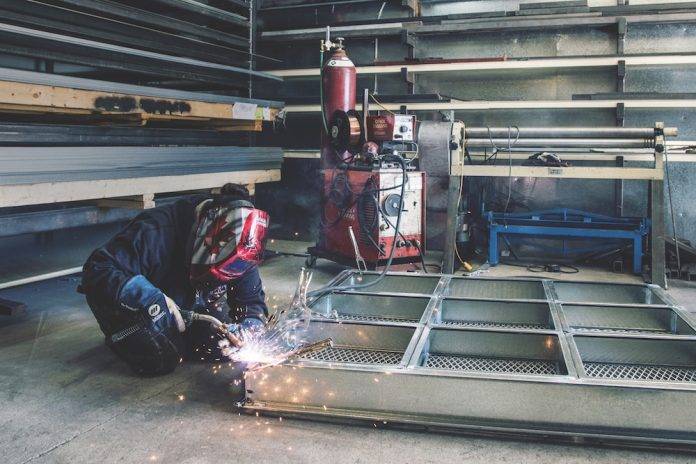 If wishes were horses, as the old saying goes, a woman wanting to work in construction would be riding high right now. With a major labour gap looming over the industry, the fervent wish to see more women in the sector goes all the way up to B.C. Premier John Horgan.
But it's going to take way more than wishing. Women have integrated into many "non-traditional" professions in the 40 years since the United Brotherhood of Carpenters welcomed its first B.C. journeywoman, but construction isn't one of them. In this province, in Canada, and in much of the industrialized world, women still account for barely three per cent of the construction workforce.
"You hear all the time that there's a labour shortage in construction," says Katy Fairley, vice president of business development at Kinetic Construction and founder of the Women in Construction initiative for the Vancouver Island Construction Association (VICA). "Well, you're never going to change that when 50 per cent of the population is virtually missing from the industry."
What's the problem? Just about everything, as it turns out. From attracting women into construction careers to keeping them there once they arrive, significant and systemic barriers exist on every front. Construction-related professions such as architecture and urban planning are at least on track for equity — about a third of working Canadian architects and 45 per cent of urban planners are women — but the industry overall remains resolutely male.
"There are multiple layers of barriers, challenges, structural issues, cultural norms, organizational issues, interpersonal considerations, attitudes," says Tara Fong, manager of the Canada Job Fund for B.C.'s Industry Training Authority (ITA). "There isn't one reason, there are all these reasons."
Happily, efforts are being made to change that. The province has committed $1.8 million to attract and retain women in trades. Committees and initiatives dedicated to the problem are in place at secondary schools, trades-training institutes and industry organizations.
Perhaps most importantly, local women working in the industry say they're already seeing a major shift in workplace culture, which insiders say lags 10 or 20 years behind other industries in providing a safe and welcoming environment for women. The business case for moving away from an "old school" culture is certainly there, notes Fairley.
"The mayors, architects, engineers and planners are women now," says Fairley. "If a man is going to keep his old-school attitude, his business is going to be left behind."
Sexism and Stigma
But while an old-world-male culture affects retention, the challenges of turning a girl's thoughts to construction in the first place start long before she's on the job.
People interviewed for this article identified factors that start getting in a girl's way well before she's old enough to consider what she wants to be when she grows up, and continue relentlessly into her schooling, training, and workplace experiences.
For starters, it's still most likely to be Dad who does a little woodwork on the side when a girl is growing up, and he may not even think about inviting his daughter to join him. Trades are a key entry point for many construction-related professions that a woman might find rewarding, but the girl who never has the opportunity to lay her hands on a piece of wood isn't likely to know that.
"I got into it at an early age because my parents moved our family from Slovakia and my dad was renovating the house we bought here," recalls Dana Styk, who owns FineColors Renovation Services. "I wanted to help, but my dad resisted. It wasn't until he saw that I was good at it that he let me work with him."
Meanwhile, trades continue to be stigmatized as a "dumping ground" for people who aren't smart enough to go to university, says North Island College teacher and certified carpenter Rob Laird. Despite wages higher than many service and office jobs that people end up with after graduating university, the trades remain undervalued by parents and other adults in a young person's life, including teachers and career counsellors.
"I picked trades because I'd been in Asia teaching English and hated it, and saw both of my sisters graduate from university and end up with office jobs. I didn't want any of that," says Jeannie Briggs, a cabinet maker with Morinwood construction firm. "But it hasn't been easy. I'm a total feminist, but I'm not oblivious to the fact that men and women are different. Trades are men's culture."
Then there's the state of high school shop classes. They've been a low priority in B.C. for decades, says Randy Grey, president of the B.C. Technology Education Association representing B.C.'s 800 high school shop and tech teachers. Trying to enthuse kids about trades in large, elective classes with no more than $15 or so per student for supplies is a tough sell for any gender, says Grey.
"In my district, very few girls go on to apprenticeships," says Grey, career program coordinator for the Comox Valley school district. "But if they do, and they make it through their apprenticeship, they get jobs. They're good."
Those are big ifs. Camosun College is rightly proud of the impact its Women in Trades Training (WITT) initiative has had in boosting female construction apprentices to eight per cent at the college. But less than two per cent of women apprentices in Canada complete their training. That hasn't changed in 20 years.
The issue is often financial, says Jayna Wiewiorowski, a former WITT coordinator. "For both genders, having to come out of work for seven to 10 weeks of school every year for four years and not getting paid for it is a real problem," she says. "Employment insurance may only cover 55 per cent of their gross apprenticeship wages. That's a significant hardship."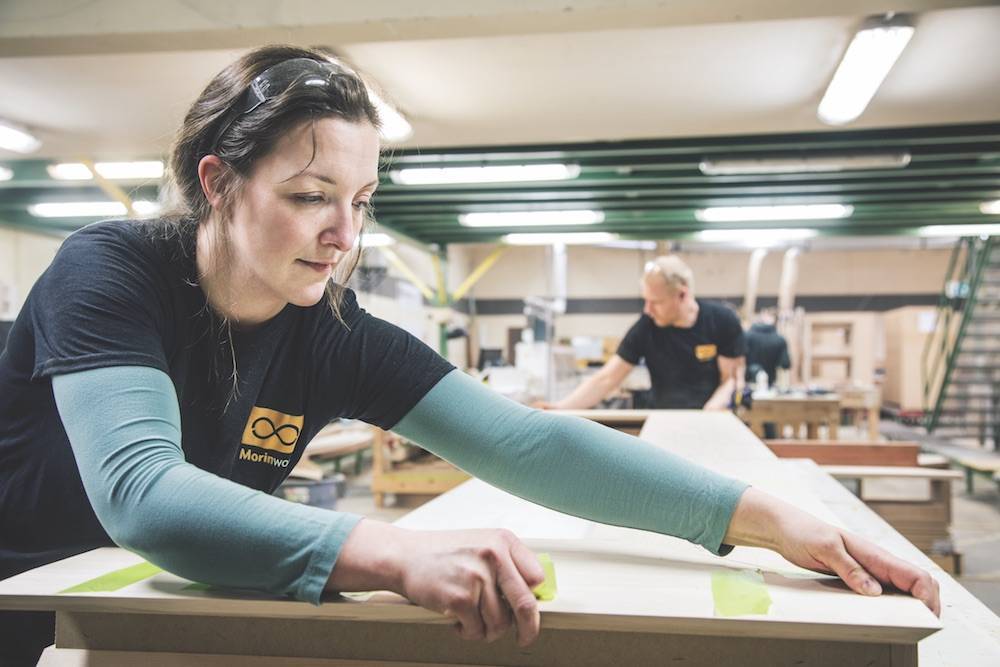 On-the-Job Challenges
Even once they're on the job, women are notable for not staying long. For some, it's the workplace harassment and bullying that does them in, a recognized component of trades culture that affects both women and men. "The culture on site is still very gruff, like being a woman on a fishing crew," says Donna Hais, a partner at R.W. (Bob) Wall Ltd. in Nanaimo. "We monitor what we can as employers, but we can't be on all of it."
For others, it's the absence of family-friendly workplace policies. Construction has long had a rigid work day of 7 a.m. to 3 p.m. that doesn't fit the needs of anyone juggling work and family. Nor is it common to accommodate pregnant workers or new moms returning to the job.
"I missed my son's first day at school because of work," recalls Cheryl Hartman, an electrician and now chief estimator for Brewis Electric who chairs VICA's Women in Construction initiative.
Briggs recalls a former employer who wouldn't order safety equipment in women-appropriate sizes, reasoning that it was a waste of money given the scarcity of female workers passing through the job site. "People keep telling me I'm blazing trails," says Briggs. "I just want to go to work. I hope my niece can go to work in construction 10 years from now and not worry about any of this."
To say that change isn't possible in the industry "would be like giving up," says Fairley. Indeed, those on the front lines of the struggle say the culture has changed a great deal in recent years. Hartman points out that in the past year alone, Brewis went from having one journeywoman in the field to having six. "That's huge," she says.
With B.C. expected to need 15,000 new construction workers by 2025, Vancouver Island Construction Association CEO Rory Kumala says "now is about as good a time as there has ever been" for women. "So how will we take down the barriers and seize the opportunity to adjust our practices to allow women to work in this industry?" he asks.
---
Read more: Women In Construction By the Numbers
---
In the workplace, change starts at the top, says Briggs. Ten years in the industry, she joined Morinwood last year and says it has been a breath of fresh air to work for a company with strong anti-harassment policies and the willingness to follow through on them. "A young girl just started here the other day who is lovely and gentle, and I know she'll be OK working at Morinwood," says Briggs.
At the school level, Laird likes the ACE-IT program. It not only lets grades 11 and 12 students complete the first year of their apprenticeship while still in high school, but continue on to further training as an integrated cohort.
"It's easier for a young woman to be in a college class with the young men she already knows from school," says Laird. "It can be an intimidating transition for women otherwise."
Early introduction to trades through programs such as the ITA's all-girl go-kart summer camp give pre-teens a chance to dabble in carpentry, welding, sheet metal, automotive work and more. A 12-week trades-sampler program at Camosun and other B.C. training institutes provides a similar opportunity for women to test their interest and aptitude.
Construction can be a great career for women, says Kumala. The "vertical opportunities are limitless," paving the way to careers as supervisors, estimators, industry reps, project managers and self-employment. The money is good, with average earnings of $1,200 a week, beating out jobs in health care, education and real estate. The work is rewarding and creative.
"I think if there's a message I want out, it's this: We shouldn't question whether women belong in the trades. They do," says Kumala. "The work is accessible and achievable. So let's get on with it." 
---
Advice From the Front Lines
What advice do women in construction have for girls and women considering a career in the sector? Here's what five women in the local industry had to say:
Dana Styk
Home renovations specialist and owner of FineColors Renovation Services
"If it's what you love, be strong and carry on. Ignore the male domination and how they are. Try breaking out on your own to work for yourself."
Jeannie Briggs
Cabinet maker at Morinwood
"You have every right to be there, and don't let anyone tell you otherwise. Know your rights, know your harassment policies."
Donna Hais
Owner of R.W. (Bob) Wall Ltd.
"Construction is a great place for women, and a fantastic career. I wouldn't be anywhere else."
Cheryl Hartman
Journeywoman electrician and now chief estimator at Brewis Electric
"The higher in authority or position you get, the less the insults come."
Katy Fairley
VP of business development, Kinetic Construction
"It might not be for them. There's a culture in the industry that I love: the bluntness, the say-it-and-move-on style. If that suits your personality, it can be a great job."
This article is from the June/July 2018 issue of Douglas.