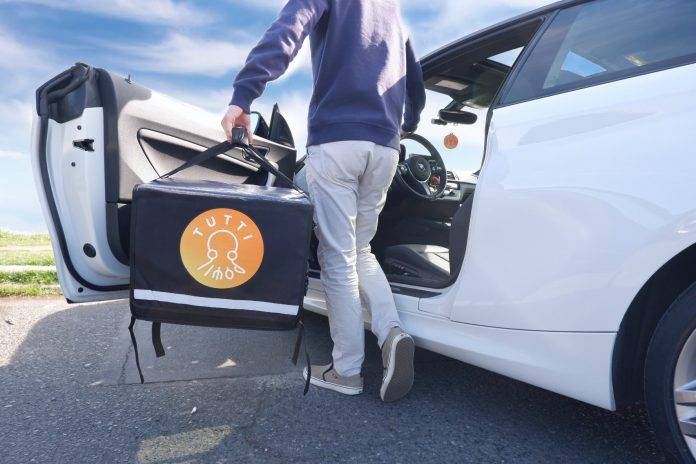 Greater Victoria's local delivery app has responded to the significant need for grocery delivery in the Capital Region with a new pick up and delivery option for online grocery orders. TUTTI will also be donating proceeds from the new service to the Rapid Relief Fund until April 10, 2020.
"TUTTI is a delivery app, best known for meal delivery from restaurants, but we also have a growing Gofer Service, which includes running errands like grocery shopping and prescription pickup," said said TUTTI founder and CEO Kaisa Aierken.
"When we started hearing that people couldn't get grocery delivery, due the COVID-19 situation, we decided to add a streamlined service for people who want to make an online grocery order and have it delivered to their home. All they have to do is place a pick-up order with their grocery store of choice and schedule delivery on the service tab of the TUTTI app."
Customers will pay a fee of approximately fifteen dollars for delivery of their online grocery orders, depending on the distance of the delivery from the store. Ten dollars from each delivery will be donated to the Victoria Rapid Relief Fund.
"Our regular restaurant delivery and Gofer errand service is still available and has been very busy as more people are staying home to social distance, especially those who are at higher risk if they contract COVID-19," said Aierkan. "We want to assure customers that we currently have lots of capacity to deliver to them in a timely manner and that we have put a no-contact delivery option in place for the health and safety of our customers and our drivers. We have also added additional customer service capacity to support customers with questions or who need assistance with using our app."
TUTTI delivers everything. Available in English and Mandarin for iOS and Android devices, TUTTI is a meal delivery and Gofer service app that provides lower cost delivery of meals from more than 100 restaurants and an errand service that picks up and delivers everything from dry cleaning to birthday cakes. TUTTI is located in Victoria, B.C. and has a local customer service team available by phone and online between 11 a.m. and 12 a.m. daily.