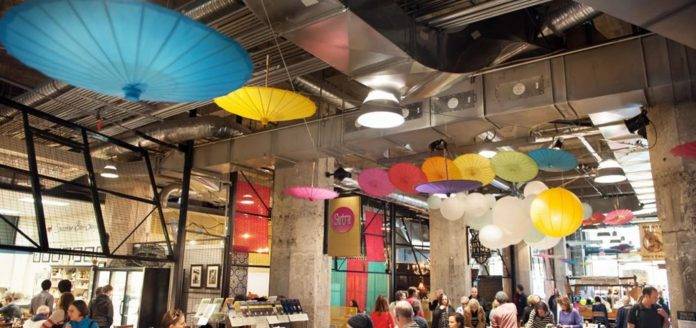 The wait is finally over for the eagerly anticipated Victoria Public Market at the Hudson. This Saturday, Sept. 14, the first permanent market vendors will open up their stalls in the renovated space at 1701 Douglas St.
"In the age of big box stores, we are redefining the local grocery story," says general manager Maryanne Carmack. "We are building a food hub where the community can come to gather and learn where their food comes from and have access to local food."
The grand opening was originally planned for April, but got pushed due to various issues, including construction delays.
"It's a challenge to work with so many businesses at all levels, at the same time, and to try and open at same time," Carmack says.
Permanent vendors include The French Oven Bakery, Silk Road Tea, Salt Spring Island Cheese, La Cocina de Mama Oli, Island Spice Trade, Roast, Victoria Pie Co, Cowichan Bay Seafood, Vij's Sutra, and Damn Fine.
The Victoria Downtown Public Market Society started in August 2010 to raise awareness, support and funds towards the establishment of a permanent year-round marketplace in the downtown core. In 2011, a partnership was formed between the VDPMS and Townline Ventures, who were developing the Hudson District, a mixed use residential, office and commercial project with the historic Hudson Bay building as a centerpiece. The joint vision of these two organizations became the Victoria Downtown Public Market at the Hudson, the first major public market in Victoria in over 50 years.
"Our belief is that the Victoria Public Market at the Hudson will improve the island's food security by increasing accessibility to island grown, fished and processed products during every season," Carmack says. "Additionally, the Public Market will create an iconic local food destination in downtown Victoria, while also providing a hub for regional food-related community education, commerce and creativity."
Grand opening events begin at 10am on Saturday with a welcome from local drum troop Standing Nation, and speeches from elected officials such as MP Murray Rankin, MLA Carole James, and mayor Dean Fortin. Visitors can also enjoy a farmer's market and cooking demonstrations in the Vancity-sponsored Community Kitchen from chefs such as Vikram Vij, Peter Zambri and Bill Jones.
For more information, visit victoriapublicmarket.com