January 17, 2017 – Members of the Victoria Hospitality Awards Committee recognized two outstanding citizens, Valerie Peters and David Gilmour among their peers at the Victoria Commissionaires office.
Valerie and David were celebrated for going over and above the expected call of duty, to meet the needs of an individual visiting Victoria last September.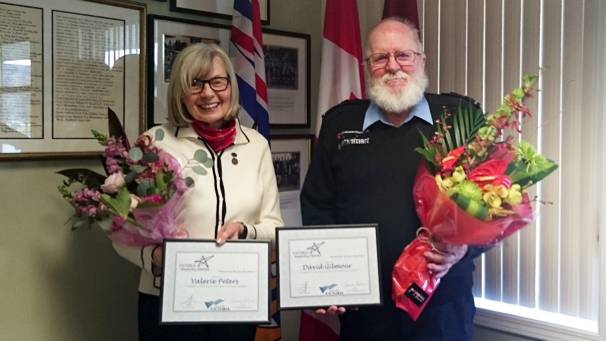 When a cruise ship passenger found herself stranded and confused at Ogden Point after missing her cruise ship departure in September 2016, Bob Peterson of King Bros. helped to reassure the passenger and book her a flight to San Francisco the next morning.
Upon hearing the story and realizing the stress and confusion this visitor was experiencing, Valerie graciously opened her home for the night and event treated her to dinner. To top it off, David kindly provided his sweater to the guest and woke up at 3:00am the next morning to drive the guest to the airport by 4:00am to catch her flight.
This story is a tremendous example of how one act of kindness can have a lasting effect on individuals and our community. This guest to Victoria was well taken care of and enjoyed the rest of her vacation – with a lasting memory of how truly beautiful Victoria, BC really is.
The Victoria Hospitality Award program is a not-for-profit society formed with a mandate to recognize individuals from the Greater Victoria area for outstanding hospitality. Winners are presented with a signed Victoria Hospitality Award Program certificate, a letter of commendation, a City of Victoria pin engraved with the winner's name and recognition and gifts from various businesses in the community. The Society hosts a Special Event annually to honour all nominees and monthly winners. Nomination ballots are found in Where Victoria magazine at www.victoriahospitalityawards.com.