January 26, 2017 – Members of the Victoria Hospitality Awards Committee (VHAP) recognized a kind and caring Victoria citizen Kirsten Grove-White among her peers at Mayfair Shopping Centre. Kirsten was nominated by Irene Mackenzie who recognized how caring and diligent Kirsten was in a situation that was beyond her scope of expected duties.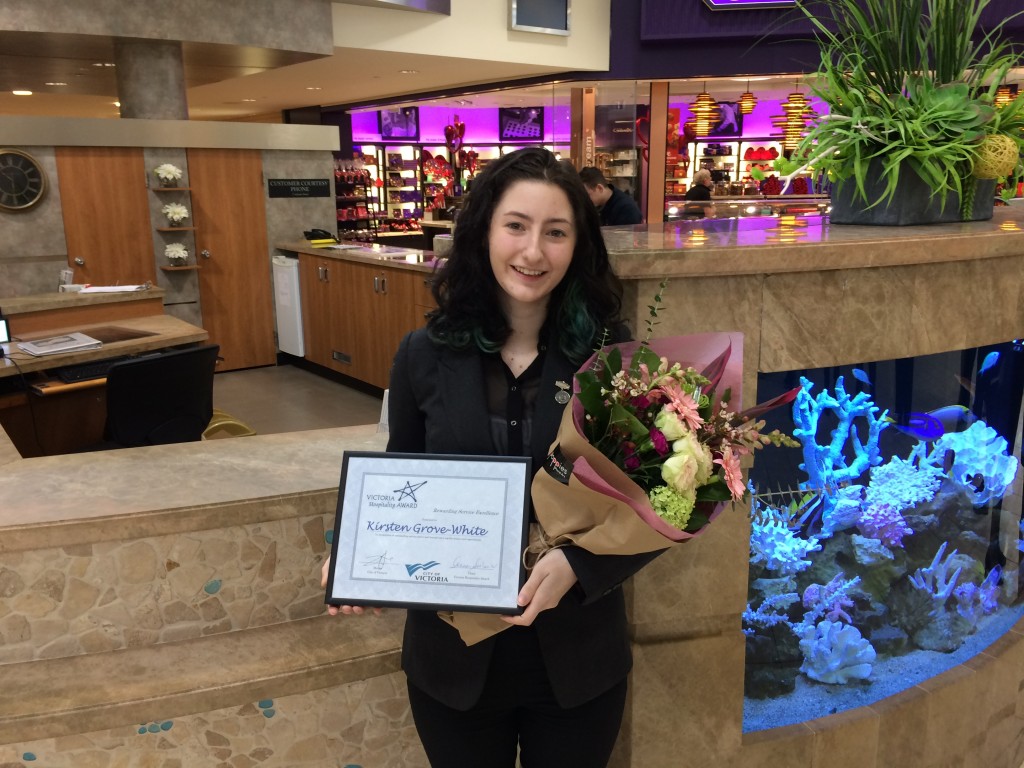 Irene's nomination read:
"My husband needed to have a ring cut off as he had a thorn prick in his finger which had become infected and very swollen. We tried jewellery stores in the mall to no avail. Kirsten gave us all kinds of suggestions and called up some other stores to see if she could locate a place that would do it. They all said no and in the end, she called her mother who had had a ring removed some time before and got the information. She then phoned the store, namely Van Isle Jewellers on Blanchard St. to make sure they would do it. I'm happy to say they did as our only other choice would have been to visit the Emergency Dept. at the Royal Jubilee Hospital. She gave us a map marking both locations. All this with the most pleasant and friendly attitude. Just a lovely girl.
I feel Kirsten went out of her way to help us and we are extremely grateful to her. She is an asset to your beautiful city and I hope she will get some recognition for this."
This story is a marvelous example of how one's empathy and diligence can have a lasting effect on individuals and reflect the true beauty of Victoria. The VHAP committee certainly agreed that Kirsten deserves recognition for her wonderful service.
The Victoria Hospitality Award program is a not-for-profit society formed with a mandate to recognize individuals from the Greater Victoria area for outstanding hospitality.  Winners are presented with a signed Victoria Hospitality Award Program certificate, a letter of commendation, a City of Victoria pin engraved with the winner's name and recognition from various businesses in the community. The Society hosts a Special Event annually to honour all nominees and monthly winners.
For more information and nomination ballots visit www.victoriahospitalityawards.com.