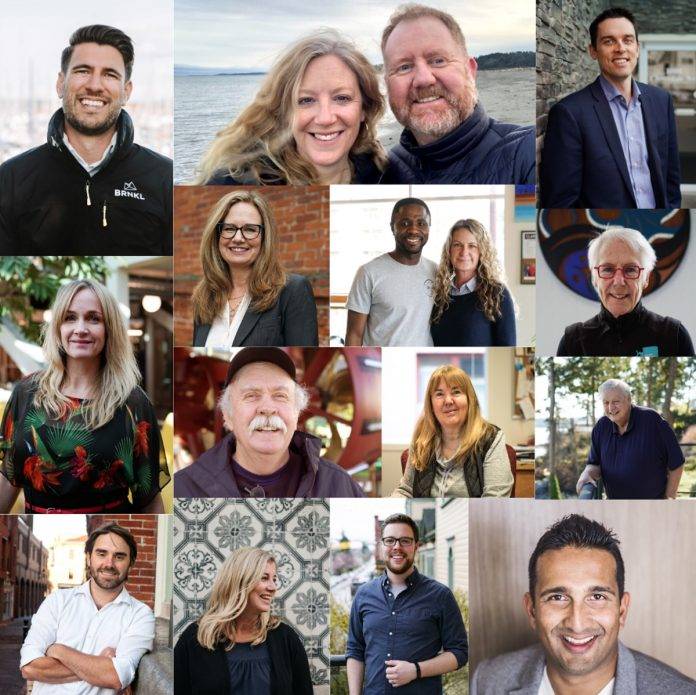 This year's Greater Victoria Chamber of Commerce Business Awards nominees were celebrated on television this year, as the event adapted to pandemic restrictions.
The Awards aired Saturday, September 19 in a one-hour broadcast on CHEK News, hosted by CHEK anchor Stacy Ross and introduced by Chamber CEO Bruce Williams, along with Board Chair John Wilson. Nominees were featured in video vignettes before the winners were announced by award sponsors.
Winners were chosen by an independent panel of judges. "From start-ups to local legends, the Business Awards showcase hard-working entrepreneurs, business people and community leaders in 14 categories worth celebrating," says a media release by the Chamber.
Its CEO, Bruce Williams, says the Awards come at a time when the community is particularly in need of a reason to celebrate. "This year has been challenging for everyone and it's important we take the time to celebrate our local businesses and the contributions they make to our community. Our region is home to many outstanding businesses and being able to recognize their innovation and hard work gives them a much-needed boost as we move through this pandemic."
Page One Publishing's Lise Gyorkos was honoured by the Chamber as Business Person of the Year. Gyorkos, who started Page One Publishing (publishers of Douglas, YAM and Spruce magazines) in 1998 with business partner Georgina Camilleri, says she was thrilled by the win, and sees it as a reflection of the work her team does every day to promote the vibrant city they operate in.
"I am fortunate to be surrounded by so many talented people, including my business partner Georgina Camilleri and our outstanding team at Page One," says Gyorkos. "and I am extremely honoured to be receiving this award. A huge thank you to the Victoria Chamber of Commerce and congratulations to all the winners and finalists. Our goal at Page One has always been to support our community and we will continue to do so during these challenging times."
Keep reading for a full list of nominees and winners.
Community Builder; sponsored by Coast Capital Savings
    WINNER:  VICTORIA COOL AID SOCIETY
FINALIST:  Scale Collaborative
Innovation; sponsored by University of Victoria, Peter B. Gustavson School of Business  
  WINNER: BRNKL BY BARNACLE SYSTEMS INC.
FINALIST:  Moduurn
Outstanding Customer Service; sponsored by Innov8 Digital Solutions Inc.
    WINNER: VICTORIA COMFORT KEEPERS
FINALIST: Victoria HarbourCats
Sustainable Business Practices; sponsored by Camosun College
    WINNER: TOPSOIL – Innovative Urban Agriculture Inc.
FINALIST: Elate Cosmetics
New Business; sponsored by Community Futures – Entrepreneurs with Disabilities
    WINNER: KWENCH
FINALIST: Fettle + Food
Business Person of the Year; sponsored by Deloitte Canada
    WINNER: LISE GYORKOS, PAGE ONE PUBLISHING  
FINALIST: Dave Obee, Times Colonist
Emerging Business Person of the Year; sponsored by Royal Roads University
    WINNER: MIKE WALKER, ROLL.FOCUS.PRODUCTIONS
FINALIST: Erin Boggs, Robinson's Outdoor Store
Outstanding Workplace of the Year sponsored by Ralmax Group of Companies
    WINNER: FLYTOGRAPHER
FINALIST: Vancouver Island Brewing
Non-Profit of the Year; sponsored by Children's Health Foundation of Vancouver Island
    WINNER: OCEAN NETWORKS CANADA
FINALIST: The Cridge Centre for the Family
Business of the Year (1-10 Employees); sponsored by City of Victoria
    WINNER: HOUSE OF BOATENG  
FINALIST: Four Frames Photo Booth
Business of the Year (11-39 Employees); sponsored by TELUS Communications
    WINNER: MAPLE LEAF ADVENTURES
FINALIST: Russell Books
Business of the Year (40+ Employees); sponsored by Berwick Retirement Community 
    WINNER: RALMAX GROUP OF COMPANIES
FINALIST: Heart Pharmacy
Chamber Member of the Year; sponsored by Air Canada
    Rahim Khudabux, Max Furniture  
Governors' Lifetime Achievement Award; sponsored by the Times Colonist
    Bill McCreadie, McCreadie & Tait
Continue Reading:
In Conversation with Bruce Williams
South Island Chambers speak out: what's needed for business recovery