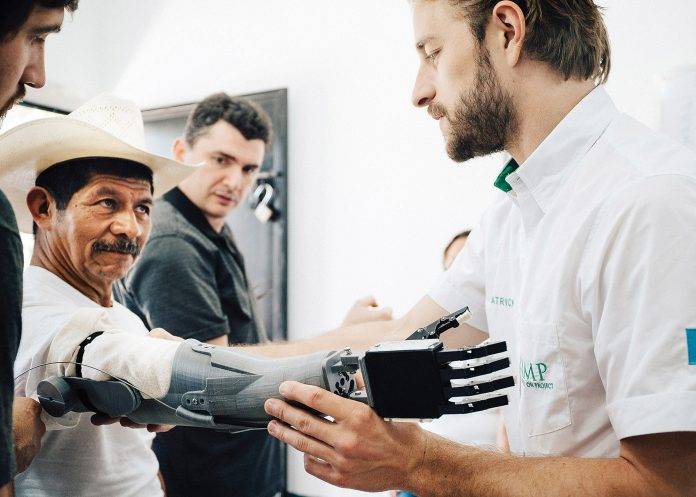 Training Guatemalan healthcare providers to 3D-print prosthetic hands using the latest 3D-printing and 3D-scanning equipment is one of the challenges faced by the team at Victoria Hand Project (VHP), winner of the 2016 VIATEC Technology Award for Creative Excellence, as they work to provide  amputees in developing countries with low-cost, upper-limb prosthetics.*
It began in the late 90s when Nick Dechev, associate professor of biomedical engineering at UVic, noticed Canadian clinics had been giving out the same basic prosthetics since the late 60s. He decided to create a new design. The only problem? It was phenomenally expensive to make and buy.
Thirteen years later, Dechev and Josh Coutts, then a UVic undergrad in engineering, set out to 3D print an exact duplicate of the old model — and it worked.
"I didn't think 3D printing was ready for this type of technology," says Dechev, who is director on the board of VHP along with Coutts.
"I was surprised by how strong [the prosthetic] was."
After refining their model for 3D printing, VHP applied to Grand Challenges Canada and received an $112,000 grant that became the catalyst for them to go to developing countries to assist amputees.
Today, VHP works with not-for-profits in Cambodia, Guatemala, Haiti, Nepal and Ecuador to set up 3D-print centres, equip them with tools to make prosthetics, and to employ and train full-time technicians from local communities. VHP's goal is to ignite the process and assist local charities so they can carry on independently.
VHP's success stories have been many, from creating a prosthetic for a victim of domestic violence in Guatemala to helping a Cambodian who had lost his arm in a land-mine incident. The prosthetic meant he could return to work as a light labourer.
"We fit a boy down in Guatemala who had lost his hand in a motor vehicle accident," recalls Coutts. "He had a secondhand prosthetic that didn't function, so we gave him a new one. We [later] learned he had been hired at an office job where he could use the prosthetic to work."
VHP now plans to expand its concept to Egypt and Bolivia.
*Note: The version of the article has been corrected from the previous version.