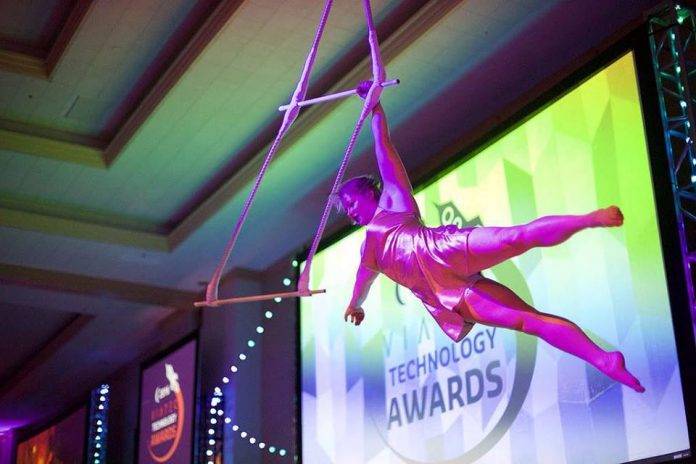 The 15th Annual VIATEC Technology Awards saw over 800 guests and 15 award winners
Victoria, BC (June 25, 2016) – On Friday night, the Victoria Conference Centre's Carson Hall transformed into an extravagant, gritty carnival to celebrate 15 winners of the coveted "Freddy" (robot trophy) at the 2016 VIATEC Technology Awards Show.
The sold-out event saw 802 attendees, a new record, pack the room the gala event known across the province for its recognition of innovation and excellence in Victoria's advanced technology sector.
58 finalists were selected from the 189 nominations and a total of 15 awards were presented.
"It's great to see how the tech sector has taken hold in our region and it is our honour to recognize the people, products and companies that are reshaping our community," says Dan Gunn, CEO of VIATEC. Like the tech sector, our once little event has grown into a significant production and we truly appreciate how much our members and guests enjoy the night."
The awards celebrate the achievements of technology companies responsible for making Greater Victoria the fastest growing technology region in British Columbia. They also provide well-deserved recognition for some of Victoria's most innovative firms and a great opportunity for the local technology community to gather and celebrate each other's successes.
Known for going over the top in the crowded pantheon of business award galas, the VIATEC Technology Awards ceremony is noted for actually entertaining the 800 plus technology community members, investors, government decision-makers, academics and media who attend.
This year's theme was "Gritty Carnival" which symbolized the growing creativity and strength of Victoria's technology sector. A live band with a guest appearance from Shaun Verreault of Wide Mouth Mason, performers from Island Circus Space including a trapeze artist overhead, interactive decor and guest costumes rounded out the entire evening.
The winners of the 2016 VIATEC Technology Awards are:
Technology Company of the Year (50+ employees)
(Sponsored by: Farris, Vaughan, Wills & Murphy LLP)
Technology Company of the Year (11-49 employees)
(Sponsored by: Farris, Vaughan, Wills & Murphy LLP)
Technology Company of the Year (1-10 employees)
(Sponsored by: Farris, Vaughan, Wills & Murphy LLP)
Emerging Technology Company of the Year
(Sponsored by: KPMG LLP)
Startup of the Year
(Sponsored by: University of Victoria)
Product of the Year
(Sponsored by: RBC Commercial Services)
Innovative Excellence – Software or Service
(Sponsored by: Grant Thornton LLP)
Innovative Excellence – Hardware
(Sponsored by: Grant Thornton LLP)
Executive of the Year
(Sponsored by: Corporate Recruiters)
Employee(s) of the Year
(Sponsored by: Thompson Cooper LLP)
Team of the Year
(Sponsored by: Thompson Cooper LLP)
Employer of the Year
(Sponsored by: Megson FitzPatrick)
Creative Excellence
(Sponsored by: AbeBooks.com)
The Colin Lennox Award for Technology Champion
(Sponsored by: Reed Pope LLP)
VIATEC Member of the Year
(Sponsored by: Cox Taylor LLP)