Victoria is known for its thriving business community, and now there's a remarkable opportunity for local businesses to come together and make a significant impact on the lives of others. The Canadian Blood Services' Partners For Life (PFL) program provides an avenue for businesses to unite, donate blood as a team, and support a vital cause. We will explore the benefits of team blood donation, highlight the Donor Centre's convenient location, and provide examples of how businesses can go above and beyond to spread the message and encourage others to join in.
The Partners For Life program, organized by Canadian Blood Services, brings businesses together in a collective effort to make a positive impact on the community. By joining this program, businesses commit to donating blood as a team, thereby amplifying their impact and fostering a sense of camaraderie among employees. This initiative not only benefits the local community but also enhances team spirit and builds stronger connections within the workplace.
Donating blood as a team offers numerous benefits that go beyond the altruistic act itself. When employees come together for a common cause, they develop a sense of unity and purpose. Team blood donations promote teamwork, boost morale, and strengthen relationships among colleagues. Additionally, it fosters a positive image for the company, showing a commitment to social responsibility and community engagement.
The Victoria Donor Centre is located at 3449 Saanich Rd, conveniently across from Uptown Shopping Centre. The center provides a safe and welcoming environment for donors, with highly trained staff who prioritize the comfort and well-being of every participant. By choosing this location, businesses can conveniently organize group donations and make a tangible difference in the lives of patients in need. The Victoria Donor Centre team also happens to be the winner of the 2023 Canadian Blood Services National Award of Distinction. That means you're in some incredible hands. 
While donating blood as a team is a remarkable initiative, there are additional ways businesses can contribute to the cause and encourage others to join in. One inspiring local partnership example is Browns Socialhouse, a proud partner of Canadian Blood Services since 2017. They have taken their commitment to the next level by offering incentives to blood donors. For the entire month of April, Browns Socialhouse provides $5 off vouchers to blood donors, further motivating individuals to participate in this life-saving act. With two participating locations, Browns Socialhouse actively encourages their staff to donate and even offers internal prizes to recognize their commitment. The two supporting managers, Norm and Matt, say that working with Canadian Blood Services is easy and, "there's a dire need for it". Their team actively rallies behind this cause and have fun donating together.
Browns Socialhouse uses internal communication and social media channels to share stories of employees who have donated blood and have inspired others to generate awareness of the cause. Not to mention, the many new donors that join in April to take advantage of their generous coupon.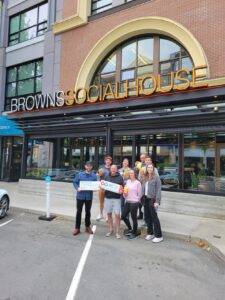 Victoria's business community has an incredible opportunity to unite, make a difference, and save lives through team blood donations. By joining the Canadian Blood Services' Partners For Life program and donating blood together, businesses can foster team spirit, enhance relationships, and demonstrate a commitment to community well-being. Moreover, businesses can take inspiration from local partnerships like Browns Socialhouse, offering incentives and prizes to encourage employees and the community to participate. Let us come together as a community, go beyond donating blood, and spread the message to inspire others to join this life-saving mission.
To join the PFL program today, or find other ways to help, reach out to Ann Chabert. Text or call 250-686-3315 or email ann.chabert@blood.ca