They were born with smartphones in hand. They use technology like a fish uses water. They've been pegged as the most selfish — and selfless — generation ever to arrive. They're also the largest since the boomers.
They game; they read online reviews before they buy; they connect with their peers regularly on a variety of platforms; and they, perhaps more than any of us, understand that the world can change overnight.
They're millennials. And because of all the above, is it any surprise that many of them choose to start their own businesses rather than work for someone else?
Beyond Traditional Careers
Born between 1982 and 2004, many millennials (an age bracket that also encompasses Gen Y, depending on which source you consult) were raised by parents who ran their own businesses, thus setting the stage for entrepreneurial modeling.
Foxy Box owner Kyla Dufresne, whose mother was self-employed, agrees that businesspeople were akin to rock stars in her childhood world.
Victoria socialpreneur Erinne Paisley grew up with both parents working for themselves.
These millennials want to work for themselves too — and hard.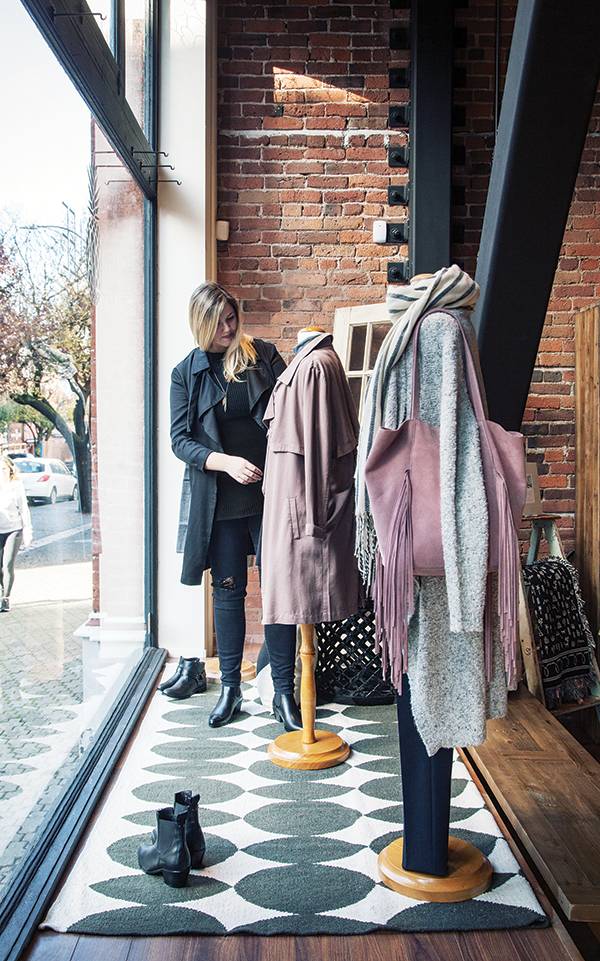 "People often think the younger generation is lazy," says Amelia Lee Boutique owner Khloe Campbell, who freelanced for years as a fashion stylist before opening her own downtown store in 2011. "But there are lots that want to work. With education nowadays, kids are shown and taught that there is more out there than just working for government or being a nurse."
Dufresne is no stranger to hard work either. Raised up-Island by parents who instilled a strong work ethic, she opened her first Foxy Box in 2012 as a one-woman show, whipping off Brazilian waxes behind a curtain at the back of a clothing store on Douglas.
She now operates with 26 staff out of three locations, including the new flagship store on Gordon Street, which averages 60 clients a day. A high-school dropout due to high distractibility, Dufresne launched her first business in her early 20s, which, although it fizzled, was the first step toward creating Foxy Box.
"What I was seeking was an environment that would allow me to grow and excel at the pace that I chose without having a superior to answer to or a schedule to follow," says Dufresne.
That first business failure is often a key step on the road to success. Millennials have learned through watching their elders that failure is a powerful teacher.
"These days, the idea of trying something and failing is not frowned upon in any sense — it's actually almost a badge of honour," says Brad Van Vugt, whose Victoria-based growth marketing company, SendWithUs, helps large companies send personalized email.
"To try a business and fail once or twice is highly respected in the business community. This is the thinking that the younger group brings to the table."
Forces at Work
Undoubtedly the strongest force that's shaping business for young entrepreneurs is the Internet. "It's beyond revolutionary for startups," says 24-year-old Dylan Gedig, programmer and business developer at Red Nexus Games, which recently unleashed its first local multiplayer game, Friday Night Bullet Arena.
"You can target the whole world with your products," says the multiple scholarship winner who bootstrapped almost the entire Red Nexus startup with his partner, fellow UVic grad Brandon Duncan. "There's no manufacturing and no shipping. Things can be created out of thin air." This lets millennials start riskier endeavours without needing an outside investor to approve their plan.
"There is a low barrier to entry," agrees Van Vugt. "We're at a point with technology where someone can take a three-month course and launch an online store, service or mobile app."
Living in the digital age gives millennials more options for how to shape their careers. And the options are boundless. The Internet is exactly how Carla Smart and Mike Rowe, owners of on-demand delivery service Accio, found their fast-growing niche: by looking at what other major cities in North America were offering and bringing that same service to Victoria.
"We've seen a lot of similar companies in the U.S. like InstaCart and Uber, and they'll deliver anything," says Smart. "We asked, 'Why don't we have this in Victoria?' The delivery solutions we had here weren't as good."
The pair noticed while some companies delivered just from restaurants and others just from grocery stores, no service existed that would deliver from both, plus liquor stores and pharmacies and clothing stores and more. So they got to work.
Smart and Rowe spent one weekend (yep, you read one) building their business, which essentially consisted of a landing page with a text-only line for customers to place their orders.
"We just put it out there to people we knew so we could see what happened," says Smart. "People liked it, and we thought, OK, this could be a thing." That was in March of 2015. Since then, Accio has brought software developers and more delivery drivers on board. And with the busy little startup enjoying 20 to 25 per cent growth month over month, there's no sign of hitting the brakes.
The Impact of Millennials
Having grown up with the World Wide Web, millennials have a strong sense of global markets. "You can attract customers from around the world," says Van Vugt, whose company hires local talent to serve clients in far-flung locations. "That mindset impacts how you go about growing a business in the early days."
Online stores are popping up everywhere nowadays; subscription-based models (think Netflix and Spotify) now subvert the persistent problem of Internet piracy; and social media is the primary vehicle for millennials to create their brand.
Paisley knows a thing or two about branding: as a result of her political statement, she signed a three-book deal and launched Pop Activism, an online community supporting and showcasing activism through pop culture.
"The one aspect which overarches all of my work is myself as a brand," Paisley explains. "I believe in the Internet age more and more people are becoming their own businesses." It's all about differentiating and communicating your brand, whether that's you, your store or your service.
One thing that certainly has changed with this new style of communicating is the voice businesses are using with their customers. Those snappy, casual messages or phrases that leap out of your inbox aimed squarely at you? That's the communication tide sweeping us away from stuffiness and easing us into a state of … ease.
"Social media has become our number-one marketing tool and avenue for reaching new clients," says Dufresne. "We don't feel pressure to speak in a formal way to our client base. We have the freedom to express ourselves in a more natural and casual manner — which has been particularly helpful for Foxy Box because we're attempting to make an uncomfortable situation more comfortable!" 
Social media is changing the way people shop, too. Millennnials don't hesitate to put their brands out there on Instagram, Twitter, Facebook or SnapChat— because social now drives shopping in a way businesses have never seen before. When she was managing a store on Johnson eight years ago, before taking the plunge to open her own, Campbell used to be able to predict sales for a given day to within a few hundred dollars.
"This was before Facebook and Instagram were so important," she says. "It was busy all the time, and it was all from walk-in traffic."
It's not that way anymore. Now, customers tend to find what they like on social media, says Campbell. If they like what you're posting, they will follow you and then come into your store.
A Nimble Mindset
Business owners of all ages must be more nimble and stay on top of social channels, says Campbell, or they risk missing out. "If something worked in the past, it doesn't mean it'll work three years later."
Campbell, now 32, watched about 15 similar stores open — and close — their doors between 2011 and 2016 and has lived to tell the tale. She even moved to a larger space on Yates two years ago. Constant change is the name of the game for today's consumer market — and it's an advantage for millennials, as they're already accustomed to fast-changing technologies.
With their Internet-oriented mindset firmly in place, millenials have the opportunity to use the ever-shifting language of the digital world to create all sorts of new norms in the modern business landscape.
"Millennials are changing the way we do just about everything," says Paisley. "And we're just getting started."
Learn more about opportunities to promote your business to new people on our popular business magazine Vancouver!