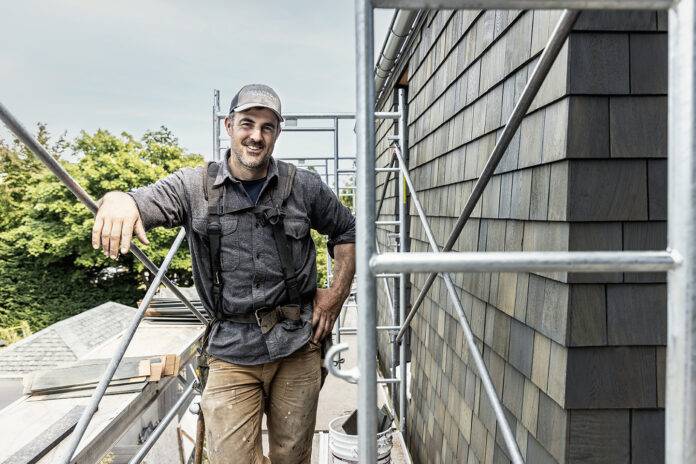 Andrew Chapman drops a tool belt on the tailgate of his truck and takes a deep swig of water. It's hot, too hot for May on the 49th parallel, and a vivid reminder that climate experts are predicting 2023 to be the warmest year on record. This Victoria-based builder is down to the short strokes and finishing details on this construction project. Michelangelo had the Sistine Chapel.
Chapman has this three-storey house on Musgrave Street in Oak Bay with a bank of solar panels on the roof. The house embodies as many of Chapman's green design and construction aspirations as he could possibly finance without going bankrupt. It's also where his wife, two young kids and at some point aging members of their extended families will live. It's his vision for a more sustainable future for the building sector, and it's a mountain to climb. 
The built environment — houses, office towers, warehouses, shopping malls and everything with a roof overhead — tends to get lost in discussions about climate change and reducing greenhouse-gas emissions. Yet, when you consider the manufacture and transport of materials, construction and the process of heating and cooling them, buildings account for nearly 40 per cent of global greenhouse-gas emissions. That's why 20 years ago, when Chapman looked at pivoting out of the adventure tourism sector into a job that could have real on-the-ground positive impacts on sustainability, he chose to pick up a hammer and start building homes.

"Our starting point for this project was to consider the future this house will serve and ask, 'What is the most appropriate building we can construct today within the existing regulatory framework?' " Chapman told Douglas magazine over a break at the Musgrave Street construction site. 
The 3,000-square-foot house plus detached garage is designed to passive home standards, aimed at maximizing comfort and health while generating as much of its energy as possible on site. Chapman predicts solar panels will provide enough electricity to power the house and charge an electric vehicle. 
Building materials were mostly sourced locally and selected for durability, natural content, recyclability and the storage of greenhouse gasses. On-site rainwater harvesting will irrigate gardens. Chapman designed it to be easily adaptable to include water purification that would make it clean enough for drinking, showering and other domestic uses. 
He also had human needs in mind when he put pen to paper during the design phase. "The house is designed for multi-generational living and to support aging in place, with the tandem goals of independence and family support,"  Chapman explains, adding that the basement has wheelchair access and there's backing in strategic places like bathrooms for the future installation of handrails. 
The house is built to be convertible into four independent dwelling units, which required soundproofing some of the interior walls and additional investment in electrical services. It's for a future when the regulatory environment changes to allow for increased densification, something Chapman says would never be allowed under the current zoning in Oak Bay.  
"The City of Victoria has a lot of messaging around sustainability, but in reality they're not that progressive," Chapman says.
He points to Vancouver, which has density bonusing bylaws to incentivize green building. With the added revenue from building more units on a given property, developers are able to offset the considerable additional costs of building a more sustainable project. In other words, it's starting to make economic sense to build green in Vancouver.
Alas, not so on Musgrave Street. Chapman estimates he would have trimmed at least $250,000 from the cost of the build if he had simply built a conventional stick-framed house. "I have two kids, age seven and nine. One of the big things for me was if I talk about climate change with them, then keep building trophy houses for the one per cent, I won't be able to look them in the eyes," he says.
Step 4 in the Right Direction
In Saanich, Aryze Developments is building a 68-unit apartment complex designed to Step 4 standards. In 2017, the province established the Energy Step Code Council in an effort to support the transition to net-zero, energy-ready buildings. The code starts at Step 1, a modest 10-per-cent increase in energy efficiency over current building code standards, to Step 5, the gold standard of net-zero building where the total amount of energy used in a year equals the amount of renewable energy generated on site. With its Saanich project, Aryze is aiming for Step 4, or a 40-per-cent increase in energy efficiency.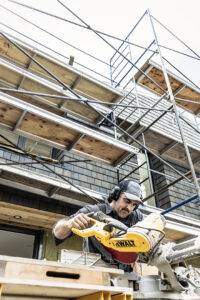 Meeting this target requires a lot of little decisions, says Michelle Griffin, a project manager for Aryze. For example, the building features a roof with R-40 insulation exterior walls that have an additional two inches of rigid insulation, and spray-foam insulation on the parkade ceiling adds energy efficiency to ground-floor units. The apartment complex also features an energy recovery ventilation system and double-glazed vinyl windows throughout.
According to Griffin, it requires an act of altruism by the owner to take on these green measures.
"Normally the owner would recover those costs in the amount of rent, but there's no way in this current market that you could ethically charge more," Griffin says. "It would be great if there were more incentives for owners and builders to push green projects."
To be fair, Victoria is taking some baby steps toward greening up the building sector. As of January 2020, all new residential and commercial construction must be built to Step 3 standards, or 20 per cent more efficient than current building code standards. The city is also taking aim at construction waste, another huge bane of the sector. A 2022 study called the Circular Gap Report showed that globally more than 91 per cent of all products made by humans end their life in greenhouse-gas-emitting, land-consuming garbage dumps. 
In December 2020, the City of Victoria adopted Zero Waste Victoria, which aims to cut waste in half by 2040. The plan comes with some concrete actions that target single-use products (plastic cutlery, for example), the city's own solid wastes and construction waste, which accounts for more than a third of landfill material.
Last year the City introduced a bylaw that will charge companies $19,500 for a demolition permit, but with a catch: If they salvage at least 40 kilograms of wood per above-ground square metre of floor area during construction, they get all the money back. The City will begin charging the refundable demo fee this coming September and by the time the bylaw is fully rolled out in 2025, it will apply to all demos of houses and duplexes built before 1960. This will divert an estimated 3,000 tonnes of construction material from the landfill annually.
Sparing the Landfill
It's not just two-by-fours and plywood clogging landfills. Contaminated soils are another waste product developers and builders have to deal with. A Nanaimo-based company, GRT, has seized an opportunity to turn contaminated soil from costly waste into clean products that builders will pay for. GRT got its start back in 2019 on a dredging project in Victoria Harbour, when the founders realized the absurdity of sending bargeloads of this material to a landfill south of the border in Washington State. Not only does this material use up valuable landfill space, transporting it has a high carbon footprint. It's the same story for builders — dealing with contaminated soils is costly in terms of trucking and tipping fees, and transporting it burns up fossil fuels.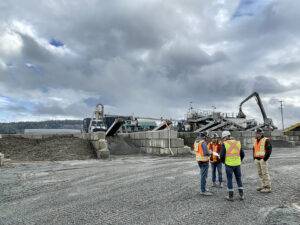 With the help of an Industrial Research Assistance Program grant, GRT developed a process of washing contaminated material with water. When it comes out the other end of the process, GRT uses it in a range of products, from pea gravel and sand to crushed rock, that are in high demand in building and landscaping projects. Instead of trucking contaminated material to the landfill and driving back to base empty, customers can pay GRT a competitive tipping fee to dump off soil and return to the site with a truckload of clean construction material. Surprisingly, with landfills bursting their boundaries across North America, Peter Reid, company CEO and engineer, believes GRT is the only company on the continent to tap into this business.   
"We're taking a product that was waste before and extracting 95 per cent of it to make new products," he says. "Just five per cent of the material we take in ends up at the landfill."
This significant Vancouver Island business and waste-diversion success story is one small victory in the slow-moving effort to green up the way we build.
Building better couldn't happen faster for John Gower, of John Gower Design in Courtenay. Like Andrew Chapman, he got into the business of housing, albeit from the design side of the equation, with an idealistic vision to help move the needle on sustainability.
"We know that our homes have a huge impact in terms of climate change," Gower says during an interview at his Courtenay office.
If Gower had it his way he'd be designing homes all the time like the one he did for a couple in Smithers who went the extra mile on sustainability. Among many efficiency measures, the house features a solar thermal hot water system, thick walls, a methane digester that turns agricultural waste into usable gas for household purposes and an earth tube (a buried ventilation duct that naturally preheats incoming ventilation air in the winter and cools it in the summer).
It Isn't Easy (or Cheap) Being Green
"I have a lot of people who come to me and say they want a passive house. But when it comes to sitting down and talking about the details, the square footage, the style of the houses, and the cost, sustainability slips to sixth or seventh on the list of priorities," Gower says.
He admits the additional upfront costs for energy-efficient design can be tough to swallow when construction costs are already sky-high. (In Victoria, a conventional custom home can cost anywhere from $400 to $500 per square foot.) 
Gower lives in Creekside Commons, a two-minute walk from his office. The development features on-site stormwater management, greenspace, communal gardens and shared community space. It's a good start, but it doesn't go far enough on the sustainability scale for Gower, and he says it's in danger of becoming a place dominated by retirees, which isn't great for his budding teenage daughter. That's why he and some partners made an offer on a piece of property in Cumberland, where he hopes he'd be able to build his vision of sustainable and diverse co-housing. He admits it's a dream at this point.    
He feels the regulatory environment has been as slow to change as the general public's willingness to shift their expectations around what four walls and a roof overhead means. "We need smaller houses and fewer single-family detached homes. The fact is the size of the average house has doubled since the 1960s," Gower says. 
Back on Musgrave Street, Andrew Chapman puts it this way: 
"There are many benefits to increasing the density of existing neighbourhoods rather than continuing to pave over our coastal rainforest, farmland and wetlands as we have for the past 150 years."