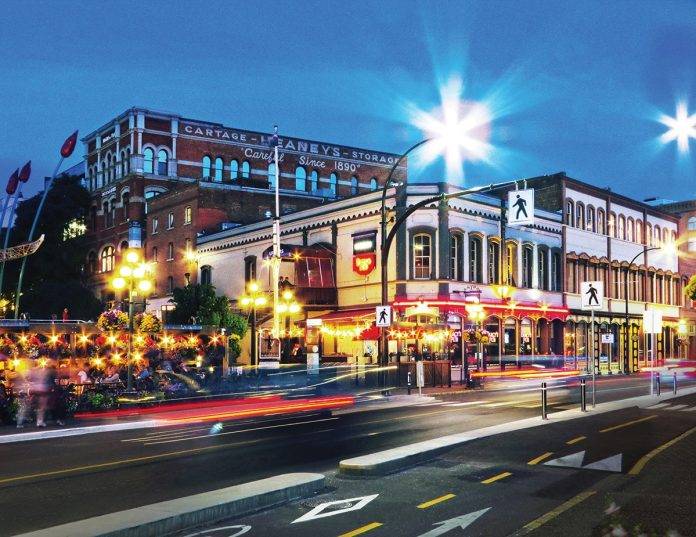 A musician, a cowboy and a chef walk into a bar …
This kind of joke might easily get a laugh at any of the businesses run by Victoria's Frontier Group, which owns Upstairs Cabaret, The Duke Saloon and two locations of Darcy's Pub in both downtown Victoria and in Langford. Then there's Frontier Food, the company's full-service catering branch.
For the past decade, the Frontier Group has made its mark entertaining and feeding people in Greater Victoria, backed by an investment group of three owners — Mark Hawes, Ron Hampton and Rene Spielmann — who acquired their original businesses, Darcy's and Upstairs Cabaret, both located downtown, in 2009.
That Hampton, a chartered accountant, had been the lead accountant for the previous ownership group made leaping into the unknown palatable to the investors.
"My accounting firm was in charge of both Darcy's and Upstairs Cabaret, so we'd seen the financial statements, plus the general manager of the day was going to stay involved in the company, so we were going to carry on with the existing staff in all locations, which kept things simple," says Hampton.
He and Hawes, who are childhood friends, had long known of Darcy's, a street-level pub on Wharf Street. Overlooking the city's picturesque harbour, Darcy's features live music seven nights a week. Its sister club, Upstairs Cabaret, located just above and behind Darcy's in Bastion Square, also has deep roots in the city's entertainment scene. Many locals frequented it as Harpo's.
"Both Ron and I have been Victorians for our whole lives and had been privy to the entertainment downtown from the outside. We knew these establishments well," says Hawes, who also owns the development company Westport Holdings Inc "Darcy's is a landmark destination [and] it's well-known, so it was a coup for us to take ownership of two hallmark establishments."
The Frontier Group purchased Darcy's and Upstairs Cabaret with the existing staff and management in place. Today, they still rely heavily on a stable of managers, chefs, front-and-back-of-house employees and security personnel who are essential to maintaining the vibe of each place. Part-time staff are floated between venues to help them achieve optimal hours, and an emphasis on quality hires and company culture keeps staff turnover low.
Managing the Wild Cards
Freddy Mazereeuw, who has worked for the Frontier Group for five and a half years, started out in the entertainment industry 14 years ago while attending Camosun College. Having worked as a busser, barback, bartender, food and beverage manager and general manager, Mazereeuw has paid his industry dues and has absorbed all aspects of how these businesses are run.
It's made him well qualified for his current position as operations manager for the group's three downtown destinations. It's a busy position, with a nine-to-five obligation to coordinate behind the scenes, plus being on-site for busy weekend evenings. Still, Mazereeuw says it's a world he loves and is energized by.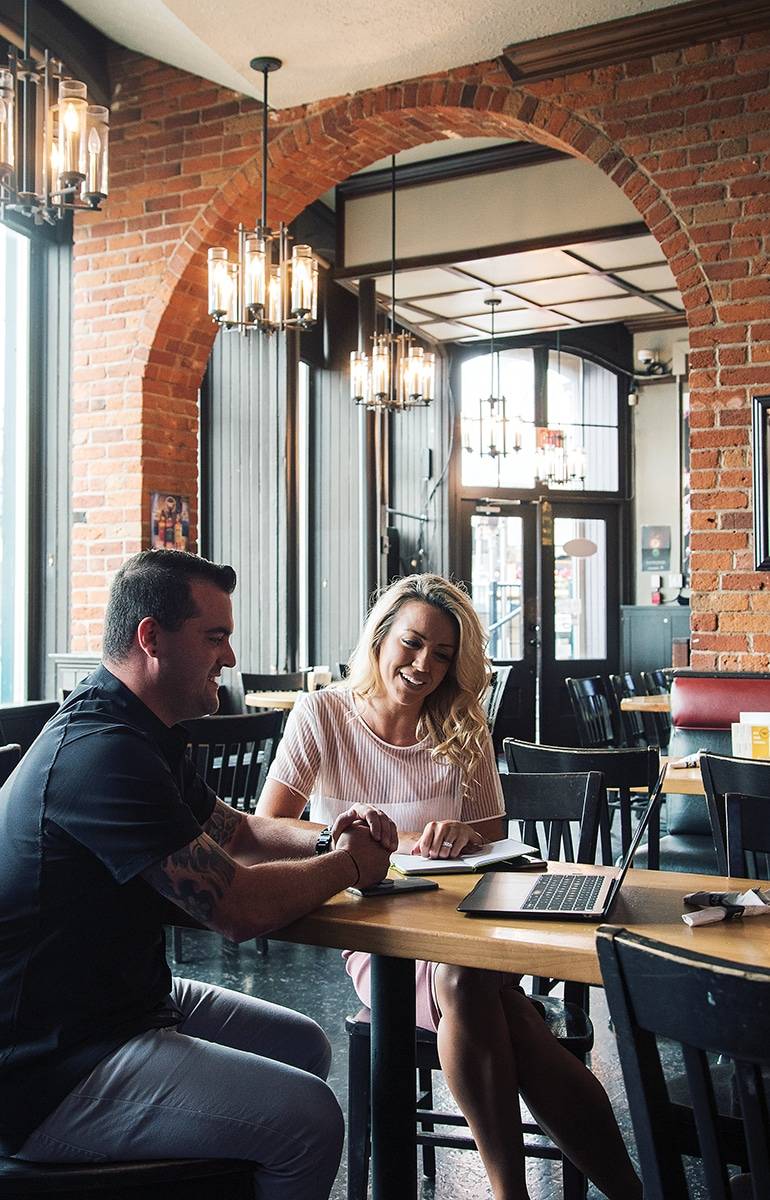 "Those of us who work here — we love the music and we love the work. When people have a really good time in your venue, it makes you want to keep on giving them those experiences," he says of his job.
Because humans by nature are fickle at the best of times, and because the entertainment world can be fraught with big personalities, Mazereeuw says there's always a wild card factor at play in the industry, which keeps things exciting.
"You never know what you're going to get," he says. "You might have a great show planned. Everything looks amazing, and your ticket sales are really good, but anything can happen that will change your whole night and you have to respond to it quickly."
Mazereeuw and the rest of the downtown team, including Darcy's downtown general manager Pat Donovan and Duke Saloon general manager Chris Aldridge, work closely with the Frontier Group's security team, led by director of security and risk management Brian Bassendowski. A close working relationship with the VicPD and the liquor board means the venues, despite attracting waves of undergraduates experiencing life as "adults" for the first time, are carefully monitored to prevent alcohol-related high jinks. The atmosphere may also have something to do with the wide demographic of patrons. On any given night, pub-and-club goers between the ages of 19 and 55 can be found at the Frontier Group's venues, a balance that ups the maturity of the rooms and keeps bad behaviour in check.
Checking into the Country Scene
By 2014, both Darcy's and Upstairs Cabaret were running smoothly. The Frontier Group was ready to expand. So when a space on Discovery Street, on the edge of downtown, came up for lease, the group jumped at the opportunity to acquire it and to breathe new life into the warehouse district.
Drawing on the success of a regular country and western night held at Upstairs Cabaret over the years, the Frontier Group decided to give Victoria something it lacked — a real country bar. The idea for The Duke Saloon was born, and the building was renovated under the careful eye of local design firm Bidgood + Co. The Duke opened later in 2014.
"There wasn't a sector for country music at all [in Victoria]," says Mazereeuw, "so we told ourselves if we could find a venue that suits that style we would give it a try. We've had really nice success with that."
Today, The Duke is popular with Islanders and those from beyond our shores. "We actually have a lot of people who come up to The Duke from Washington State," says Mazereeuw.
Hawes notes that The Duke has seen steady growth since it opened its doors five years ago. The saloon is often booked for private events when not hosting its regular bar nights.
Expanding to New Frontiers
The same year The Duke opened, the Frontier Group decided to cast its net beyond Victoria proper. It took over the former Station House in Langford, creating Darcy's Westshore.
The experience was not without its highs and lows as the Frontier Group navigated the Langford community to find the right blend of entertainment, beer and food for the Westshore demographic. Darcy's Westshore still offers live music and is one of the only venues in the area to give local musicians a chance to perform onstage, but it differs in vibe and personality from the downtown location.
"When we went to the Westshore, I think we thought we were going to put Darcy's Pub over the door, and it would be a success story like downtown," says Hampton. "We did have to work with the community to understand them and to understand our patrons in the Westshore and earn our stripes, as it were."
Because Darcy's Westshore boasts a large, professional kitchen and Frontier Group already had a number of excellent chefs on its payroll, it decided it was only natural to expand its food offerings. It created the catering company Frontier Food, which opened last year.
Led by chef Brett Hinkelman, who trained at the Pacific Institute of Culinary Arts, Frontier Food's menu is flexible and diverse, designed for everything from baby showers, to weddings, to business events.
"Catering is a profitable venture," says Hawes, "and we've got the people, and we've got the facilities. So it's just a natural fit for us."
In a similar vein of capitalizing on their assets, the Frontier Group also owns a number of ATM machines, which are located at all of their venues, as well as at various golf clubs and storefronts around Vancouver Island.
"We have two staffs dedicated to running and maintaining the machines," says Hampton. "We realized the profitability of [doing this] and the opportunity to grow. It's been successful."
Collaborative clubbing
The success of a business can be measured in various ways, usually with dollars and cents. But another measure is to ask competitors what they think of the operations. Jeremy Petzing is the long-time owner of The Local, a pub located adjacent to Darcy's on Wharf Street. On any given sunny afternoon, the patios of both businesses are packed, not only sharing patrons, but goodwill and even ketchup on occasion.
"The staffs at Upstairs, Darcy's Downtown and The Duke are incredible, hard working and great," says Petzing. "They come to our place, we go to theirs. I think that's the way for a lot of places in town … If they are in trouble and need something, we help them out. And if we're in trouble and have run out of something, they help us out."
Running nightclubs and pubs is an ongoing job, but Hawes and Hampton say they like to turn off their work brains once a month to experience a night out the way any bar patron might.
"It's very enjoyable," says Hawes. "We aren't working when we are out — we're just talking to staff, customers and our general managers, and we usually hit every venue on the same night.
"Ron and I are really good friends," he adds, "and even after all of these years in business, we've never had a major disagreement. I really enjoy the partnership and the level of working relationship that we have — we click on all fronts. It's something I'm really proud of."
This article is from the August/September 2019 issue of Douglas.