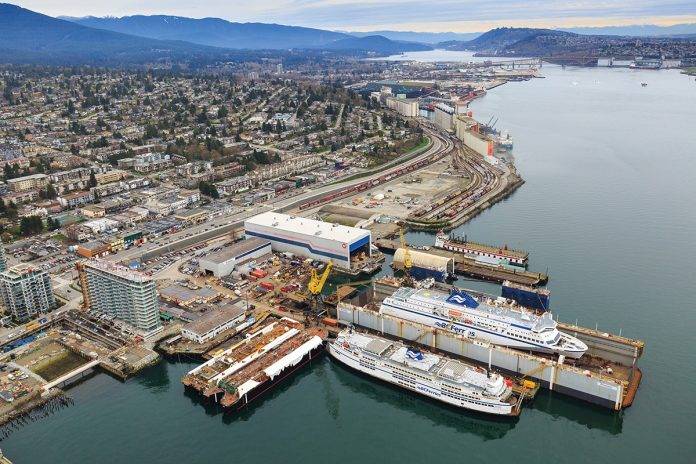 Picture this: You hail a driverless car and zip out to the Swartz Bay ferry terminal. Arriving with plenty of time to spare, you have time for a haircut at the terminal before boarding the ferry — a gleaming new vessel powered by either liquefied natural gas (LNG) or banks of batteries.
You enjoy the scenery as the ferry zips through Active Pass. At Tsawwassen, another driverless car transports you to a concert. After the show, you zip back home on an overnight ferry. No need to bunk on the Mainland anymore.
That futuristic scenario emerges from a pair of recent conversations with BC Ferries president and CEO Mark Collins, who took the helm in 2017 after 11 years in vice president roles.
"It's really interesting to speculate about that future," says Collins, whose career in the marine sector stretches back over 35 years. "So how do we build our ships today to deal with the reality of today yet not be obsolete for the reality of tomorrow?"
By 2025, BC Ferries plans to replace four of its aging major ferries with four or five brand new ships similar to the Coastal class vessels it added to the fleet a decade ago.

In addition to retiring the queens of Alberni, New Westminster, Coquitlam, and Cowichan,
BC Ferries is planning two or three replacements for the Queen of Oak Bay and the Queen of Surrey to enter service in 2030 and 2031.
"We're designing transportation that will serve British Columbia for the middle half of the 21st century," Collins says. "And we're not going to do that with last century's ferries."
A ferry typically lasts 50 years. So expect the new ships to sail until 2075. Built in 1964, the Queen of New Westminster will be pushing 60 when it retires in 2024.
Future Proofing
It's hard to predict what transportation will look like in five decades. Vehicle electrification, ride-sharing, improvements in mass transit, autonomous vehicles, increases in freight traffic — and a trend toward young people not driving at all — threaten massive obsolescence.
No wonder Collins talks about "future proofing" the system by building flexibility into the design of new ferries, as well as reconfiguring the ferry terminals.
Over the next 12 years, BC Ferries will spend $3.9 billion on new ferries and upgrades to ferries and terminals, according to a capital plan that the BC Ferry Commission approved in late 2018. Expenditures on ships will consume about 70 per cent of that sum, Collins says. That includes about $1.5 billion for seven huge new ferries.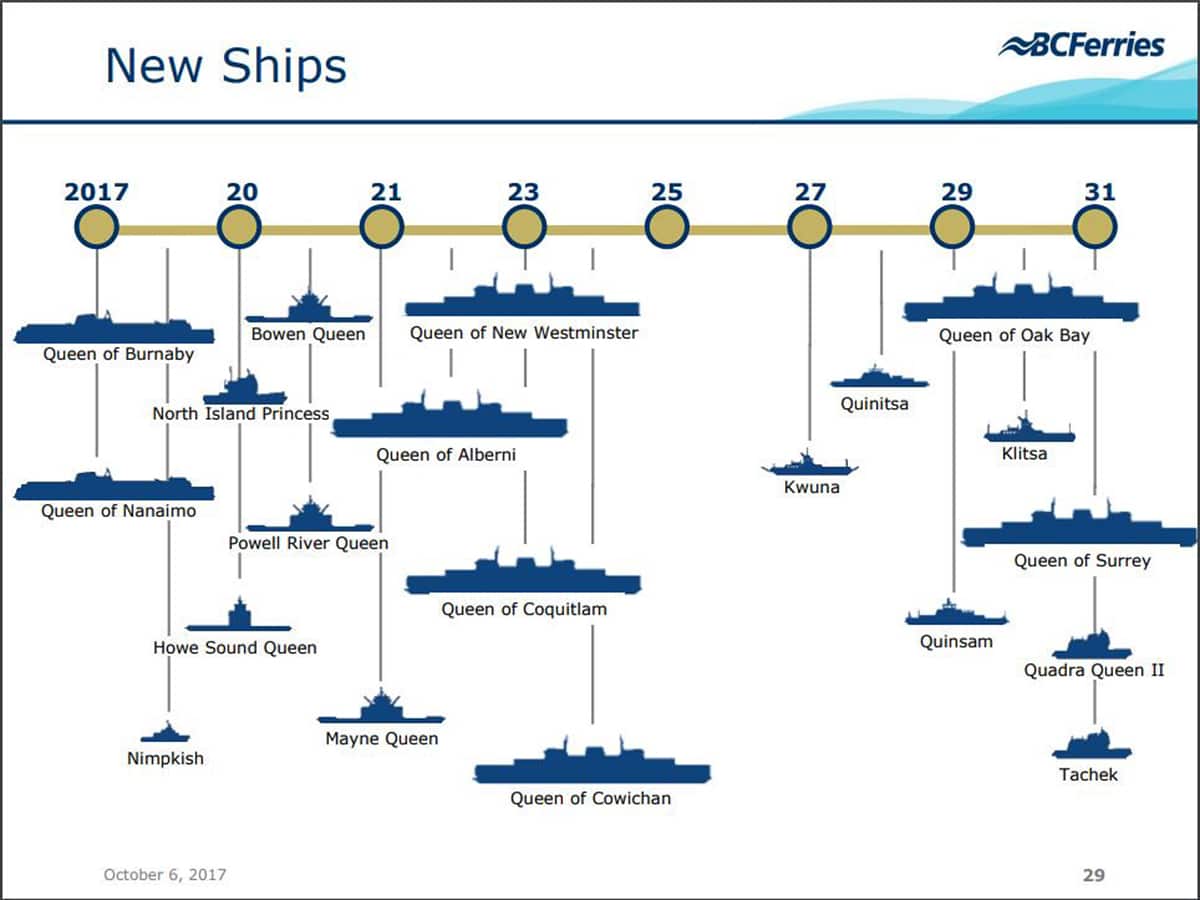 Another $1.1 billion will be for terminals, mostly improvements to major terminals like Swartz Bay. BC Ferries also plans upgrades to its smaller terminals that provide lifelines for the Gulf Islands. That includes standardizing their berths to handle vessels of up to Salish class size, which can carry 238 cars. Standardization will also apply to the ships themselves, with BC Ferries reducing the number of vessel classes from 17 to five.
"BC Ferries is very, very astute in recognizing that we're not at a point where you can clearly say that the traffic is going to go X or Y," says Victoria transportation analyst Darryl Anderson, managing partner of Wave Point Consulting. "But what they're really thinking about are the vessels and terminals and how we build flexibility."
While Anderson praises BC Ferries for asking the right questions, one important group he says it isn't connecting with is tourists.
"I think everyone recognizes that the major routes do carry the lion's share of tourists," Anderson says. What if cost burdens force BC Ferries to hike fares? he wonders. "If anything, we've learned over the last decade that the consumer is quite sensitive when it comes to discretionary travel."
BC Ferries has, however, engaged in public consultation with locals on its plans for terminals and with the maritime industry on its ship-building plans. For example, it has partnered with the Association of British Columbia Maritime Industries (ABCMI) on three forums, including one held May 14 on building ferries in B.C. Attendees included ship builders, labour representatives, ship designers, classification societies, marine suppliers, law firms, financial specialists and other marine service stakeholders.
"BC Ferries ties into every one of the six subsectors we represent," says Alex Rueben, ABCMI executive director, who joined the association in January 2018 shortly after it got going.
Future of Freight and WI-FI
In formulating its capital plans, the ferry corporation has even taken into account the freight part of its business, including a drop trailer service that it initiated about a decade ago. That didn't happen without controversy. Seaspan Coastal Intermodal Co. argued that BC Ferries' service represented unfair competition because the ferry corporation receives government subsidies. The BC Ferries Commissioner ruled in favour of BC Ferries, a decision the B.C. Court of Appeal upheld in 2013.
BC Ferries is looking to expand that drop trailer service despite facing space constraints. One way to address that is with more frequent ferry sailings. Another is to reconfigure the terminals to handle more freight and fewer cars.
"And then, of course, there's always the overnight hours. There's no reason why we can't operate overnight," Collins says.
However, Anderson cautions that if BC Ferries runs overnight sailings primarily for commercial vehicles, it could again run into criticism that it is subsidizing that service.
Foot passengers at Swartz Bay already encounter frequent overcrowding. To alleviate that, Collins envisions merging the services for foot and vehicle travellers into a single concourse. Parking for foot passengers is also tight at Swartz Bay, particularly on holiday weekends. Proposals for Swartz Bay include replacing the Lands End Café building, first built in 1959 and last renovated in 2005, as well as creating a seaside boardwalk and more retail choices, even personal services like hairstyling.
Collins also expects the terminals of the future to have much improved Wi-Fi. The trade-off, though, might be no more Wi-Fi on the ferries themselves. The on-board service is the subject of frequent complaints for its slowness.
"So no decision has been taken," Collins says. "But as long as it can't be fixed, we may as well turn it off because it's just irritating."
Where to Build
A major sore point is the question of where to build the ferries. During the early years of
BC Ferries, most of its new ships were made in B.C., including at shipyards in Victoria. That changed after the $450 million fast ferry fiasco of the 1990s, a scandal which likely contributed to the NDP government of the day losing the 2001 provincial election in a landslide.
In 2003, the new Liberal government turned BC Ferries into an independent arm's-length company after it had operated as a Crown corporation for about 20 years. After returning to power in 2017, the NDP commissioned a comprehensive operating review of B.C.'s coastal ferry services to ensure the services are operating "in the public interest." Advisor Blair Redlin submitted his report to Claire Trevena, minister of transportation and infrastructure, in June 2018. The government released the report this past February.
Among Redlin's recommendations are that the government "should assess the potential costs and benefits to the B.C. economy each time BC Ferries builds or retrofits a vessel overseas" and make that information available to the public.
Since it became an independent company, BC Ferries has built only two of 11 new vessels in B.C., Redlin notes. Most notably, the three big Coastal class ships were built in Germany,
at a combined cost of $542 million.
It raises the question of whether or not the new NDP government would use its legislative clout to require BC Ferries to build its new ships in B.C. So far it doesn't look that way.
A spokesperson for Minister Trevena ducked that question and related ones, such as whether the government would convert BC Ferries back to a Crown corporation or require union labour on BC Ferries' capital projects. As an independent company, "B.C. Ferries now makes its own operational decisions in its day-to-day decision-making, including matters relating to capital investments such as where vessels are built and how they are procured," the spokesperson said.
While Redlin's report identifies areas for improvement, it observes that "BC Ferries is on the whole a well-run company." Redlin also points out that BC Ferries is the largest ferry system in North America and the third largest in the world. In fiscal 2018, the system carried 22 million passengers and 8.7 million vehicles, according to BC Ferries' most recent annual report.
Looking toward the future, it's not clear where the new major ferries will be built, but "it'll be an international procurement process," Collins says. That's to ensure the best value for British Columbians. BC Ferries uses a triple bottom line, or "balanced scorecard approach," to determine the best life cycle value, he says.
Service is More Important
Anderson says the bigger prize isn't where the new ferries are built, but where they are serviced and maintained over their decades-long life spans.
"BC Ferries is very cognizant of the fact that if you don't have an integrated supply chain and the capacity in our local market to service and do other things with the ships, then you're not going to have a long-lived asset," Anderson says. "And ferries are very long-lived assets."
Phil Venoit, president of the B.C. Building Construction Trades Council, says the province should require BC Ferries to build the ships in B.C. and hire local workers.
Straight out of Dunsmuir High School in Colwood, Venoit went to work at the old Yarrows shipyard in Esquimalt. "The first job I was on was the Queen of Oak Bay," says Venoit, who in January ended a 17-year stint as vice president of the Metal Trades Council of Vancouver Island, whose members include shipyard workers.
Yarrows is long gone and no shipyards remain in B.C. to build a ferry of that size, Venoit says. "But there's no reason why the smaller ferries can't be built here."
He notes that Victoria's Point Hope shipyard plans a $50 million graving dock capable of building intermediate class ferries. Should the B.C. government commit to building one new ferry every year, that would offer an incentive for a shipyard to invest in the necessary infrastructure, Venoit says.
The ABCMI's Rueben recognizes that construction in B.C. boosts the economy and produces "substantial" spinoffs. However, relying on BC Ferries to promote shipbuilding in B.C. "is the wrong mechanism," he wrote in a recent memo. It has been tried four times since the 1960s "and each time the industry has downscaled after the build programs wound up."
Instead Rueben calls upon the provincial and federal governments to support shipbuilding "as a matter of strategic national policy" that goes beyond the federal government's current National Shipbuilding Strategy (NSS). Curiously enough, Seaspan's main build yard in North Vancouver is already booked solid for the next several years building ships under the NSS for the Canadian Coast Guard and the Royal Canadian Navy.
As Redlin points out, Romania and Poland, where new Salish ferries were built and where the Spirit ships are being retrofitted, are "lower wage jurisdictions." Average hourly labour costs in 2017 were 9.4 euros in Poland and 6.3 euros in Romania, compared with the European Union average of 26.8 euros. (Venoit, though, argues that a bigger disadvantage is that North America no longer subsidizes steel production, unlike Germany and South Korea.)
"Don't get me wrong," Collins says. "I would love nothing more than to see these ships built down the road. Nothing could be easier for us. However, that comes at a premium cost. And who pays that premium?" His answer: ferry users.
Toward Electrification
BC Ferries employs a design-build process that gives shipyards the freedom to design whatever they choose "provided it meets what we call our functional requirements," Collins explains. Those requirements — which include speed, passenger and car capacity and types of on-board amenities — drive shipyards to design "a certain type of ship." For major vessels, those ships look like the Coastal class vessels.
The three German-built Coastal class ships are each 160 metres long, can carry 310 cars and 1,604 passengers and crew and have a maximum speed of 24 knots. (The two Spirit ships are actually slightly larger, but have a maximum speed of 19.5 knots.)
The new ships will likely be fueled by liquified natural gas, Collins says. In the last five years, BC Ferries has invested more than $300 million in LNG-fuelled ferries, including Salish class ships and Spirit class LNG conversions.
"It's a great step between diesel and full electrification," says Collins, noting that
full-electrification of the fleet isn't yet possible with the current technology.
"BC Ferries is unfairly portrayed as being reluctant on electric. But nothing could be further from the truth. We've been operating electric ferries since 1991," Collins says. By that he means that onboard generators provide the propulsion. For the larger vessels, diesel powers the generators, whereas for certain smaller ones, it is LNG.
"What we won't do is we won't experiment on the lifelines to the communities that we serve," Collins says.
Nevertheless, BC Ferries expects to design ferries that can be powered by LNG initially and then convert to batteries when that technology matures.
Says Collins, "We're planning for a future where the footprint of the ferry on the face of the planet is as light as it can be."
This article is from the August/September 2019 issue of Douglas.