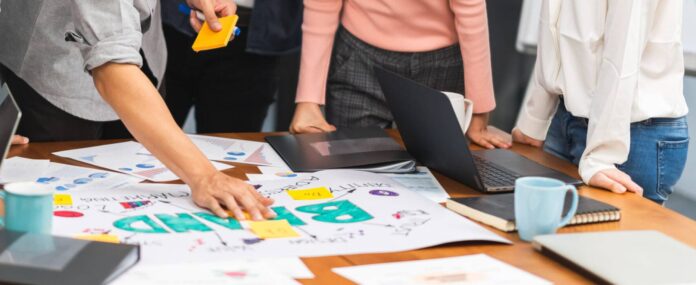 What is a powerful enough force to convince droves of people to shift their business to another brand? A 2020 study of 18,980 consumers in 28 countries found 57% were willing to shift their purchase decisions based on the environmental impact of a product. Of those, 70% would pay a premium of 35% to shift to a more sustainable brand. 
That's pretty powerful news for any business wanting to gain market share, but there's more — investors are also demanding sustainability. Globally, sustainable investment is up 68% since 2014 and tenfold since 2004, according to management consulting firm McKinsey.
In response to these consumer and investing trends, more than 90% of S&P 500 companies now publish Environmental, Social, Governance (ESG) reports. But the growth of these reporting initiatives has led some businesses to cut corners to keep up with the trend. Too often, reports have become exercises in creative storytelling and unverifiable claims to give brands a misleading "we do good!" facade. These practices have harmed consumers' trust in these types of reports, with terms like "greenwashing" and "rainbow washing" now synonymous with ESG practices.
This is why business transparency has to go deeper. Here are three ways to do it.
1. Show Them Where Their Money Goes
The first trend that builds trust and respect for your brand is to simply show people where their money goes when they buy from you. This works especially well if your offering is higher priced than alternative options. (There's obviously a reason you charge more, but showing consumers why can be very impactful). 
As an example, the founders of the world-famous Fogo Island Inn on a remote island in northern Newfoundland wanted to help their community recover from decades of economic hardship due to the decline of the fishing industry. Zita Cobb and her brothers created the Shorefast Foundation to explore what businesses and opportunities could make this a reality. They determined that a deeply authentic, boutique, high-quality hospitality experience that showed visitors all aspects of life in a remote fishing community could work. 
They built the Fogo Island Inn with 'local' in mind, from architectural concept to choice of materials (even the furniture is designed and built on the island) to supplies in their restaurant. In fact, Zita tells a story about a customer commenting on the orange juice at breakfast, so she went right to work to find a better alternative — since oranges don't grow in Newfoundland!
Then Zita and her brothers did something remarkable — they revealed an Economic Nutrition label that shows customers clearly where their money goes when they stay at Fogo Island Inn. Not only does this demonstrate a brand's integrity, it shows the community that having the Inn on the island benefits more than just the employees. It creates a more resilient economy for the entire island.
Closer to home, it's worth looking at Aryze Developments and their transparent and award-winning Pearl Block project on Shelbourne Street. 
The Pearl Block was a complex project due to the lot configurations and the busy traffic corridor out front. But Aryze wanted to develop a modern, high-quality, multi-unit and family-oriented product on the site. As part of the sales campaign, they used a level of transparency never before seen to show the potential customer how the price is derived.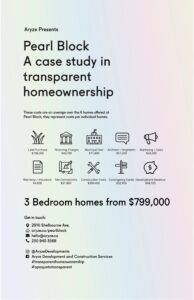 Both the Fogo Island Inn and Pearl Block examples clearly demonstrate that where you source your input supplies matters because local supplier relationships enhance our local economy in ways you probably hadn't thought of before. Telling your customers where their money goes enhances this value; it also shows them where the value comes from in the purchase price and can make them more empathetic to rising input costs. 
2. Environmental Impact Transparency
The second approach to increased transparency that builds trust is to report how your business impacts the environment and how you're reducing your negative impact.
If you've ever walked into Big Wheel Burger, a local, Island-fave fast-food restaurant, you've seen a solid example of transparency in environmental impact. 
Not only are Big Wheel's offset projects "third-party verified to ensure that the reductions are real, additional, and permanent," they've committed to being 100% trash-free through compostable packaging and utensils. These materials are then used to grow local food through a partner relationship. See for yourself!

Businesses like tentree apparel, an ethical clothing company based in Vancouver, also do this well. Their brand promises to plant 10 trees for every item purchased. But how do consumers know tentree actually plants those trees? What if it's just a marketing gimmick? 
The answer is blockchain technology that creates a ledger entry for every tree the company plants. Once a ledger is altered on the blockchain, the entire data chain permanently shows this alteration, making it impossible to hack. Tentree's blockchain platform Veritree is now available for other companies that want to guarantee authentic transparency. 
3. Social Impact Transparency
The third approach to building trust through transparency is demonstrating how your business helps the community (and the world) around you.
While a business's purpose isn't necessarily to solve social problems, the responsible ones certainly don't want to cause harm in the name of profits. But what if a business becomes so values-driven that you forget they even make a profit? 
This is how I feel about Animikii, a local Indigenous technology company. When Animikii went through the rigorous exercise of becoming a Certified B Corp, their first attempt produced an off-the-chart score without even altering anything about their business practices. The reason? Animikii's social, environmental and positive workplace practices were already so ingrained into their culture.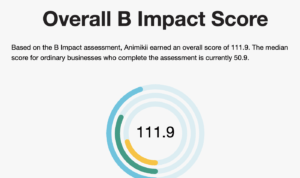 Animikii founder Jeff Ward spells out their philosophy in this TEDx talk recorded at Royal Roads University a few years ago. Indigenous-led Animikii also adopted the 7 Grandfather Teachings from Anishinaabe culture to inform their relationships with partners, team members and collaborators.
What does your business value that could be conveyed clearly to your customers, partners and employees?
It's a Clear Choice
Unless you're operating in a highly regulated industry or publishing quarterly reports for shareholders, nobody is forcing you to make your business practices more transparent. 
But I'm here to tell you it's demonstrably good for business. 
Being transparent with customers is a way to show how your business impacts the local economy, environment and community. Doing it well will build trust and loyalty with customers and increase profitability by demonstrating why your product has a higher price point than competitors (e.g. one night at the Fogo Island Inn can run you more than $3,000). 
Ultimately this form of integrity and value will increase your Net Promoter Score (NPS) — which measures how likely your customer will refer your offering to their network. What business owner would turn down such a great form of marketing that's good for their business and the local economy? 
Dallas Gislason is the Executive Director of Community Economies at South Island Prosperity Partnership (SIPP), the economic development alliance for Greater Victoria he helped found in 2016. Dallas has applied his passion for building resilient and inclusive economies through various projects and boards in various parts of Canada, the U.S. and abroad. He's lived on Vancouver Island since 2010.