As Benjamin Franklin famously said, nothing is certain except death and taxes. Which could lead one to believe that marketing the funeral and memorial-service industry is unnecessary — it's a service that everyone eventually needs, however much we try to avoid it.
A typical funeral in North America usually involves some key elements: embalming for the deceased, an embellished coffin, lots of flowers and a number of other expensive add-ons. But for the first time since the 19th century, the funeral industry is seeing some big changes.
"People's funeral traditions are changing," says Martin Aveyard, associate creative director at Trapeze Communications, who has worked with creative director Valerie Nathan on the rebranding and marketing campaigns for Royal Oak Burial Park for the past six years.
"Celebrations of life are way more common now than they were 10 years ago. I think that's where people are moving, and the funeral industry is feeling a little bit behind in terms of catching up to that public desire to not have velvet drapes and that dark gloomy atmosphere. We all want it to be a more uplifting remembrance of our loved ones."
Green Burial
Royal Oak Burial Park is a not-for-profit corporation, established in 1922 by the District of Saanich and the City of Victoria. It offers comprehensive burial, cremation, funeral and memorial services and is considered a leader in modernizing the industry, including its green burial services.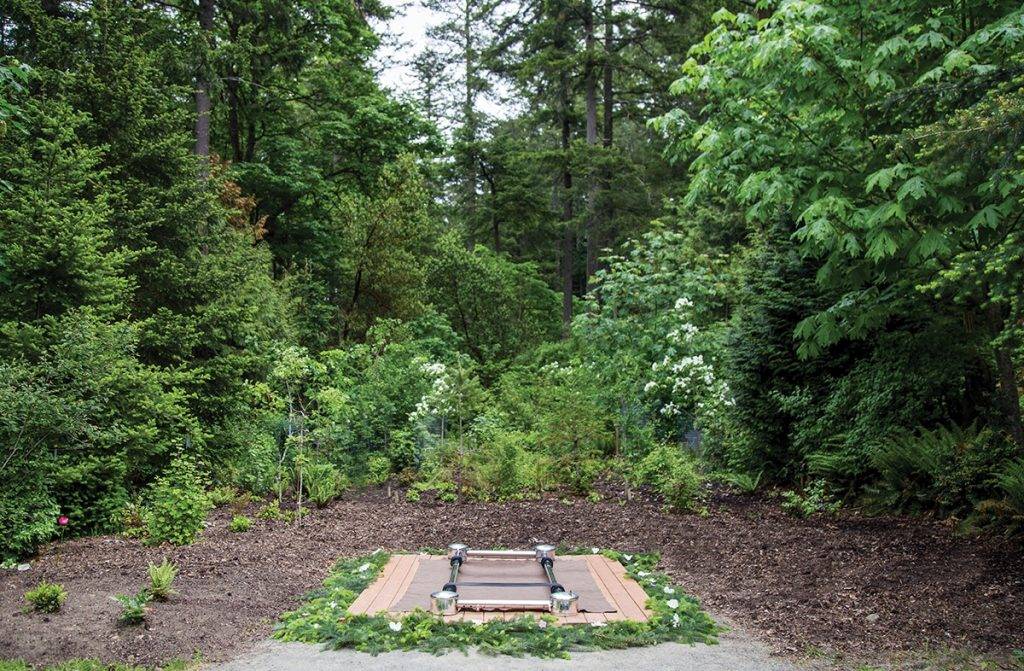 Green burial is when an unembalmed corpse is placed into a biodegradable container or shroud and buried directly in the ground. Nature does the rest. Its growing popularity is driven by concern about the environmental impact of burying corpses pumped with toxic embalming fluids, and a desire to cut the massive amount of unnatural resources used in traditional burials.
"Many of us are already living our lives with very strong green values, particularly here on the Island," says Nathan.
"Royal Oak Burial Park was the first in Canada to offer green burials. For our first green burial campaign, we wanted to make the point that the body is the most natural substance there is. We are an entity of nature ourselves, and we are, of course, completely biodegradable. There are a lot more inquiries and demand for green burial services now, and this campaign was picked up for a marketing textbook."
Respectful Irreverence
Some of Trapeze's campaigns for Royal Oak — especially those for its not-for-profit status and green burial options — sought to bring in an element of thoughtful humour.
"It's always something we have to be cautious of," says Aveyard. "Being a little bit irreverent to get noticed but without being disrespectful. It's a fine line to balance those concerns."
Other campaigns were a little more serious in tone, such as the ones around preplanning — a growing movement within the funeral industry. Instead of leaving the decisions regarding arrangements to loved ones in the depths of grief, many people are making these choices themselves and pre-arranging and pre-paying for their services. Nathan says that her agency's creative emphasized that loved ones could then focus on more important matters.
"Our pre-need sales and numbers are up," says Crystabelle Fobler, executive director of Royal Oak Burial Park. "People are educating themselves. And we're getting inquiries from younger groups; not only younger people in their 40s and 50s, but even individuals in their 20s and 30s are looking into green burial options for their parents and even themselves." 
This article is from the June/July 2019 issue of Douglas.